Mitsui Garden Hotel Prana Tokyo Bay located in Urayasu City, Chiba Prefecture.
This hotel has always caught my attention, especially because it has a spacious room and large public bath on the top floor.
I've been waiting to stay here for a while, and finally, my wish came true on this trip.
One of the notable features of this hotel is its affordable price, spacious rooms, and the presence of large public bath.
It offers various attractions that cater to a wide range of guests, including couples, families, and friends.
I highly recommend it to anyone looking for a comfortable and enjoyable stay.
We stayed at the hotel with a total of 10 people, ranging from kindergarten children to grandparents in their 70s, and it was truly a satisfying stay.
We would like to provide detailed information about the rooms, breakfast, and facilities within the hotel, so please consider it as a reference for choosing a hotel.
Please note that external links to products, services, etc. featured on this site may contain affiliate advertisements.
Spacious rooms ranging from 30.4㎡ for various guest preferences.
Mitsui Garden Hotel Prana Tokyo Bay offers spacious rooms staring from 30.4㎡ even in the standard category.
| Room type | Room size | Floor | Capacity |
| --- | --- | --- | --- |
| Deluxe Twin | 30.4㎡ | 2-4 | 3 people |
| Balcony Fourth | 36.4㎡ | 2-7 | 4 people |
| Deluxe State Twin | 30.4㎡ | 5-7 | 2 people |
| Prana Fourth | 45.4㎡ | 2-6 | 4 people |
| Terrace Fifth | 60.6㎡ | 1 | 5 people |
| Terrace Sixth | 72.9㎡ | 1 | 6 people |
| Corner Terrace | 81.8㎡ | 1 | 6 people |
| Accessible Twin | 30.4㎡ | 1 | 3 people |
| Suite | 72.9㎡ | 7 | 2 people |
The suites are incredibly spacious, with sizes from 72.9 Square meter.
Additionally, the Corner Terrace provides an even larger space of 81.8 square meter.
Check in
The front counter is located to the left upon entering through the main entrance.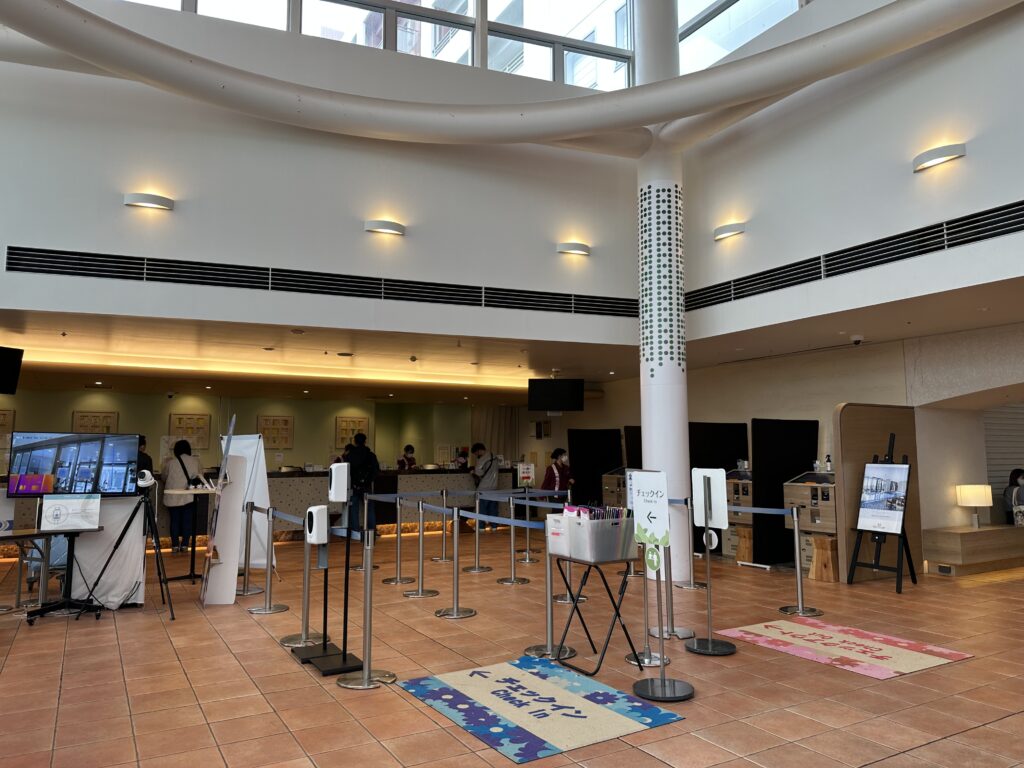 After completing the procedures at the front counter, you can proceed to the self-check-in machine located to the right to obtain your room key and perform other related tasks.
Deluxe State Twin
We stayed in a room"Deluxe State Twin", which has a spacious area of 30.4 square meters.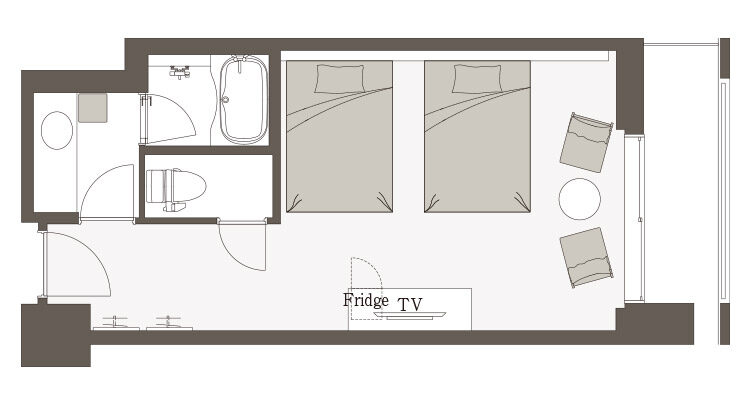 The room, with a refreshing predominantly in blue, has the bathroom and toilet on the left upon entering, and the bedroom area at the back.
Living / Bedroom
Let's start with the bedroom.
It is a room with twin beds, specifically designed as a Hollywood Twin where the beds are already joined together.
The width of each bed is 140cm, so when they are joined together, it becomes 280cm, providing more than enough space even wth a child sleeping together.
The beds can be easily moved, so we positioned them against the wall ourselves ensure that our child wouldn't fall off during sleep.
The wall above the bed board, bed throw, cushions, carpet, and other elements are all unified in refreshing shapes of blue, creating a pleasant and soothing atmosphere.
Furthermore, a bed guard was provided in the room in advance, ensuring the safety of our child during sleep.
There is a night lamp and power outlet available on each bed.
There are two chairs and a coffee table towards the back.
light stand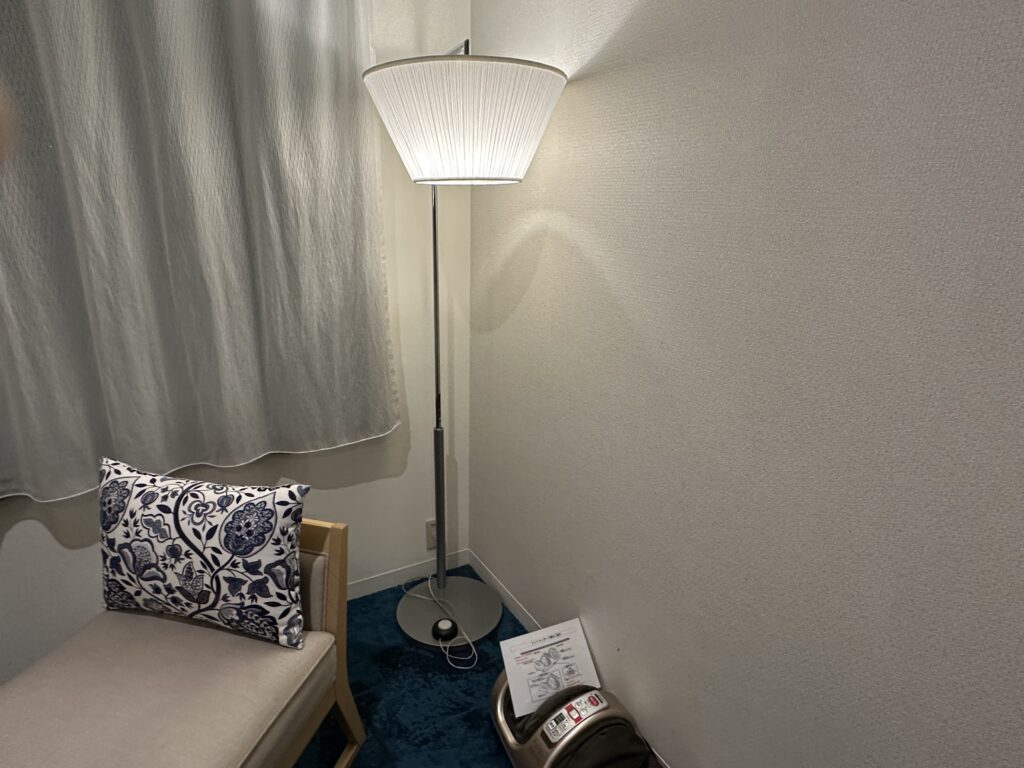 The pajamas are a separate set, with a top and bottom.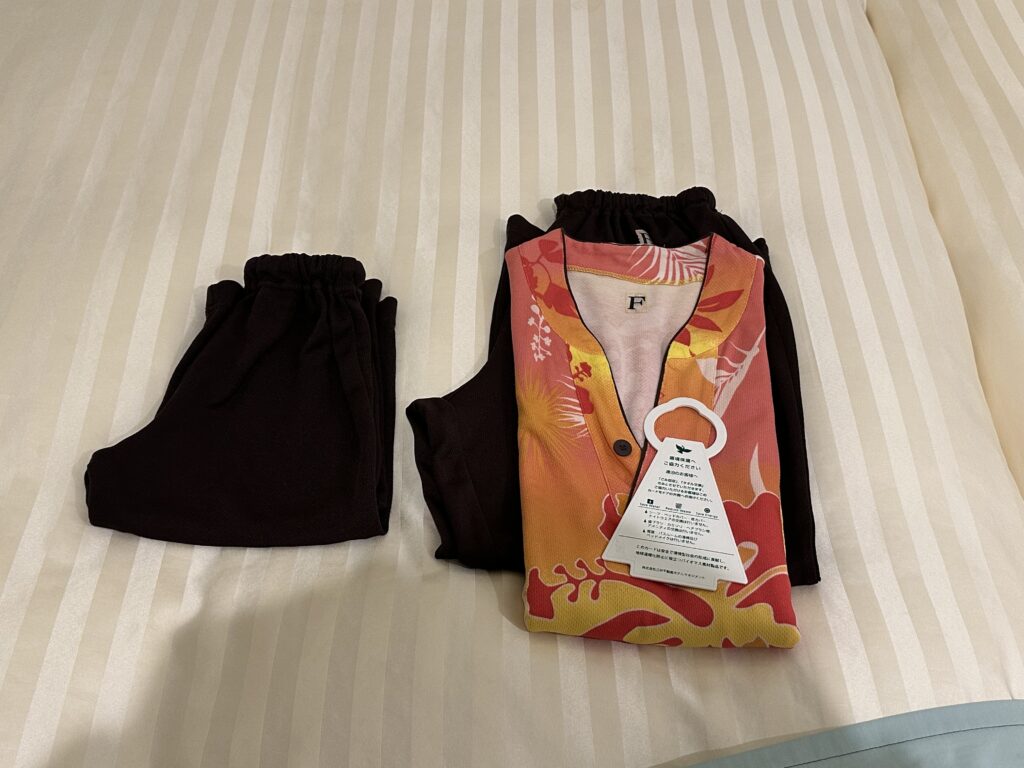 You can wear this nightwear anywhere within the hotel, including the lobby and restaurants.
There is also a matching design available for children.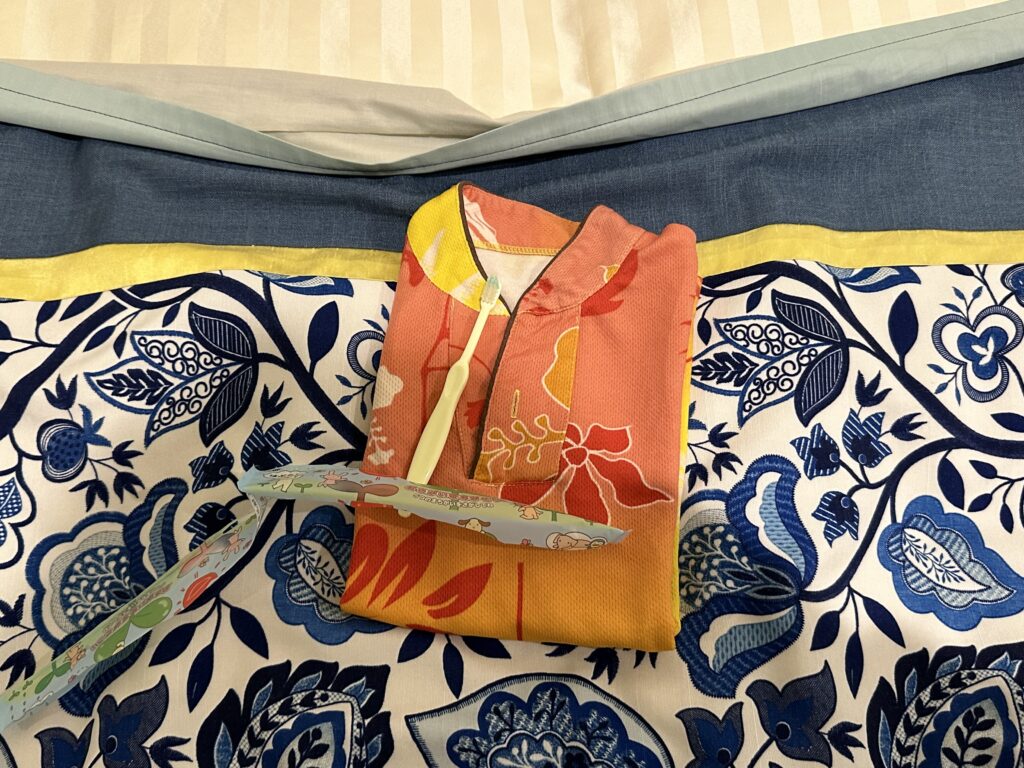 It's great that the design is the same for both adults and children, as children often wants to use the same things as adults.
Television and Refrigerator area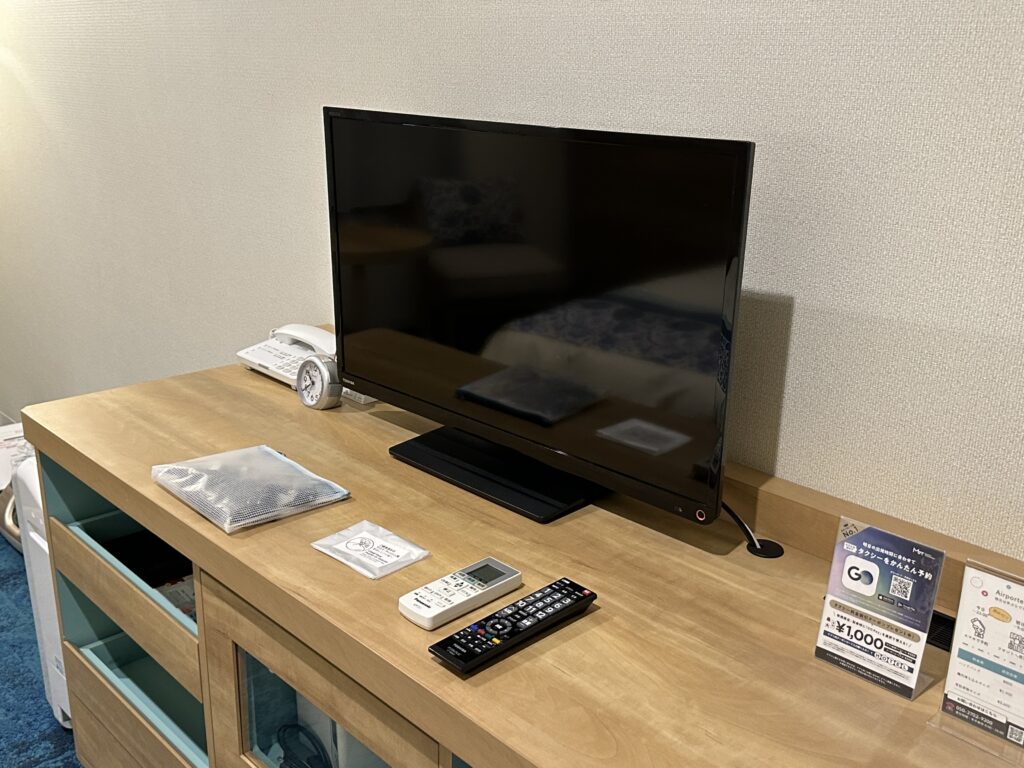 This hotel being a Disney partner hotel, you can also view information about the Disney Resort on the TV
And here's the surprising part.
At this hotel, chargers for various devices were already provided in the room, and not just one but two chargers were available.
It was quite impressive because hotels go the extra mile to provide such amenities.
As for the TV area, there is a refrigerator underneath, although it is empty.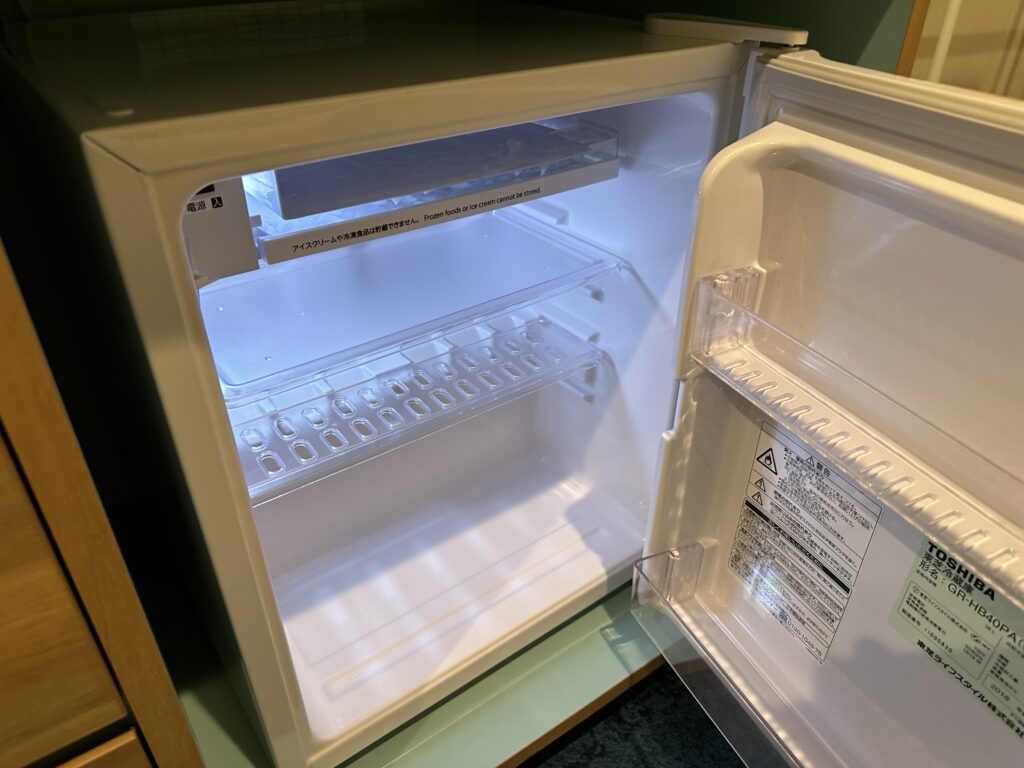 In the adjacent drawer, you will find a kettle, an ice bucket, glasses, mugs and green tea.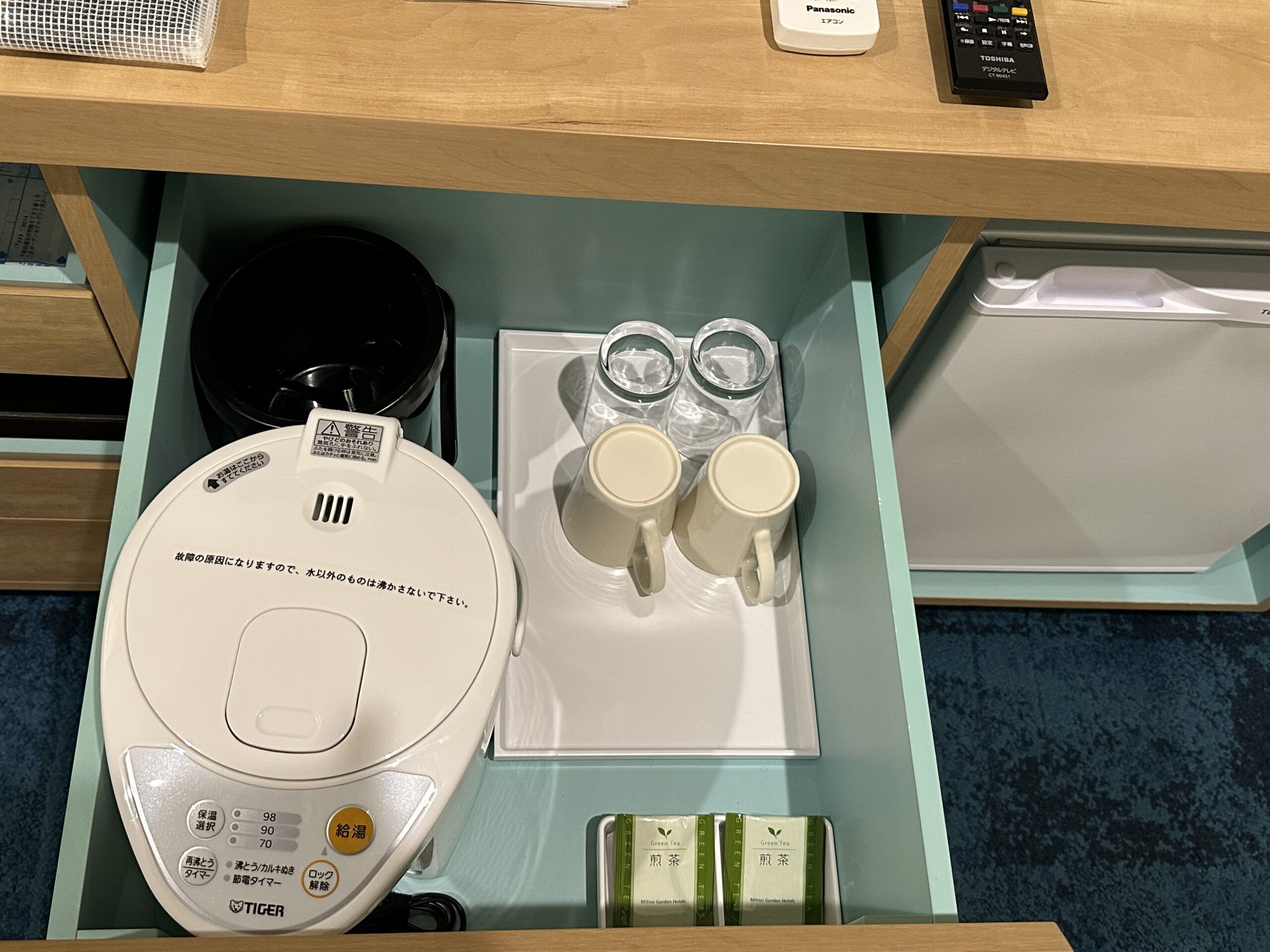 Furthermore, there is a safety box located on the shelf below.
A humidifying air purifier are provided in the room for your comfort.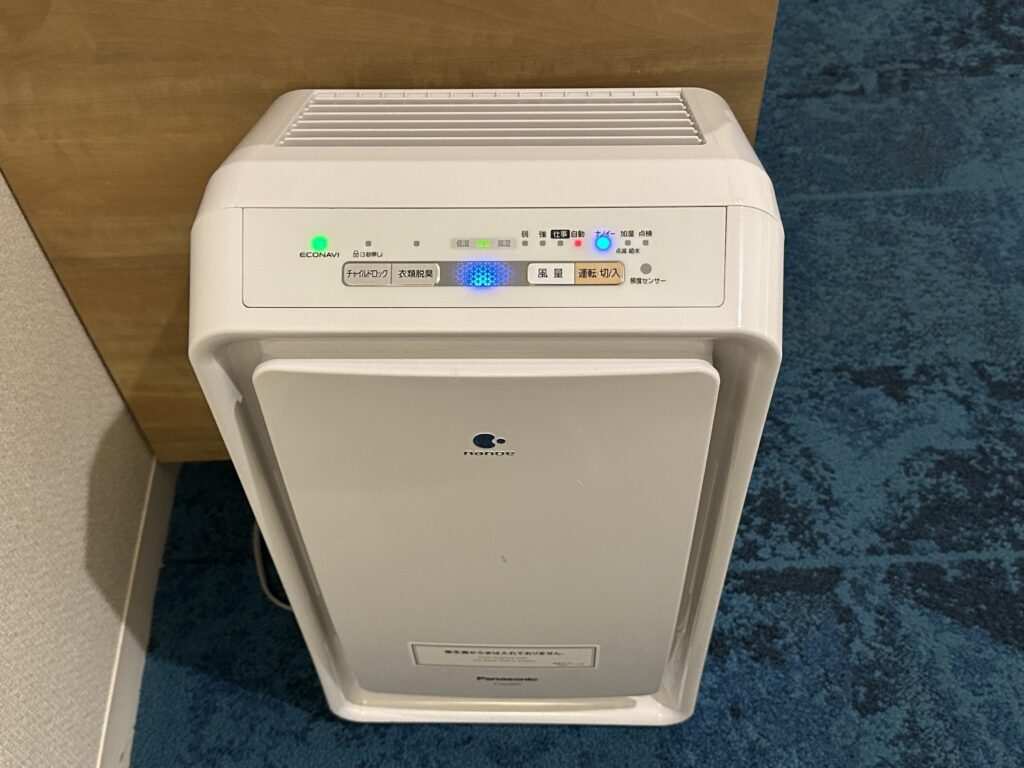 The hotel also offers a foot massager, which is popular among guests visiting the Disney Resort area.
There was also a shoe drying machine available.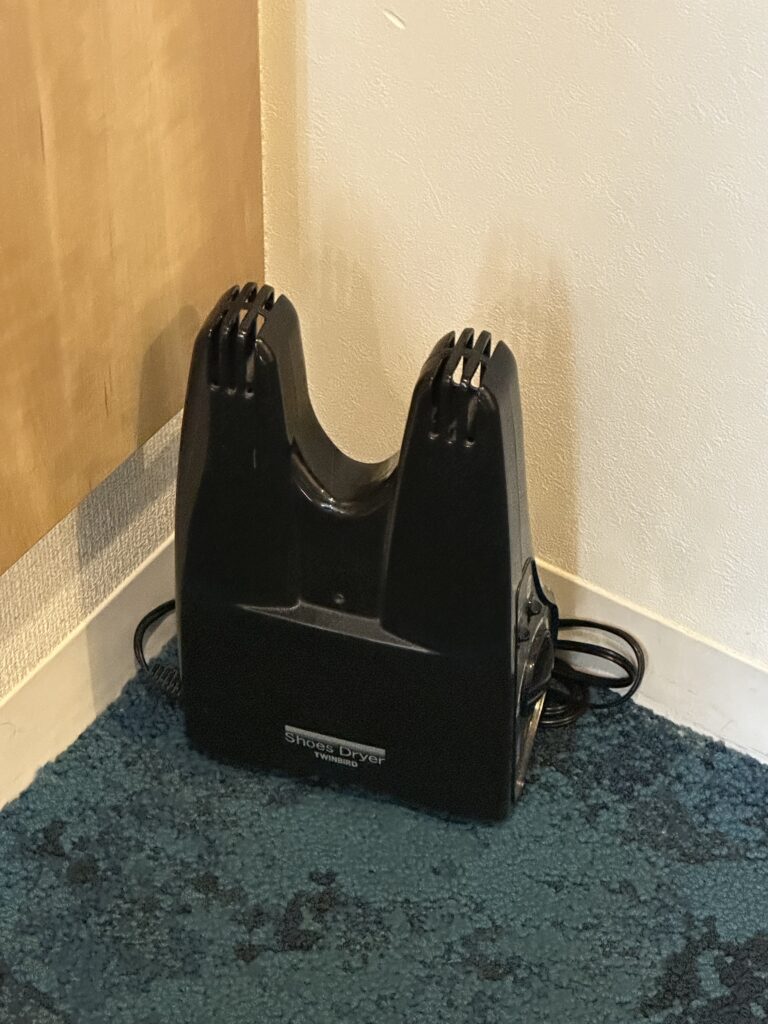 There was also a towel hanger, which is uncommon in hotels but often seen in hot spring resorts.
There is no closet, so coats and other items are hung on wall-mounted hooks.
In order to create a more spacious living area, the slippers are cleverly positioned upright, utilizing the available space efficiently.
Bathroom / Toilet
With the exception of the accessible rooms, all the rooms in the hotel feature separate bathrooms and toilets.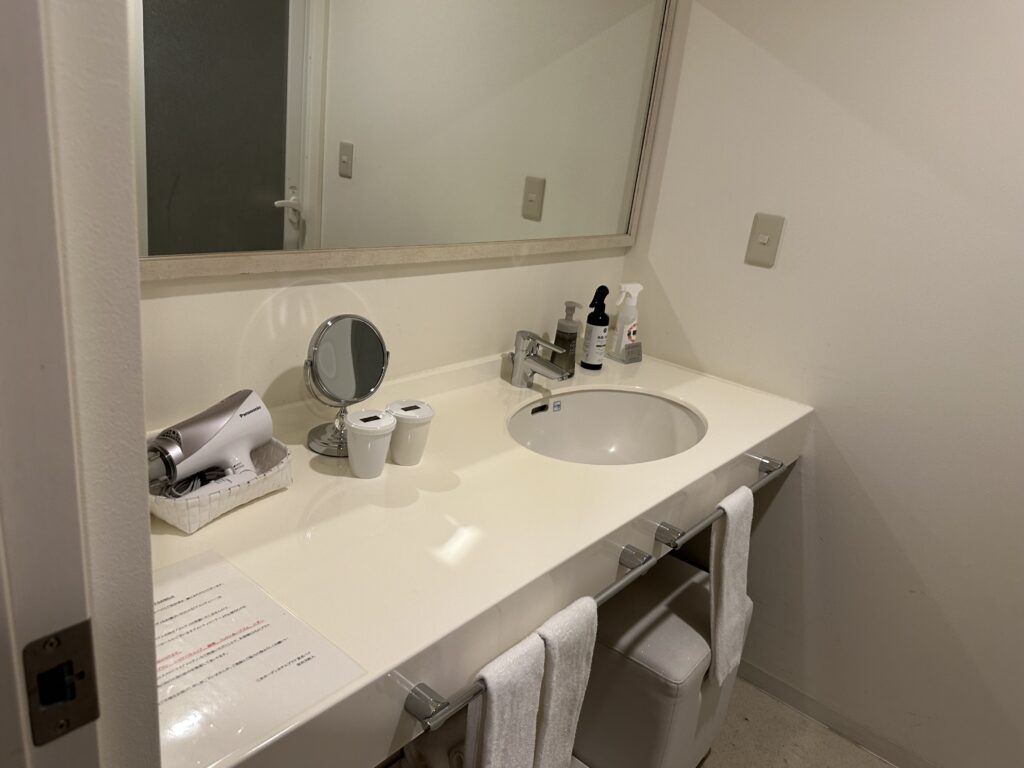 The powder room is spacious with a large mirror, providing ample space.
Amenities such as toothbrushes are not provided in the room but can be obtained from the first-floor amenity bar as needed.
There is a hairdryer, hand soap, and alcohol spray available in the room.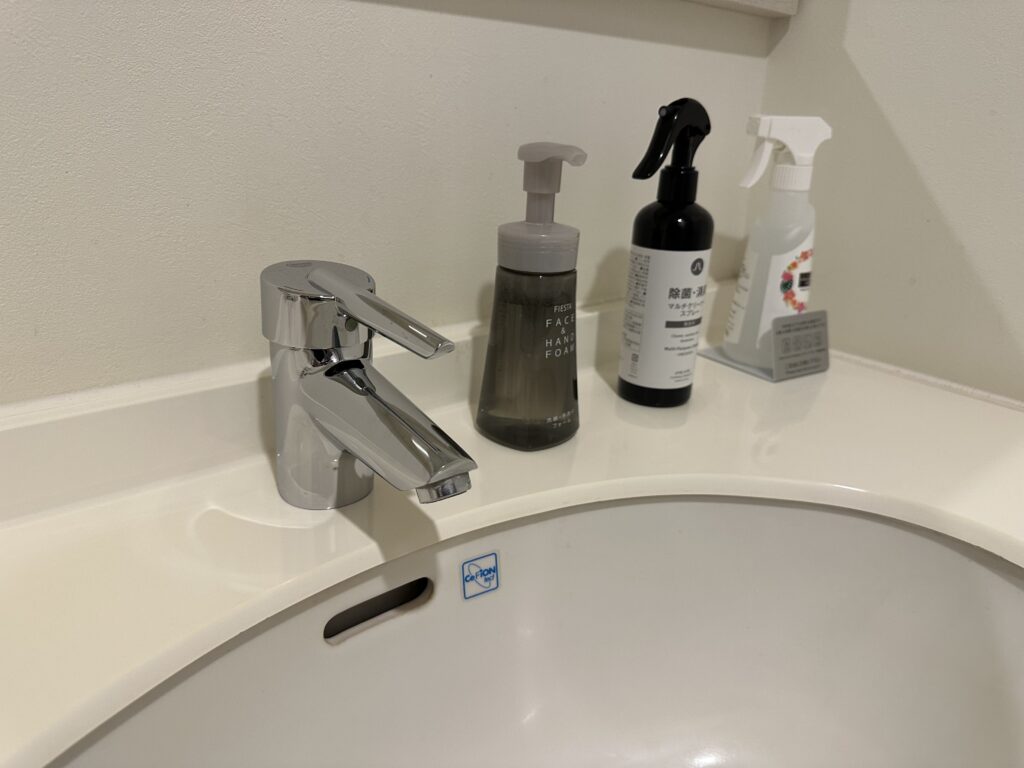 bath towel, face towel, body towel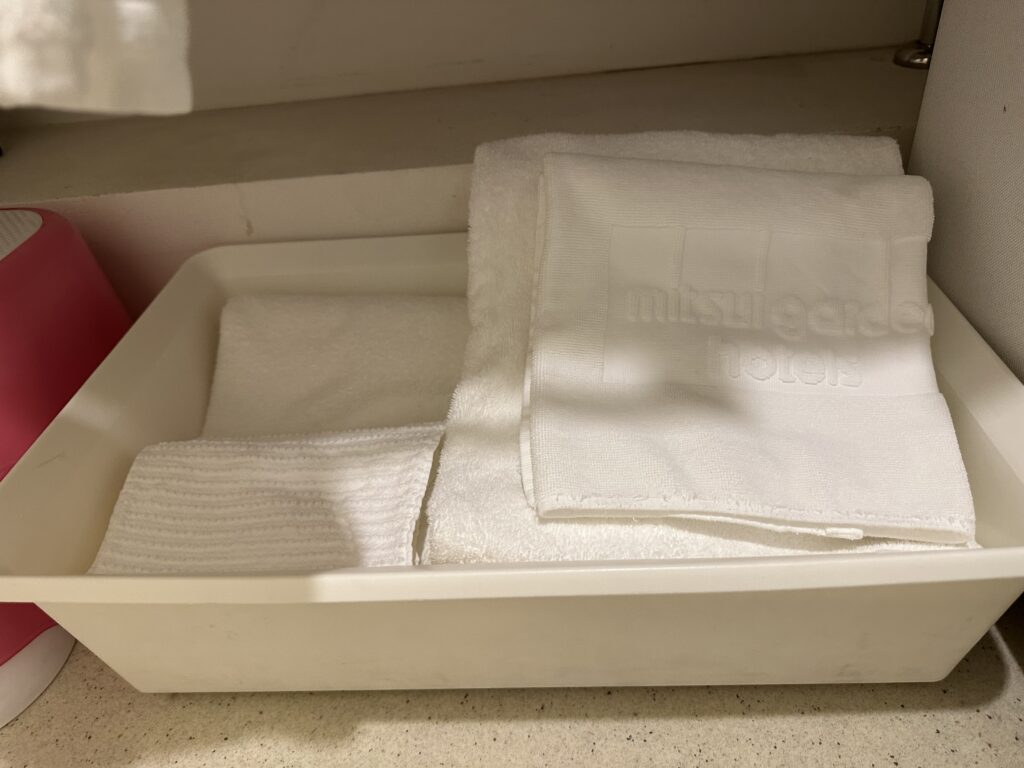 A step stool is provided from the start to accommodate guests with small children and families.
There is also a stool available.
Bathroom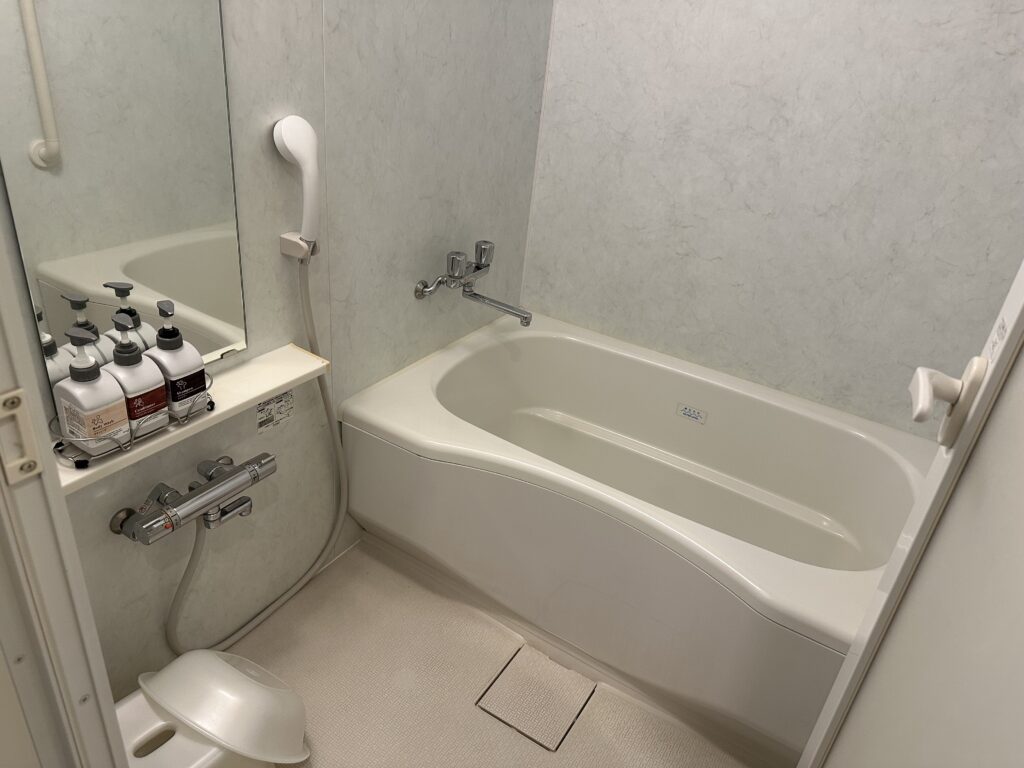 It has a shower area.
There is no hotel-like atmosphere, but it is really convenient for families with small children.
The toilet is also separate.
A child toilet seat is also provided in advance.
The breakfast is a popular Hawaiian buffet.
Breakfast is served in the restaurant "Plana Style" located on the first floor, in a buffet style.
Restaurant
Plana Style
Operating hours
6:30am – 10:30am
Style
Buffet
Price
Adult : 2,090 yen
7-12 years : 1,760 yen
4-6 years : 500 yen
Children up to 3 years are free of charge
※As of July 2023
The breakfast menu offers popular Hawaiian dishes such as Loco Moco, Acai Bowl, and Pancakes.
It lives up to its reputation with a satisfying and diverse selection.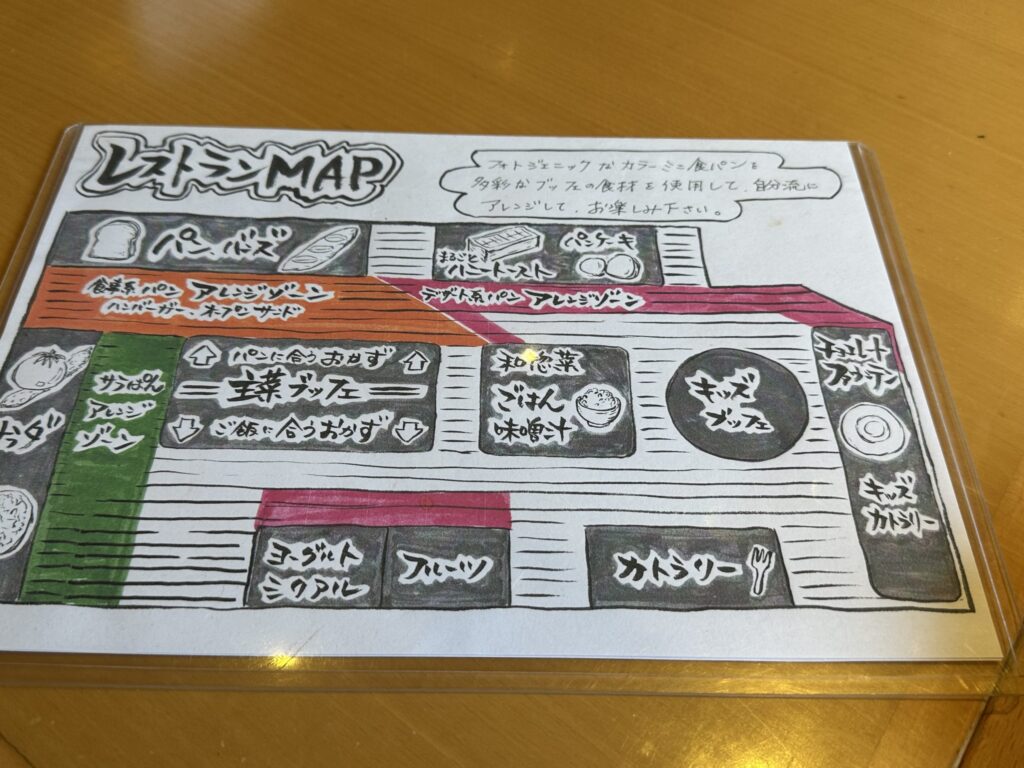 Main1
Japanese side dishes, steamed rice, and miso soup.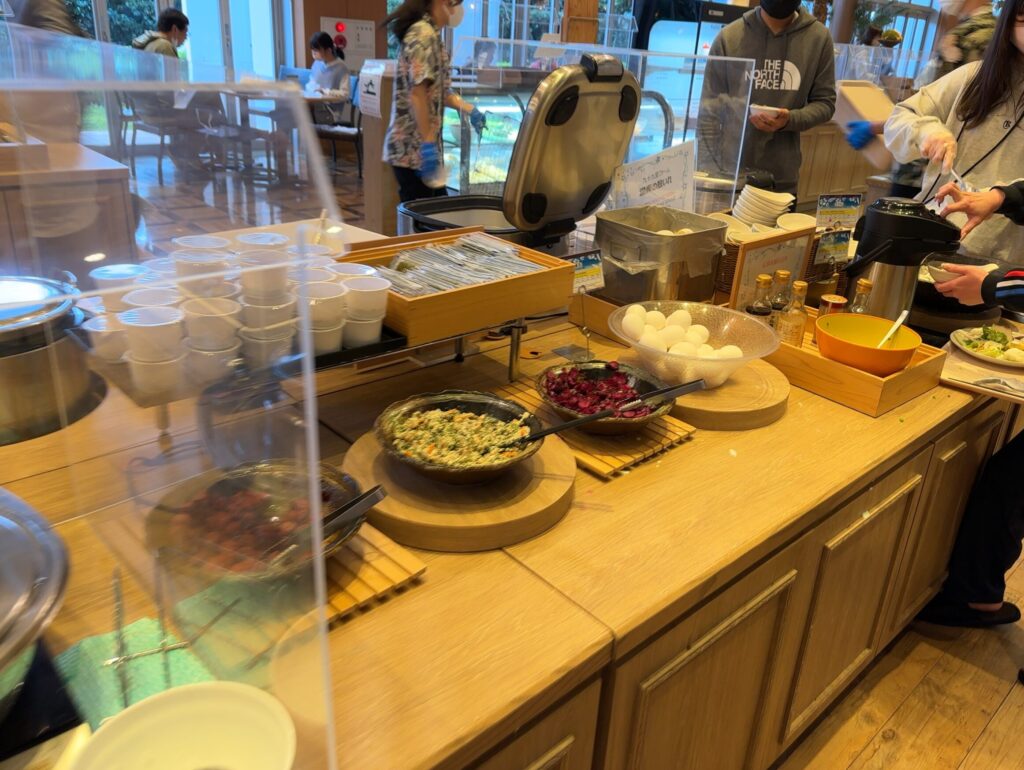 Salad
Pancakes, toast, and hamburgers
Children's area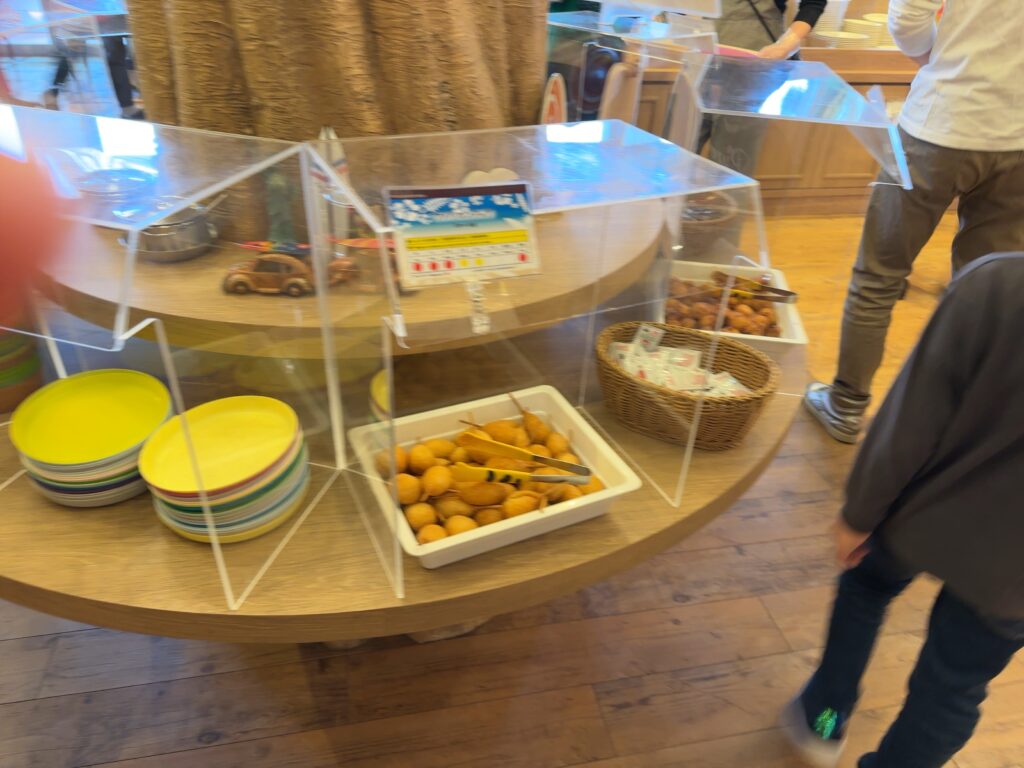 Chocolate fountain
The menu is filled with options that both adults and children can enjoy.
And the price is also quite reasonable at 2,090 yen for adults, making it a great value compared to others.
You can also enjoy the breakfast buffet without having to book a plan that includes breakfast, so it is highly recommended to utilize it during your stay.
Spectacular! A large bath with an ocean view where you can enjoy breathtaking scenery
☆Recommended Points☆
・Complimentary access for hotel guests
・Can be used on the morning of check-in as well
On the top floor of the hotel, there is a scenic large bath facility.
This large bath is available for free to hotel guests.
What's more, on the day of check-in, guests can enjoy the bath for free even during the early morning hours before check-in.
This is a truly delightful benefit, especially for guests who have traveled from afar by car.
The bath area is spacious, and in the morning, guests can leisurely soak while enjoying the ocean view from the top floor.
Moreover, the facility is open until 25:00(midnight), so guests can enjoy the bath even after returning from a full day of fun at the park.
This is another wonderful point to note.
Floor
7th
Price
Free(hotel guests only)
Operating hours
5:00am – 9:00am
6:00pm – 1:00am
Other Facilities in the hotel(Kids Area, Convenience Store, Gachapon, etc.)
Next, let me introduce the facilities within the hotel.
Kids Area
On the right hand side, towards the back, after entering through the main entrance, there is a kids' play area where children can have fun.
Although it's not very spacious, the area is surprisingly well-equipped with a large slide, building blocks, and more.
It provides a great way for children to stay entertained and occupied during check-in, without getting bored.
Convenience store(Lawson)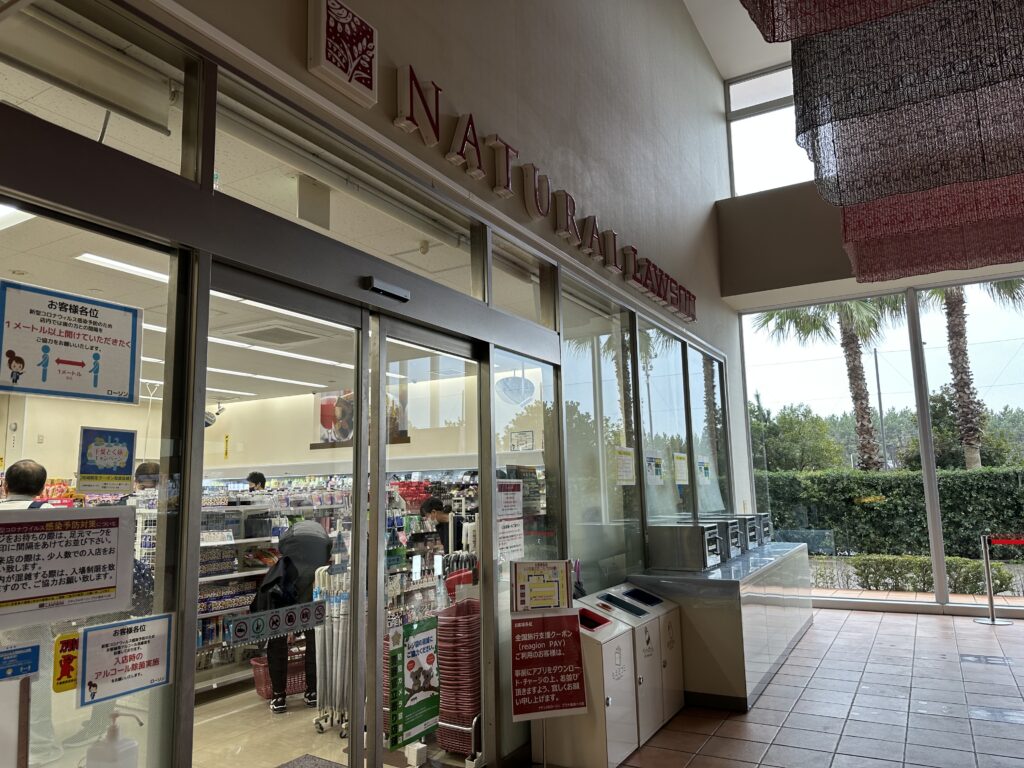 There is a Natural Lawson located at the back of the lobby floor.
It is rare for a convenience store within a hotel to be open 24 hours, so you can conveniently use it even if you return late from the park.
Microwave
There is a microwave oven located in front of the Lawson convenience store on the 1st floor.
With four available microwaves, even during busy times, there is usually not much of a wait to use them.
Additionally, there is a microwave oven on each floor, so you can rest assured knowing that you can warm up baby food or other items as needed.
Gachapon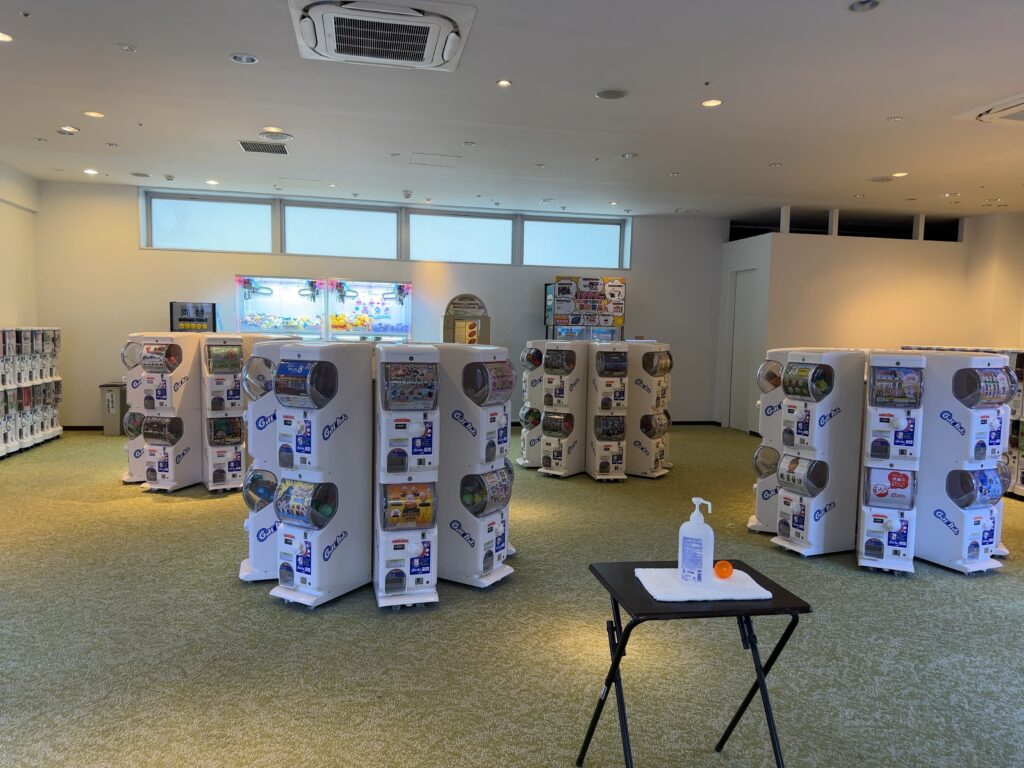 On the lobby floor, there is a trendy Gachapon area where you can enjoy the excitement of capsule toys.
Unfortunately, the Disney shop called "Disney Fantasy" that used to sell Disney merchandise has closed down in all partner hotels.
Coin Laundry
There is a coin laundry on the west side of each floor from the 2nd to the 7th.
| | |
| --- | --- |
| Washing machine | 200 yen |
| Dryer | 100 yen / 30 minutes |
washing powder / 100 yen
Photo spot
In the lobby, there is a photo spot set up according to the season or events.
Additionally, there is also installation art featuring lights and shadows displayed in the lobby.
If you have the time during your stay, be sure to check it out.
Access(Tokyo Disney land, DisneySea, Haneda/Narita airport, Tokyo Station)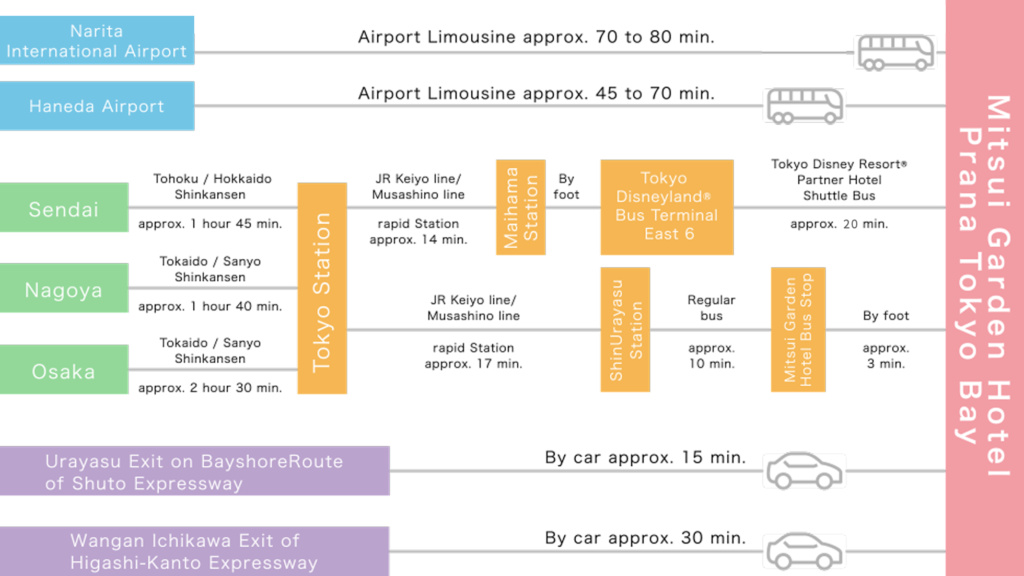 There is a free shuttle bus service from the hotel to Tokyo Disneyland and DisneySea.
Train
It takes about 30 minutes to get from Tokyo Station to the hotel.

Limousine Bus(Haneda / Narita Airport)
【Haneda Airport】
There is a limousine bus service available from Haneda Airport to the hotel, with a travel time of approximately 45 minutes to 70 minutes.
No advance reservation is required for this service.
【Narita Airport】
From Narita Airport to the hotel, the limousine bus takes approximately 70 to 80 minutes.
Please note that for the bus service from the hotel to Narita Airport, reservations can be made up to one month in advance.
A budget-friendly hotel with excellent cost-performance, perfect for enjoying a Disney trip
In this article, I introduced a review of the "Deluxe State Twin" room, breakfast, and hotel facilities at Mitsui Garden Hotel Prana Tokyo Bay.
☆Mitsui Garden Hotel Prana Tokyo Bay Good Points☆
・The accommodation and breakfast are reasonably priced, making it budget-friendly.
・The rooms start from 30.4 square meters, providing a spacious and comfortable stay.
・Each room has a separate bathroom and toilet, ensuring peace of mind when staying with small children.
・Guests can enjoy a Hawaiian buffet for breakfast.
・The hotel features a top-floor public bath that is available for free to guests.
During our recent Disney trip, we had a large group of 10 people ranging from kindergarten kids to grandparents, and our stay at the hotel was absolutely satisfying without any inconvenience.
Throughout our stay, we noticed that the hotel attracted a diverse range of guests, including families, students, friends, and couples.
Despite its affordable price range, the hotel managed to provide facilities and services that catered to the needs of such a wide range of guests.
We understand that many guests want to minimize costs, especially after spending money at the Tokyo Disney resort.
In this regard, the Mitsui garden Hotel Prana Tokyo Bay is highly recommended as it offers a cost-effective stay without compromising on the overall hotel experience.
We hope that our review serves as a helpful reference for those choosing a hotel.
Thank you for reading until the end.