There are three official Disney hotels(Tokyo Disneyland Hotel, Disney Ambassador Hotel, Tokyo DisneySea Hotel MiraCosta) and MiraCosta is one of them and the most popular among Disney hotels as it is directly connected to Tokyo DisneySea.
The hotel is full of Disney's cute tricks and decorations, and both adults and children can enjoy themselves without a doubt.
This time , I will report on my stay at Hotel MiraCosta after playing at Tokyo DisneySea.
Please note that external links to products, services, etc. featured on this site may contain affiliate advertisements.
Venice Side/Superior Room
The room we stayed in this time was a Superior Room on the Venice side.
Superior rooms are what is known as standard rooms, and are the most reasonably priced rooms in their category.
At the Hotel MiraCosta, the price of Superior Room varies depending on the view.
【Tuscany Side View】
Located on the entrance side of Tokyo DisneySea, you can enjoy views of DisneySea's AquaSphere.
【Venice Side View】
"Palazzo Canal"means "palace canal". You can enjoy a romantic cityscape along the canal.
【Port Paradiso Side View】
"Partial View" : Faces the town of Port Paradiso , but the view is partially obstructed by the walls and roofs of the bulldings.
"Piazza View" : You can enjoy the square and town of Port Paradiso. Additionally, there is also a piazza Grand View where you can enjoy views of the harbor.
"harbor View" : You can see the entire harbor of Port Paradiso. In addition , the Terrace Room offers a spacious terrace where you can fully enjoy the harbor view with the harbor Grand View.
Room facilities
Although the room size was standard at 37 square miters, it was spacious enough and had a very relaxed atmosphere.
the interior design, based on the concept of Italian classic , is mainly green and the wallpaper is beige, creating a calm and peaceful design.
The TV stand is also made of a wooden material that exudes a luxurious atmosphere and creates a extraordinary space.
There is a writing desk by the window , and a sofa is also installed , creating a space that is so luxurious that it is hard to believe it is a Superior room.
Tassels are hung on the wall, allowing guests to reminisce about their adventures in the park and immerse themselves in thoughts of tomorrow's journey, in line with the concept of "looking back on the adventure in the park and reflecting on tomorrow's voyage".
The bed panel also portrays the view of the Venice side that can be seen from the room where I stayed this time .
And if you look closely, you can see Minnie Mouse dressed as a mermaid in the wallpaper near the celling.
The attention to detail is impressive , and you never get bored looking around.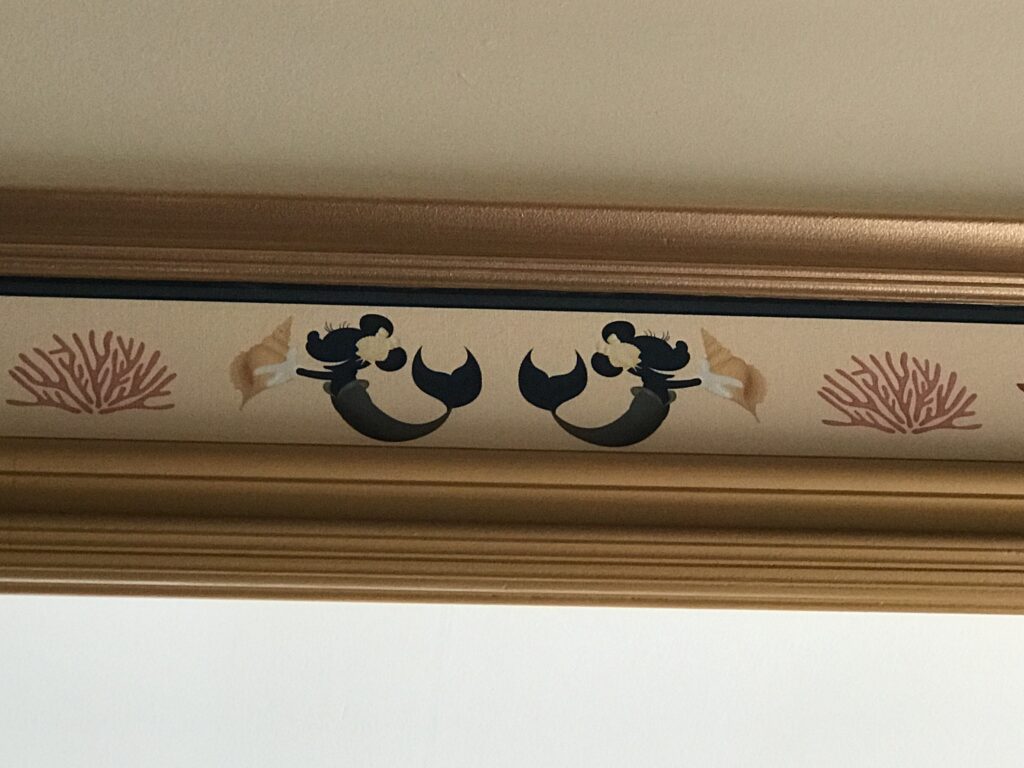 Bathroom
The bathroom has a layout where the toilet and bathtub are separate.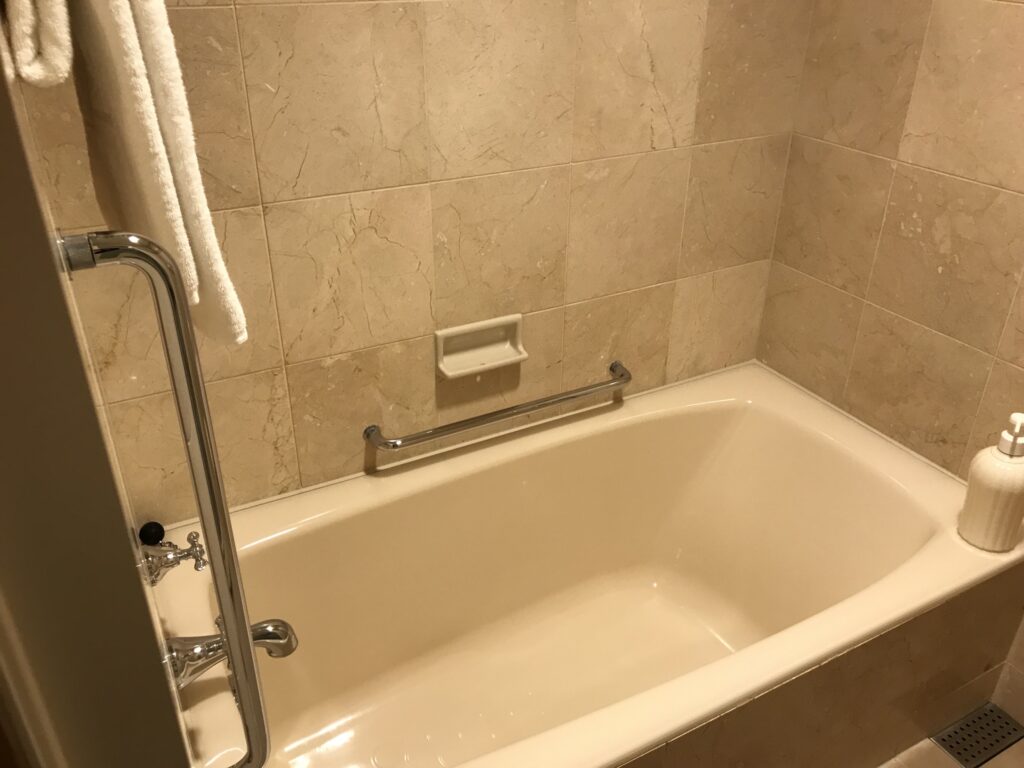 Additionally, the bathtub has a separate area, which is very convenient for families with children.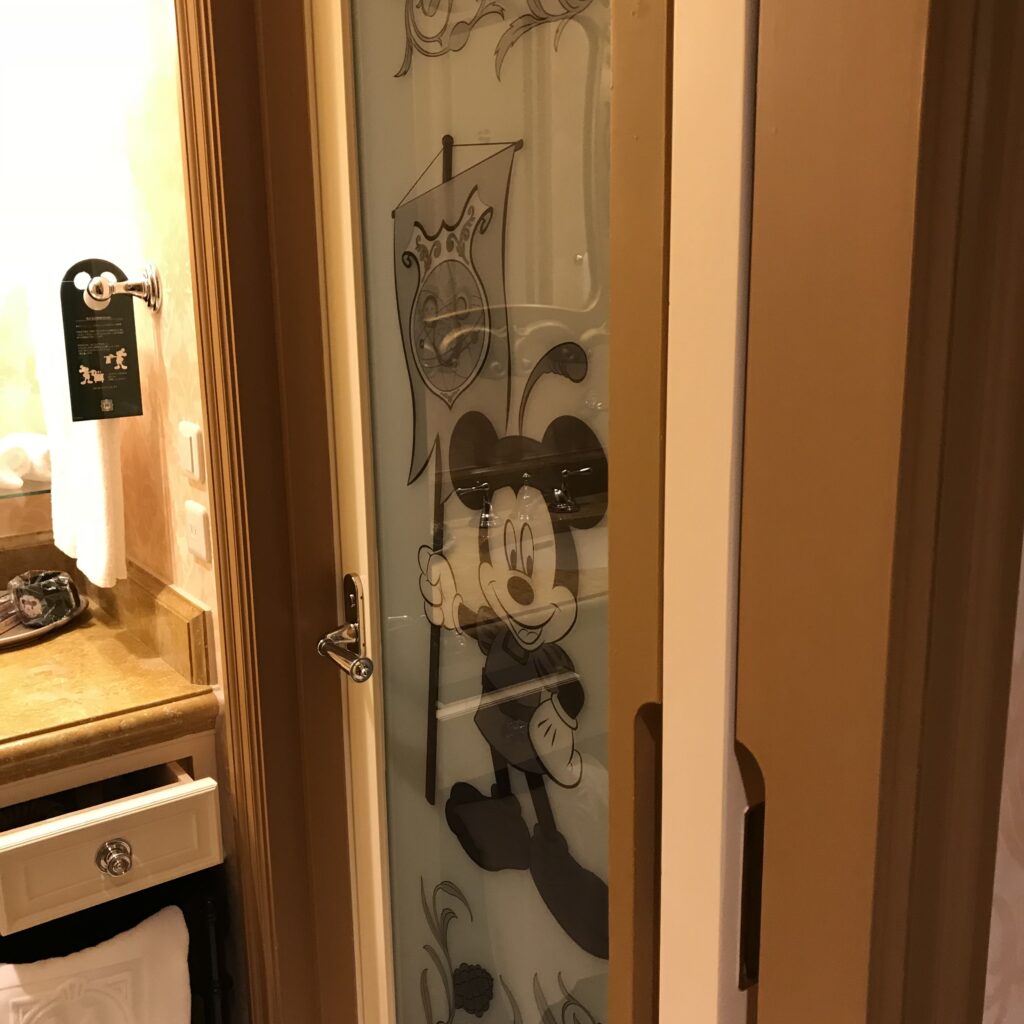 The bathroom door has Mickey on it. The bathtub is spacious and you can relax in it .
And the most surprising thing when I first stayed at a Disney hotel was how cute the amenities were.
All items such as toothbrushes, cups, and cotton sets have Disney designs on them, and you can even take the cups home with you.
Even the mirror has a cute design.
Child-sized toothbrushes are also available and provided in advance.
Bar counter and in-room amenities
Coffee and green tea bags are provided, along with teacups and glasses.
The back of the teacups features the MiraCosta logo, and the coasters have Mickey Mouse designs.
Complimentary bottled water is available in the refrigerator.
In-room closet
Child-sized slippers are also provided in the room's closet in addition to these for adults.
Of course, the alippers also Disney designs.
In addition, these were Disney=designed shopping bags prepared in the room.
At this time, the event was Pixar Playtime, so the bag had a design.
When staying at the Ambassador Hotel or Disneyland Hotel, there were different designs, so it's also nice to enjoy different designs depending on the hotel.
View from the room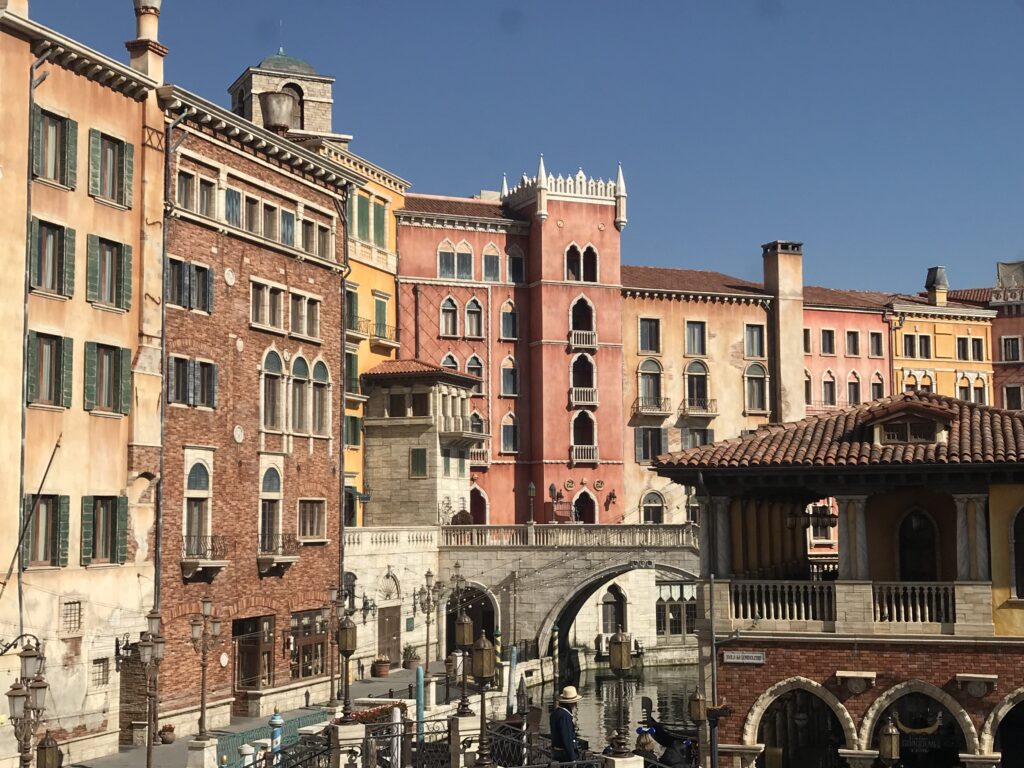 This time , we stayed in a Venice side superior room.
From the room , we could enjoy the view of the Venetian direction.
The best thing about Hotel MiraCosta is that you can enjoy views of the park from your room.
During business hours, you can enjoy the lively atmosphere of the park, and after it closes, you can see the park's appearance that you can't normally see.
The Venice side we stayed in this time allowed us to enjoy the peaceful atmosphere and beautiful cityscape after the park closed , and it really felt like we were in a city in Italy, providing a truly extraordinary experience that I highly recommend.
Pool & Spa"Terme venezia"
At Hotel MiraCosta, there is a pool facility called "Terme Venezia" which includes both indoor and outdoor pools.
Facility
Indoor Pool/Spa Area
Outdoor pool
Hours
Open all year
Summer only
Opening hours for summer 2023
July 14- September 3
Hours
10:00a.m-6:00p.m(last admisssion 5:30p.m)
8:00a.m – 8:00p.m from July 14 to September 3.2023
(last admission 7:30p.m)
Summer only
Opening hours for summer 2023
8:00a.m – 6:30p.m
Guest can use it for an additional fee, separate from the accommodation fee.(*Children under 3 years old are free of charge) Only hotek guests can use the facility.
There is also a bar facility called "Hippocampi" by the poolside, where you can enjoy soft drinks, alcoholic beverages, and light meals.
During periods other than summer , the price is lower and the facility is relatively less crowded, so it is recommended to go during non-peak periods.
Restaurant/breakfast
At Tokyo DisneySea's Hotel MiraCosta, there are three restaurants.
Mediterranean Cuisine:Oceano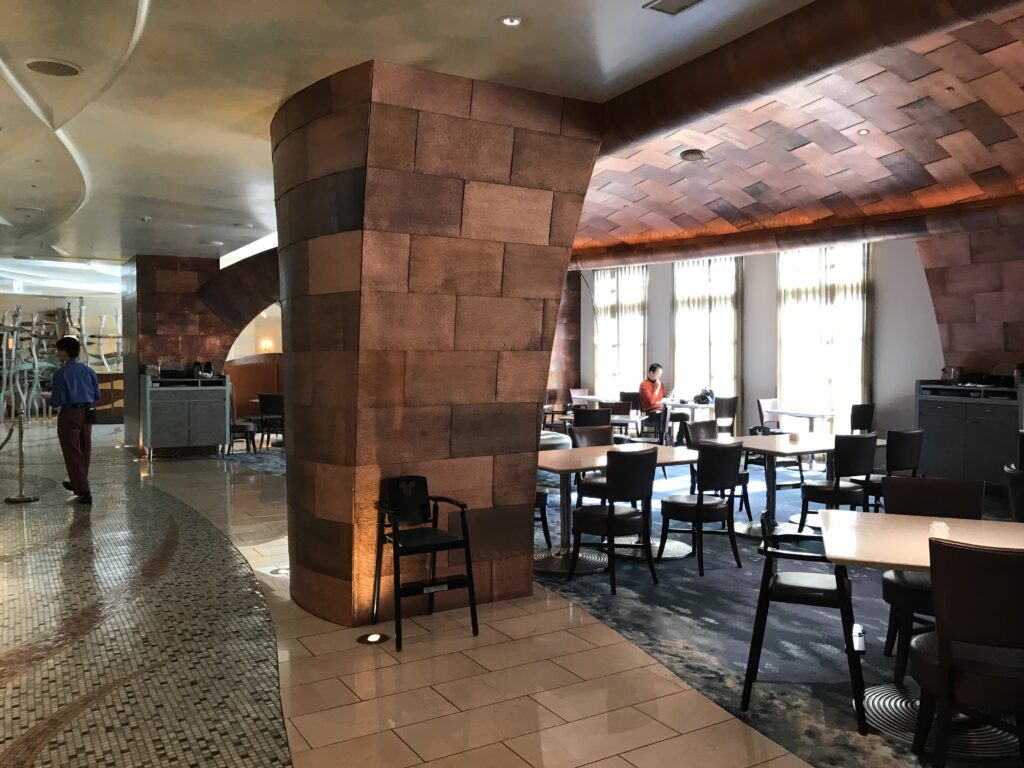 Enjoy buffet and course meals in a restaurant with a motif of the sea world at Tokyo DisneySea's Hotel MiraCosta.
At the dining venue facing the expansive mediterranean Harbor, you can enjoy a wide variety of Mediterranean cuisine through buffet and course meals.
| | |
| --- | --- |
| Breakfast | 6:30a.m – 10:00a.m |
| Lunch & Dinner buffet | 11:30a.m – 9:00p.m |
| Dinner course | 5:00p.m-9:00p.m |
*The opening hours may vary depending on the season
Chinese Cuisine:Silk Road Garden
A Chinese restaurant that serves authentic Cantonese cuisine.
You can enjoy authentic Chinese cuisine in a space with a mix of Eastern and Western cultures, full of exotic atmosphere.
| | |
| --- | --- |
| Lunch | 11:30a.m-2:30p.m |
| Tea time | 2:30p.m-4:00p.m |
| Dinner | 5:00p.m-10:00p.m |
*The opening hours may vary depending on the season.
Lobby Lounge:BellaVista Lounge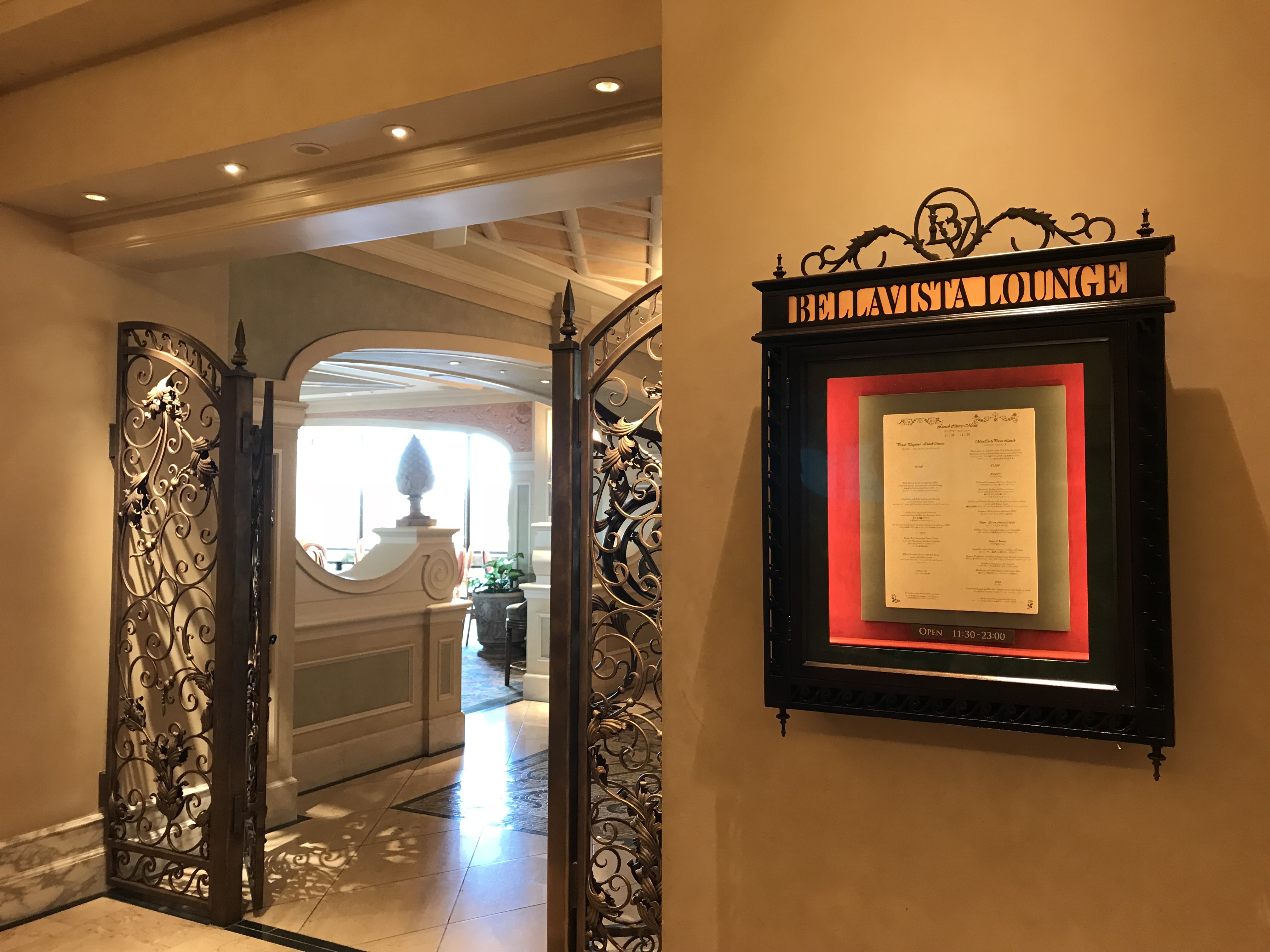 Enjoy a view of the lively Mediterranean harbor town from the restaurant, and you'll be surrounded by bright sunlight shining through the windows and a calm interior while enjoying Italian-themed dishes and drinks.
| | |
| --- | --- |
| Breakfast | 6:30a.m-10:00a.m |
| Lunch | 11:30a.m-2:30p.m |
| Dinner | 4:30p.m-10:00p.m |
*The opening hours may vary depending on the season
Enchanting Tokyo DisneySea Hotel MiraCosta
This is a report on the Tokyo DisneySea Hotel MiraCosta, specifically the Venice Side Superior room.
While Disney hotels, especially MiraCosta, may be more expensive than surrounding hotels, they offer a charming and attractive hotel experience that is well worth the price.
If you stay there on a special occasion such as an anniversary, there is no doubt that your memories of the park will become even more special.
Personally, I would also recommend staying at MiraCosta with the sole purpose of enjoying the hotel experience, even if you don't enter the Disney resort.
If you stay at MiraCosta, it would be a waste to just sleep there after spending time at the park, so be sure to enjoy your hotel stay to the fullest from check-in at 3pm to to check-out at 12 pm.
While it is a Disney hotel, MiraCosta is also a hotel where you can enjoy a purely hotel stay experience.
I hope you find this blog helpful when considering a stay at MiraCosta.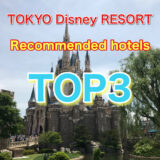 Traveling to Disney Resort with children! Three recommended Disney resort hotels for families