We stayed at the "Grand Nikko Tokyo Bay Maihama," which is one of the Disney official hotels.
Previously known as the "Tokyo Bay Maihama Hotel Club Resort," this hotel was operated under that name until 2020.
After its closure, it was taken over by Okura Nikko Hotel Management and reopened with a new name.
We stayed in the newly renovated "Garden Floor," which opened in 2022.
The hotel's lobby is incredibly luxurious and impressively designed.
In this blog, I will introduce the captivating interior, facilities, amenities, and other details.
It is a highly recommended hotel, so please stay tuned until the end.
Please note that external links to products, services, etc. featured on this site may contain affiliate advertisements.
Garden Floor "Garden Superior Room"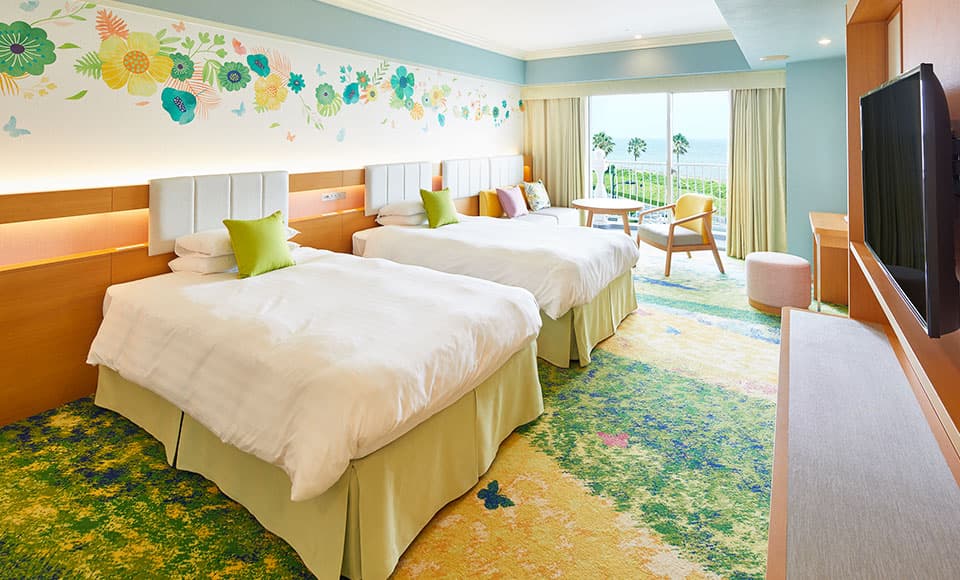 Garden Floor
The interior is unified with a bright and uplifting atmosphere, inspired by flowers that bloom in vibrant colors under the sun's rays.
It creates a sense of serenity and relaxation while maintaining a cheerful ambiance.
The garden floor features rooms that are all designed with the same concept, showcasing a bright and charming aesthetic.
Within the garden floor, there are several room types available to choose from.
Garden Standard Room ・・・ 28㎡
Garden Superior Room ・・・ 32㎡
Garden Deluxe Room ・・・ 40㎡
Garden Deluxe Family Room ・・・ 56㎡
Japanese-Western style Room ・・・ 64㎡
Universal Room ・・・ 32㎡
The Garden Floor is comprised of rooms that adhere to the concept of a garden-themed design, and it it located on the 4th and 6th floors.
There are a total of six room types available, catering to various needs ranging from couples to families and even multi-generations travelers.
For this particular, we opted for the "Garden Superior Room" which comfortably accommodates two adults and one child, making it suitable for a party of three.
Garden Superior Room / Wallpaper,Carpet
Let's start with the overall ambiance and views of the guest rom first.
The room features adorable wallpaper and bright carpeting.
Since our child stayed with us in the same bed, we opted for a Hollywood Twin setup with the bed pushed against the wall.
The room itself was already spacious at 32 square miters, and by placing the beds against the wall, it created an even more expansive feel.
We brought a stroller and other items into the room, but there was still plenty of space.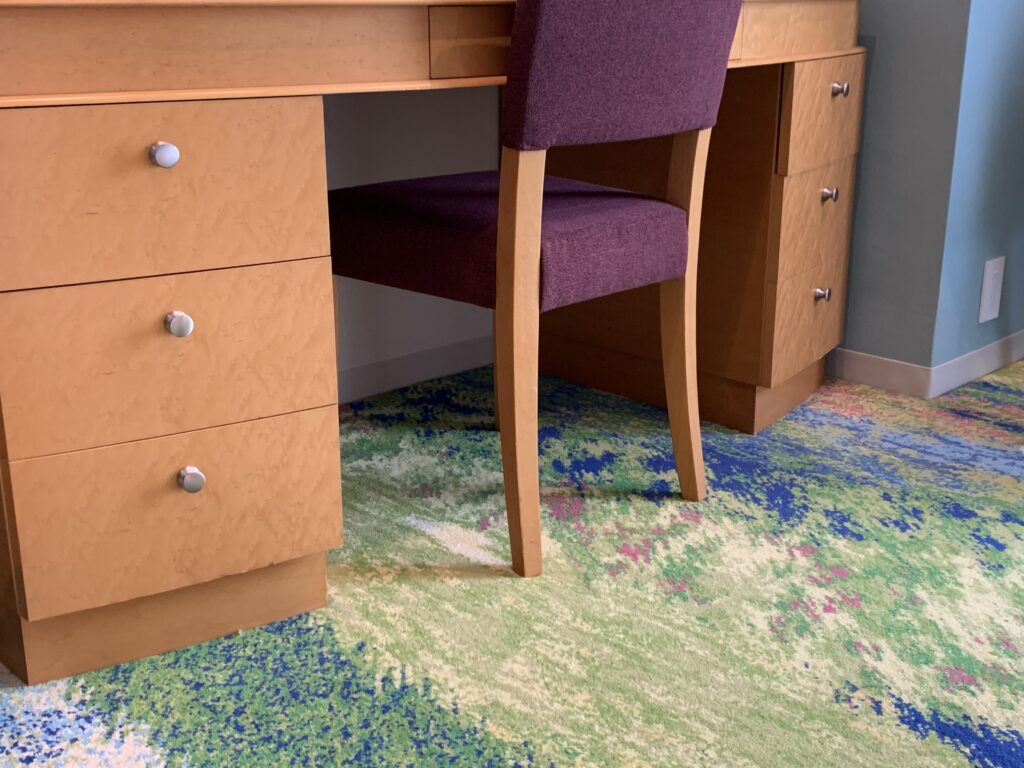 The design matches the vibrant and colorful rooms depicted on the hotel's website.
It's a delightful and bright space that lives up to the expectations set by the online images.
Refrigerator / coffee / tea
Moving on to the minibar area.
Inside the refrigerator, there were two complimentary bottles of water.
Here are the available coffee and tea
・Drip Coffee(UCC)
・Darjeeling Tea
・Green Tea
・Hojicha(Roasted Green Tea)
・Sugar
・Creamy Powder(Creamer)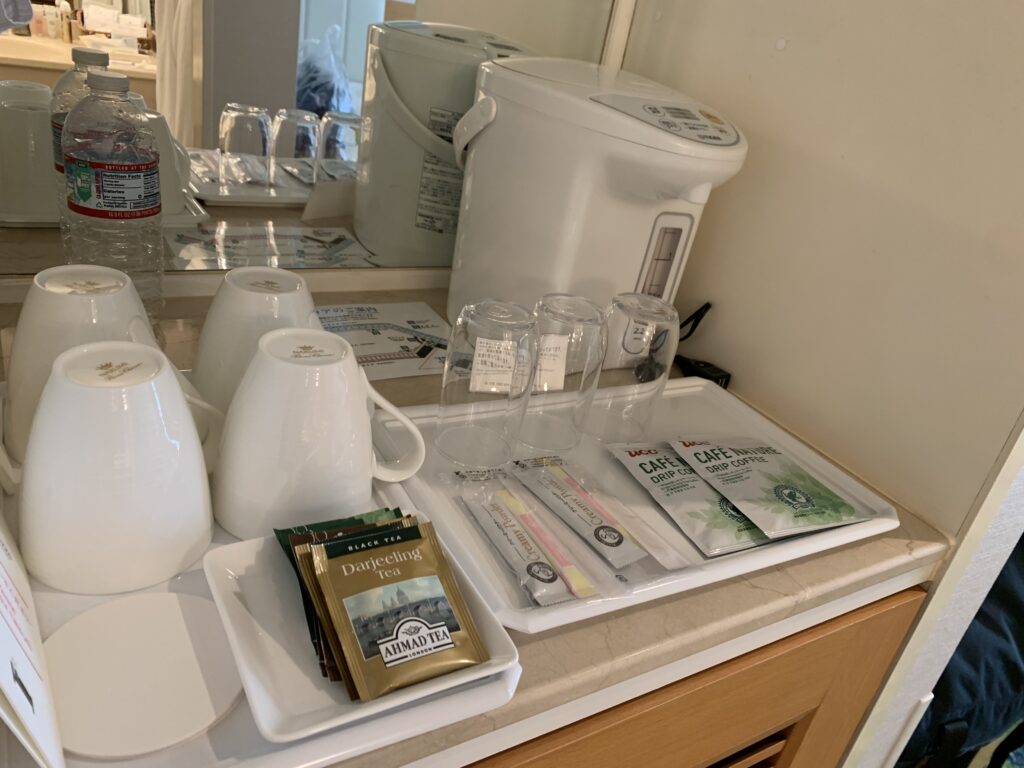 Bathroom / Amenities
Next up is bathroom.
The following amenities are provided.
Toothbrush
Hairbrush
Razor
Body towel
Bath salts
Cotton pads
Cotton swabs
Cleansing set(lotion, toner)
Shower cap
Shampoo
Conditioner
Body gel
It's a delightful bonus to have bath salts permanently available.
Other amenities were also well-stocked and typical.
The shampoo, conditioner, and other products were from a French cosmetics brand called "THALGO"
Bathroom
Our stay in the Superior Room this time was equipped with a unit bathroom in al rooms.
Recently, it has become commonplace for newly built hotels to have separate bathrooms and toilets, so those who are accustomed to that or families like us with children might find it slightly inconvenient.
For the Deluxe type, there is a separate bathroom and toilet, while the Standard and Superior types have unit baths.
It's worth considering this aspect when making a reservation.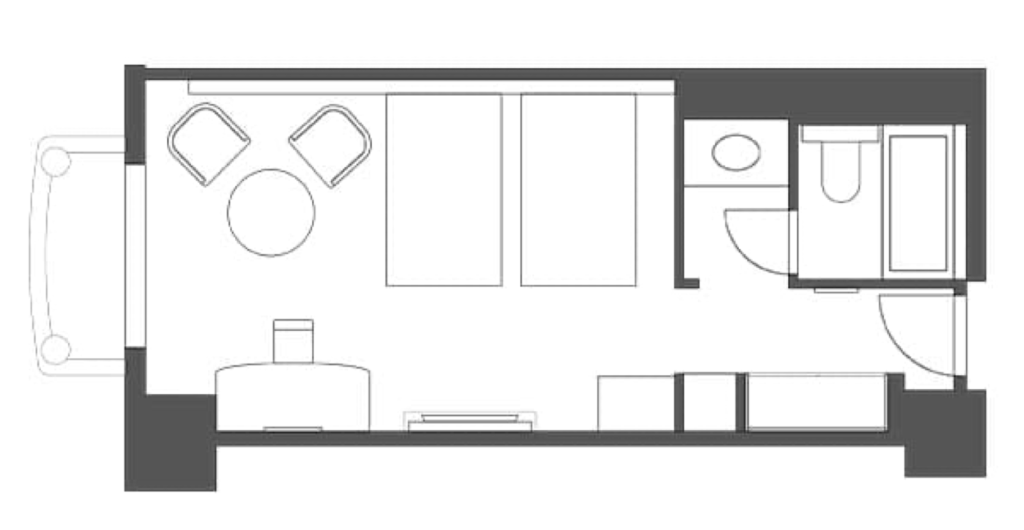 The view from the room
The Garden Superior Room offers two different views
・Tokyo Disney Resort Area
・Tokyo Bay Area
The room I stayed in this time had a view of the Tokyo bay Area.
The view from the room
Since I didn't make any specific requests in advance, I was assigned a room with a view of the Bay Area.
While requests are not guaranteed, guests with specific preferences are generally given priority.
It is recommended to contact the hotel by phone or email after making a reservation to make any requests.
Lobby and Facilities information
Next, let's talk about the hotel's facilities, including the lobby and restaurants.
While this hotel is famous for its luxurious lobby, there are many other charms to discover during the stay.
We will now proceed to introduce you to the ambiance of the lobby, breakfast, and accessibility to the Tokyo Disney resorts.
Gorgeous Lobby! Don't Miss the Beautiful Seasonal Decorations
First, let's talk about lobby.
The highlight of this hotel is undoubtedly its magnificent lobby!
The grandeur of the lobby is truly awe-inspiring and leaves a lasting impression on almost everyone who visits for the first time.
And to top it off, there is a chapel right in the center of the lobby.
This chapel, where blessings are bestowed upon all, is a sight to behold.
While it may be difficult to witness a ceremony on weekdays, just seeing it fills you with a sense of happiness.
During Christmas, you'll even find adorable gingerbread houses like this one, adding to the festive charm.
In front of the reception area, there is a dream-filled kids' space.
Here, the TV constantly plays Disney movies, so you can enjoy them and feel at ease during the check-in waiting time.
Exquisite! A wide variety of breakfast buffet options awaits you!
Next up is breakfast.
At Grand Nikko Tokyo Bay hotel, breakfast buffet is served on the lobby floor.
And this breakfast is highly recommended!
When booking your stay, it is highly recommended to choose the option that includes breakfast!
Breakfast Buffet
【Breakfast Venue】
Le Jardin(1st floor)
【Operating hours】
6:30am – 10:30am(Last order at 10:00am)
【Prices】
Adults : 3,800 yen
Ages 9-12 : 2,500 yen
Ages 4-8 : 1,900 yen
Ages 3 and below : Free
※please refer to the hotel's official website for the latest information
The breakfast costs 3,800 yen per adult, and it is definitely worth it.
Here are some representative menu items.
◆Chilled Dishes: Seafood marinade, Steamed chicken with scallion sauce.
◆Hot Dishes: Bacon, Sausages, Steamed vegetables.
◆Soup and Rice: Minestrone soup, Pho (Vietnamese noodle soup).
◆Salad Bar: Mixed lettuce, Colorful tomatoes.
◆Fruit and Yogurt: Fruit compote, Mixed berries.
◆Cereals: Corn flakes, Brown rice flakes
◆Breads and Pastries: Walnut bread, Apple pie, Muffins.
◆Japanese Cuisine: Seafood rolled sushi, Grilled salmon marinated in miso, Chawanmushi
◆Desserts: Chocolate cake, Chiffon cake.
◆Soft drinks, Coffee, Tea, Milk.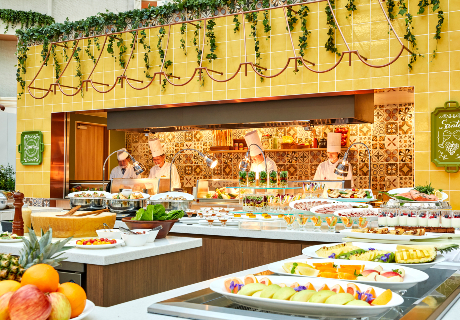 There is a wide variety of dishes available, including Western cuisine, Japanese cuisine, as well as freshly grilled hamburgers with fresh vegetables and Vietnamese pho, among others.
Due to its popularity, the breakfast buffet can get crowded even on weekdays, so it is recommended to arrive with plenty of time to spare.
ACCESS / Airport Limousine bus, Shuttle bus, Disney resort Line…
Airport Limousine Bus HANEDA/NARITA
Both Haneda Airport and Narita Airport offer limousine bus services that an take you directly to your hotel.
【HANEDA Airport】
Travel time
approximately 60 minutes
Fare(one way)
Adult : ¥1,000-
Child : ¥500-
Bus stop
Main entrance of the hotel
【NARITA Airport】
Travel time
approximately 90 minutes
Fare(one way)
Adult : ¥1,900-
Child : ¥950-
Bus stop
Main entrance of the hotel
TRAIN / JR Keiyo Line, JR Musashino Line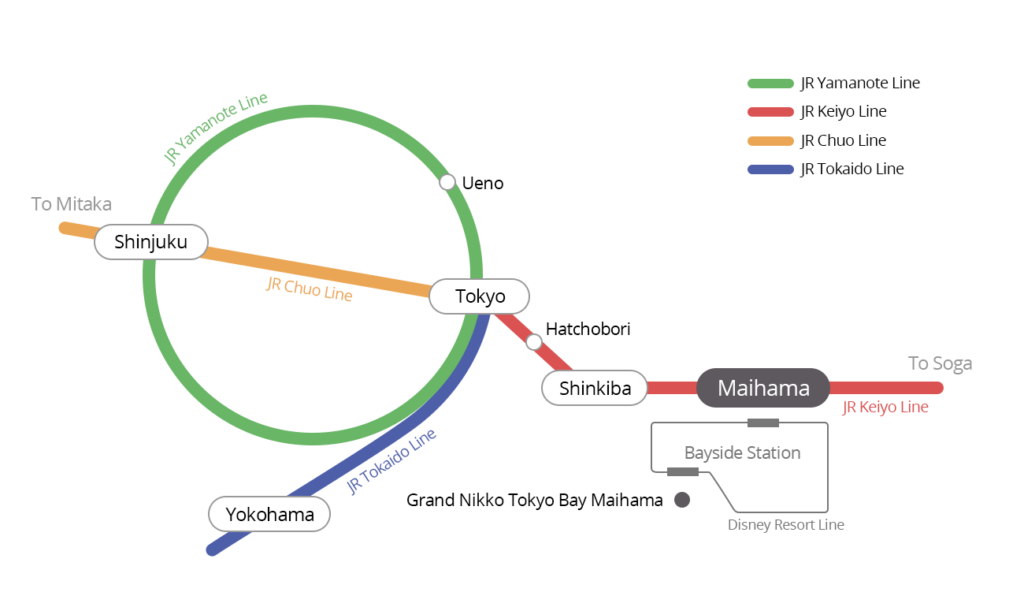 The nearest station to Tokyo Disney Resort is Maihama Station, which is served by the JR Keiyo Line and Musashino Line.
From the south exit of Maihama Station on the JR Keiyo Line and Musashino Line, you can take the Disney Resort Cruiser (free shuttle bus) which will take approximately 7 minutes to reach the hotel.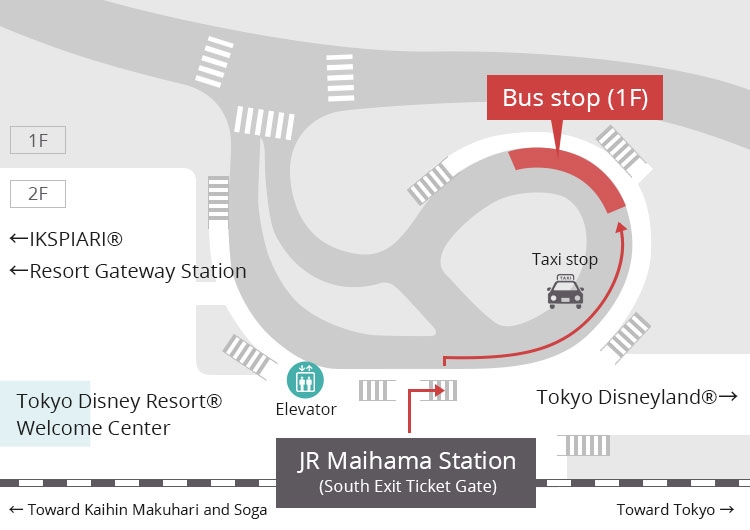 Experience the vibrant resort ambiance! It's highly recommended to fully enjoy both your Disney trip and the hotel.
Here is a review of the Grand Nikko Tokyo Bay Hotel, one of the Disney official hotels.
This is a fantastic hotel, you can continue to enjoy the enchantment of Disney Resort even after returning to the hotel.
It offers unique perks that are exclusive to Disney official hotels.
Please consider this lovely hotel when choosing accommodations for your delightful Disney vacation.
Thank you for reading until the end.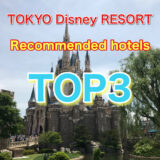 Traveling to Disney Resort with children! Three recommended Disney resort hotels for families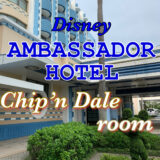 Disney Ambassador Hotel "Chip'n Dale Room" Review