I stayed at the newly opened Tokyo Bay Shiomi Prince Hotel in Koto-ku, Tokyo, japan.
This hotel, which opened in September 2020, is still very new and recently established. We chose to stay here to celebrate my child's birthday.
Despite having 605 rooms and only one restaurant, this hotel more of a stylish and convenient city hotel vibe rather than a business hotel.
However, after experiencing the stay firsthand, I found it to be a trendy and highly satisfactory hotel with excellent cost performance.
In this review, I will provide detailed information about the room, kids' space, and public bath facilities of the Tokyo Bay Shiomi Prince Hotel where I stayed.
This hotel comes highly recommended, so I hope it can be a valuable reference for everyone when choosing a hotel.
Please note that external links to products, services, etc. featured on this site may contain affiliate advertisements.
Spacious Rooms! A Hotel that Blends Tradition and Modernity!
The guest rooms, designed to showcase Japan's traditional culture, immerse visitors in the nostalgic atmosphere of old Japan.
Even the Superior Rooms, with spacious size of 29.7 square meters, ensure a comfortable and enjoyable stay.
| Room type | Size | Bed | capacity |
| --- | --- | --- | --- |
| Superior Rooms | 29.7㎡ | Twin | 4 |
| Superior Rooms | 29.7㎡ | King | 3 |
| Natural Rooms | 29.7㎡ | Twin | 4 |
| Corner Rooms | 35.6㎡ | King | 3 |
| Natural Rooms | 35.6㎡ | Twin | 4 |
| Deluxe Rooms | 35.6㎡ | Twin | 4 |
| Deluxe Corner Rooms | 42.9㎡ | Twin | 4 |
| Twin Room with Bunk Bed | 29.7㎡ | Twin | 4 |
The rooms with king-size beds can accommodate up to 3 people, while the rooms with twin beds can accommodate up to 4 people.
The standard rooms offer a spaciousness of 29.7 square meters, and the deluxe corner rooms are even more spacious with 42.9 square meters.
The bunk bed rooms feature a shoe-free style and have stairs inside the room, which is sure to delight children.
Natural Twin Room
We stayed in the "Natural Twin Room", which had a soft warm design.
It comfortably accommodated 2 adults and 1 child, totaling 3 people.
Natural Twin Room
・Room size : 29.7㎡
・Capacity : 4
・Floor : 2-5
・Bed size : 1,100mm × 2,060mm
 ※Non smoking only
The standard twin and king rooms have the same room size and layout, with the only difference being the interior design.
Living / Bed room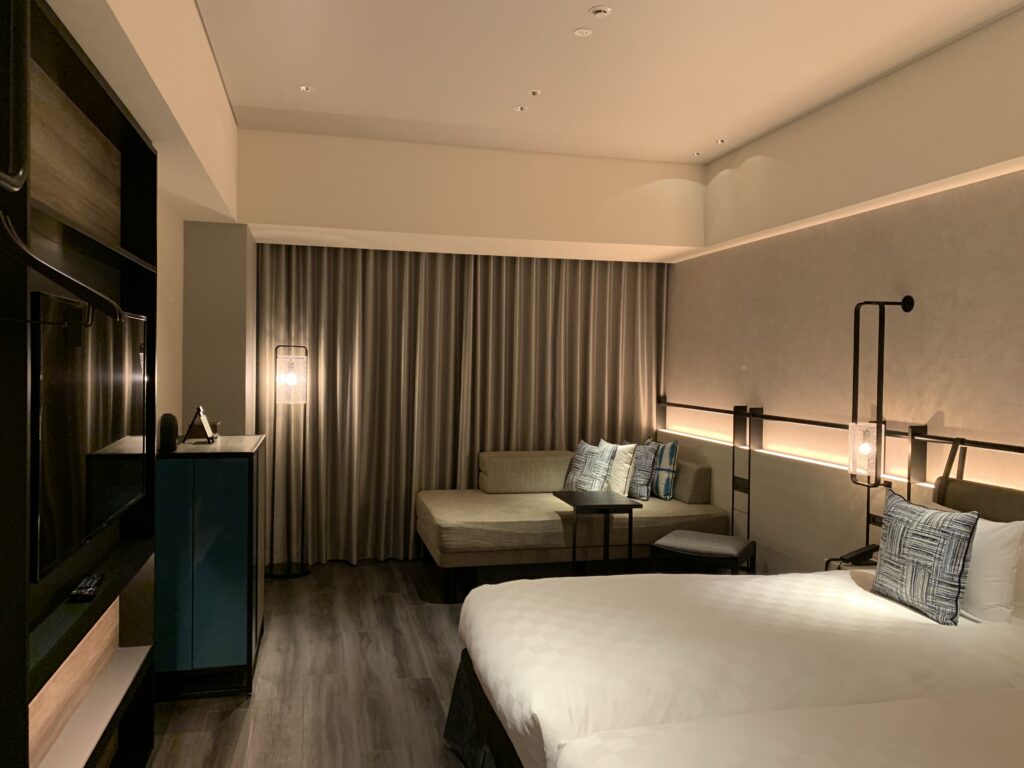 First, let's start with the room that has beds.
Since my child sleeps with me, we didn't use an extra bed.
We chose a twin room, but if you connect the beds like a Hollywood twin, it becomes more spacious and comfortable to sleep in, so it's surprisingly recommended.
With a spacious area of 29.7 square meters, the room provides ample apace even for three people, allowing for a comfortable stay.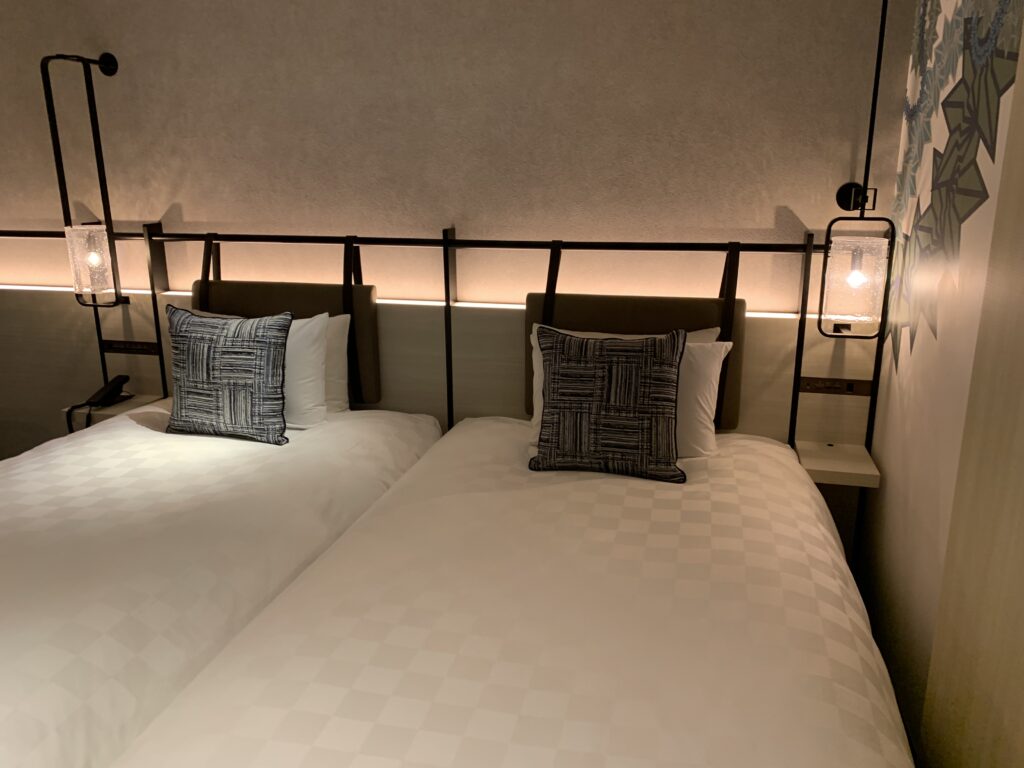 The beds were already arranged in a joined position from the beginning.
The nightstands have a softly muted and gentle brightness that creates a relaxing ambiance.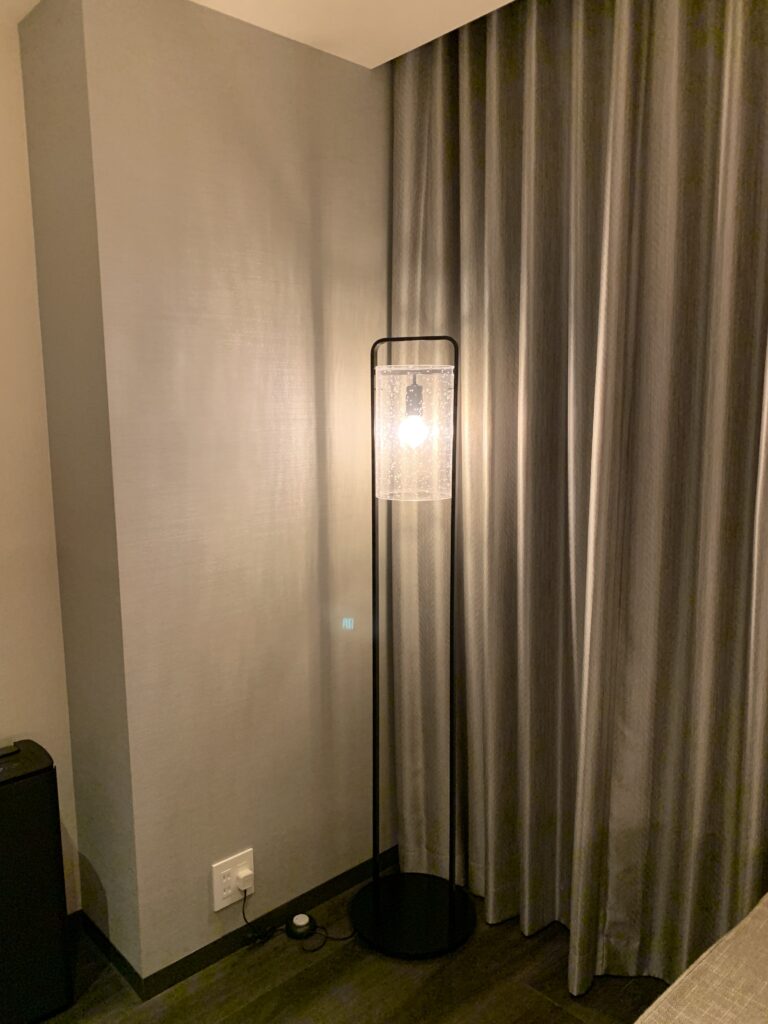 Nightpanel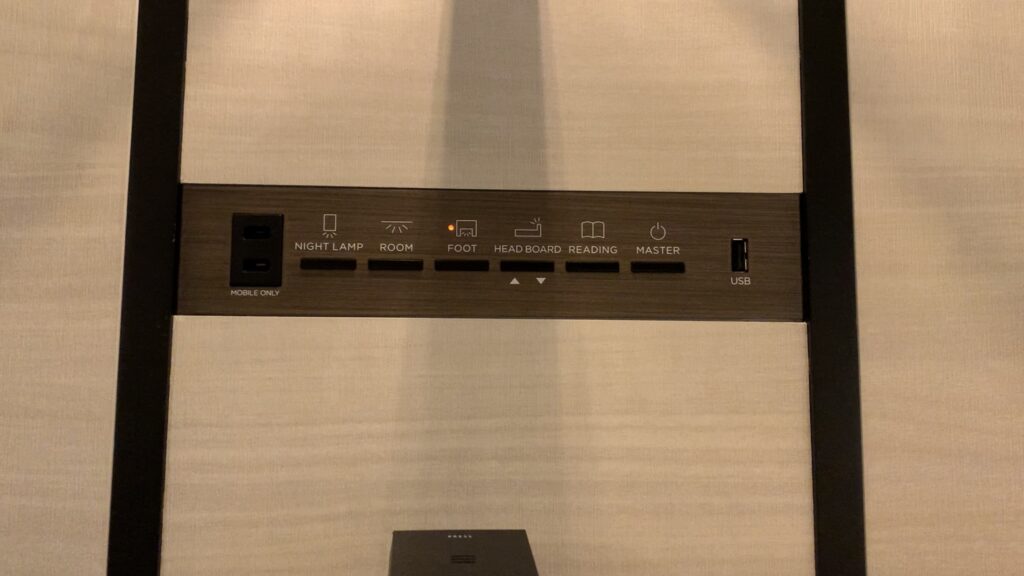 As it is a new hotel, there are USB power outlets available.
There is a large couch sofa at the back of the room.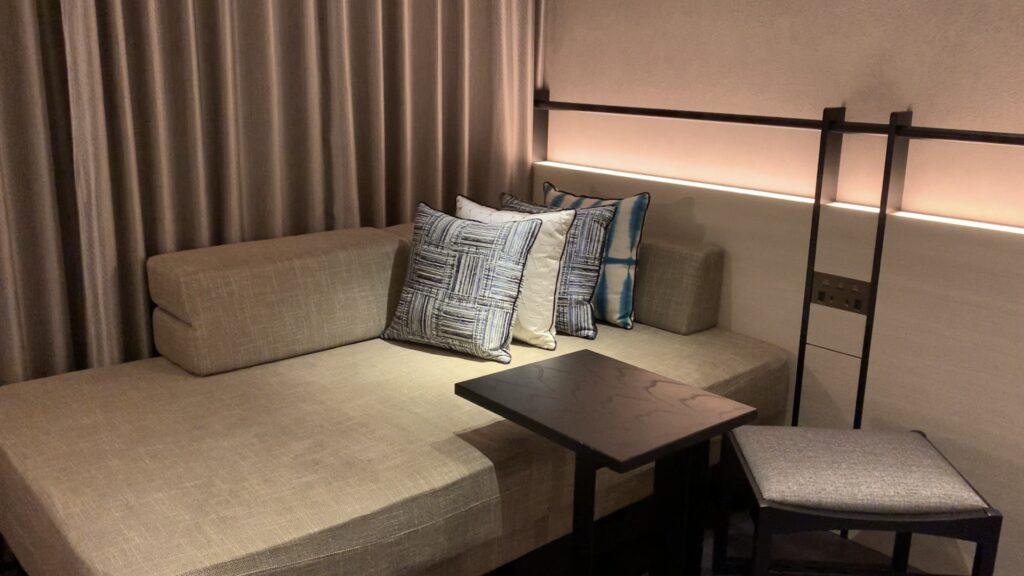 The sofa provides a comfortable seating experience with just the right amount of firmness.
Additionally, there is an operating panel near the sofa.
There is also two USB power outlets here, allowing you to easily work from anywhere in the room.
This convenient setup for working is truly unique to a new hotel like this.
TV and Minibar area
Next, let me introduce the minibar area, including the refrigerator.
If you were wondering where the refrigerator is, it is beautifully integrated into the stylish design, blending seamlessly with the overall aesthetic of the room.
When you open the door, it looks like this.
Inside, you'll find the following items.
Refrigerator
Bottled water(2 bottles)
Kettle
Nespresso machine
Tea bags, sugar, and other condiments
Icebox
Glassware
It's great to have a Nespresso machine at this price range!
The refrigerator was empty with no items inside.
There is a clock-shaped Bluetooth speaker on the shelf, adding a stylish touch.
The notepad is also displayed in a fashionable manner.
An air purifier with a built-in humidifying function is also provided as a permanent fixture.
TV area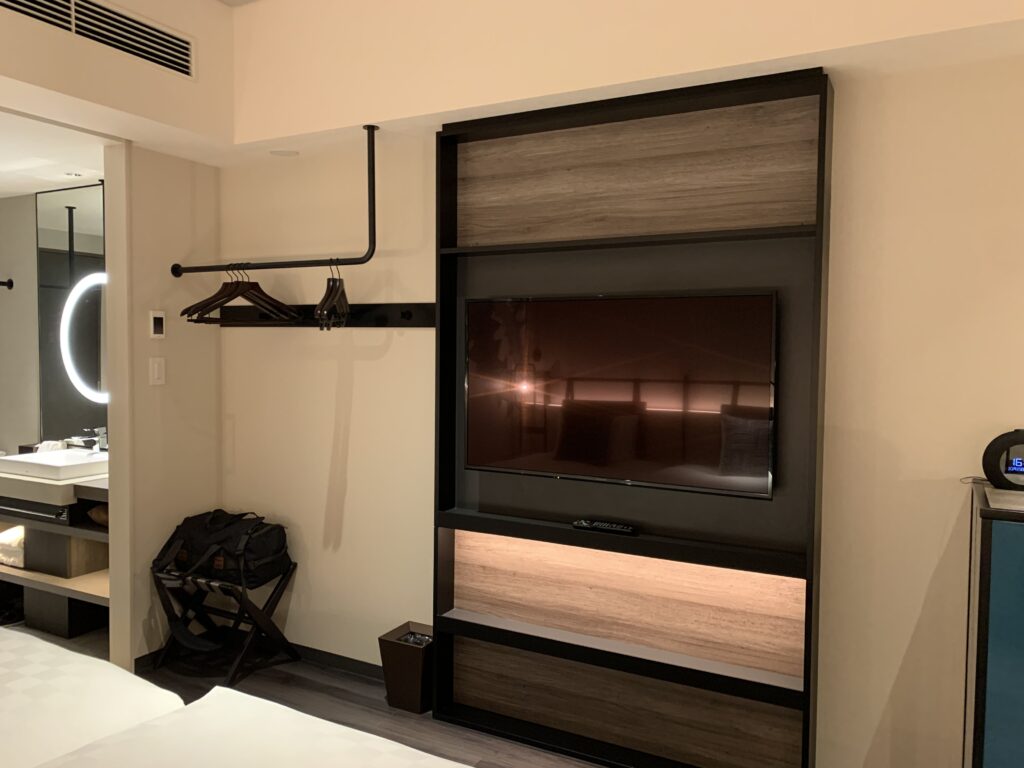 The TV is huge and wall-mounted, giving it a stylish, apartment-like feel.
Being a modern hotel, it offers a wide range of content including subscription services.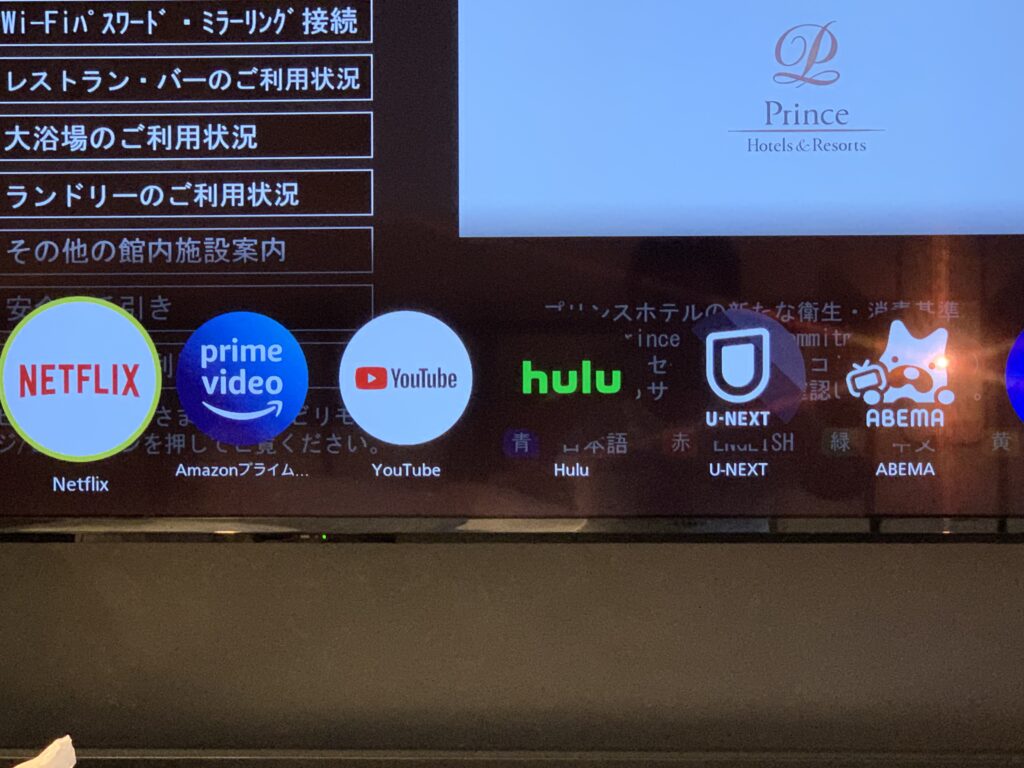 I was able to watch a variety of services such as Netflix, Amazon Prime Video, YouTube, Hulu, U-NEXT, and ABEMA.
Additionally, I could check the current restaurant congestion and laundry usage on the TV screen.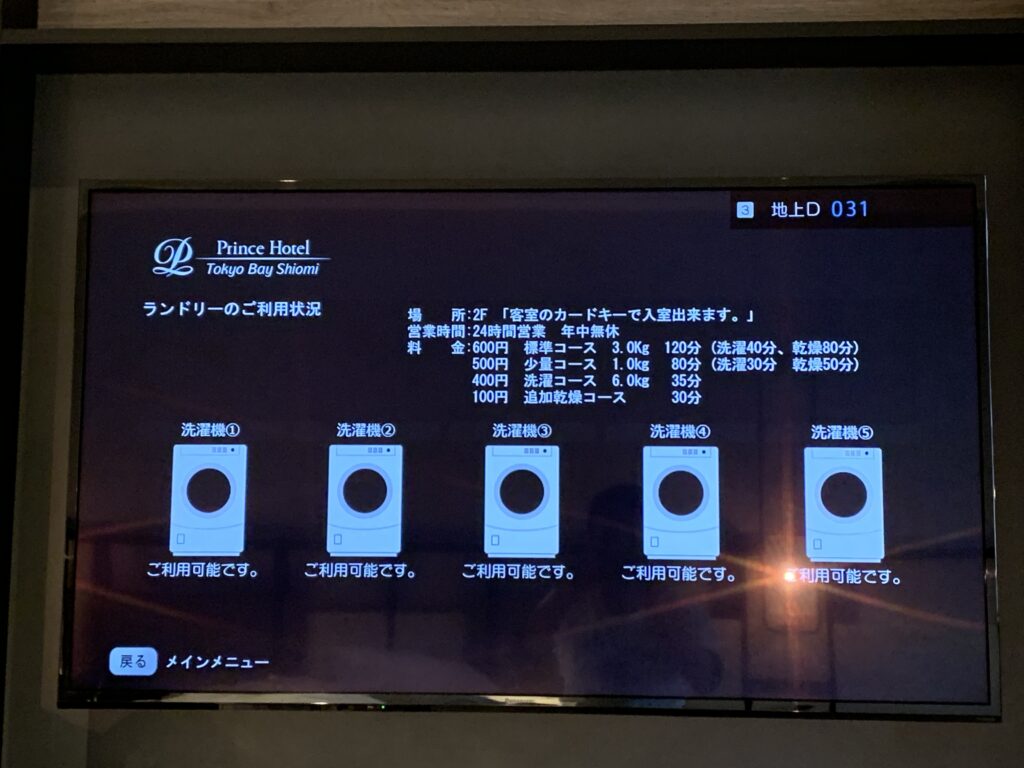 Indeed, not all luxury hotels have these kinds of features, so it's definitely a unique advantage of newly built hotels.
Even the placement of the clothes hanging bar is thoughtfully designed, as you can see.
While there is no dedicated closet, it has been cleverly integrated into the room's design, seamlessly blending in.
Washroom and Vanity area with Amenities
The Natural Twin Room features a makeup area with mirrors located right at the entrance of the room.
The room features a large mirror that resembles the kind actresses use, adding a distinctive touch to the space.
The amenities are neatly and compactly stored, ensuring a tidy arrangement.
There are toothbrushes, hairbrushes, razors, cotton swabs, and body sponges available.
There are plenty of towels provided as they can be used in the large bath area as well.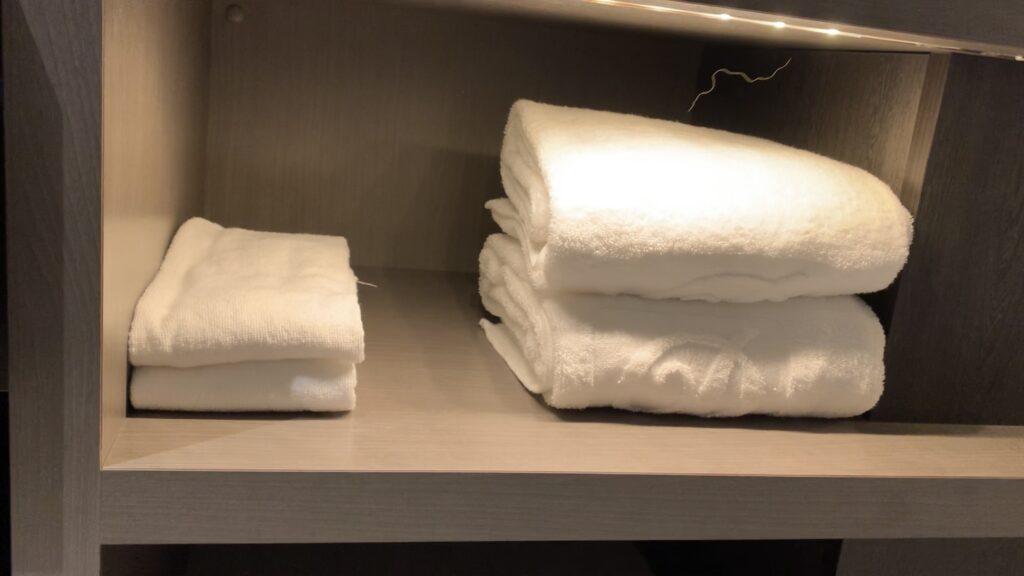 Hotel bag and room wear
You can go to the public bath wearing the provided hotel wear and slippers.
However, please note that wearing them in the lobby or restaurants is not allowed.
For guests staying with children, the hotel had prepared kids' amenities in the room beforehand.
slippers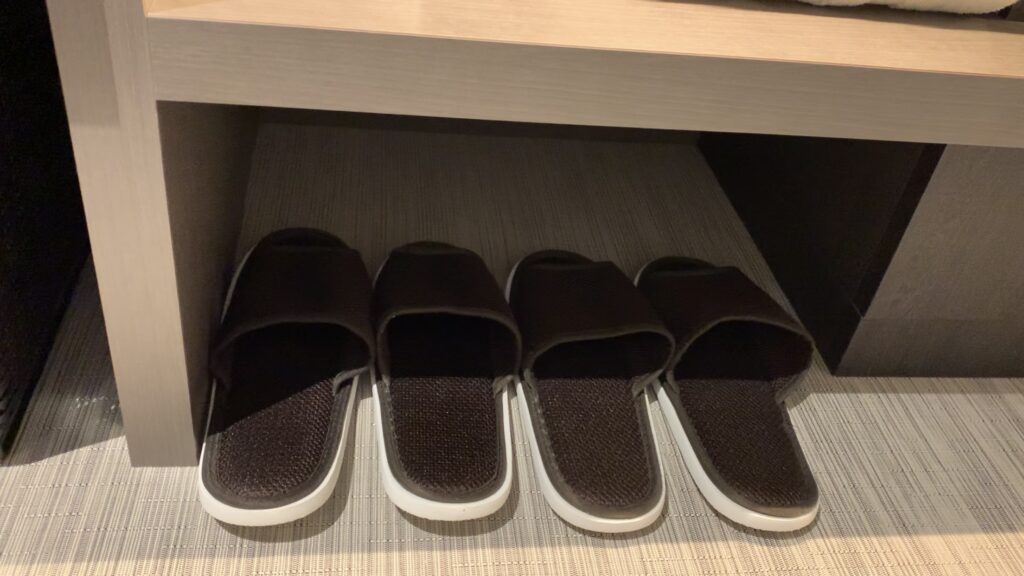 The tray under the glasses is designed with the Tokyo Cityscape.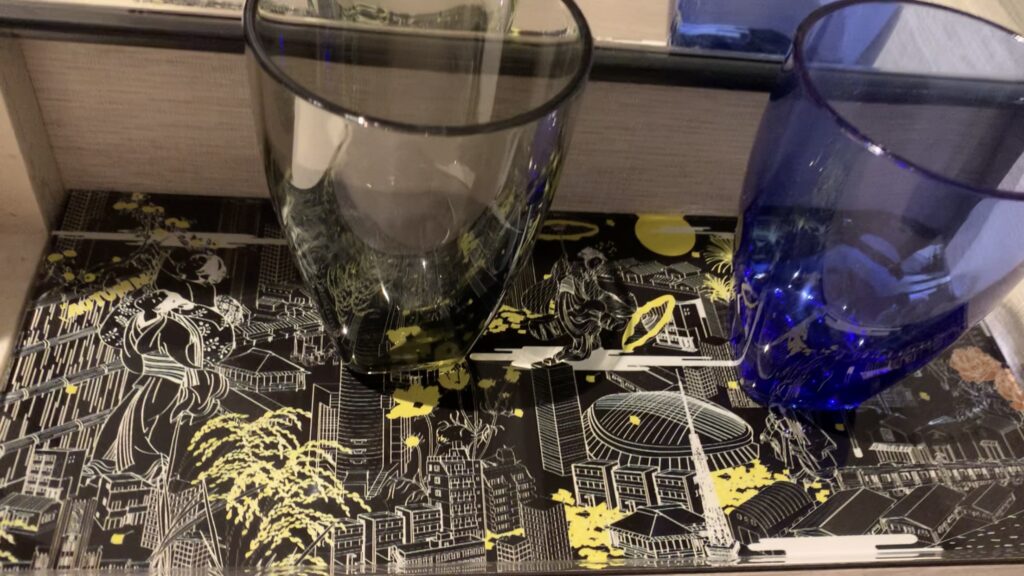 The hairdryer is stored inside a bag for convenience.
In-room safety deposit box.
Air freshener spray is also provided in the room.
There is also an accessory tray next to the mirror.
It's very convenient to have such an accessory tray at a reachable height, as it prevents children from easily playing with it.
Additionally, there are hooks available here where you can hang clothes or bags.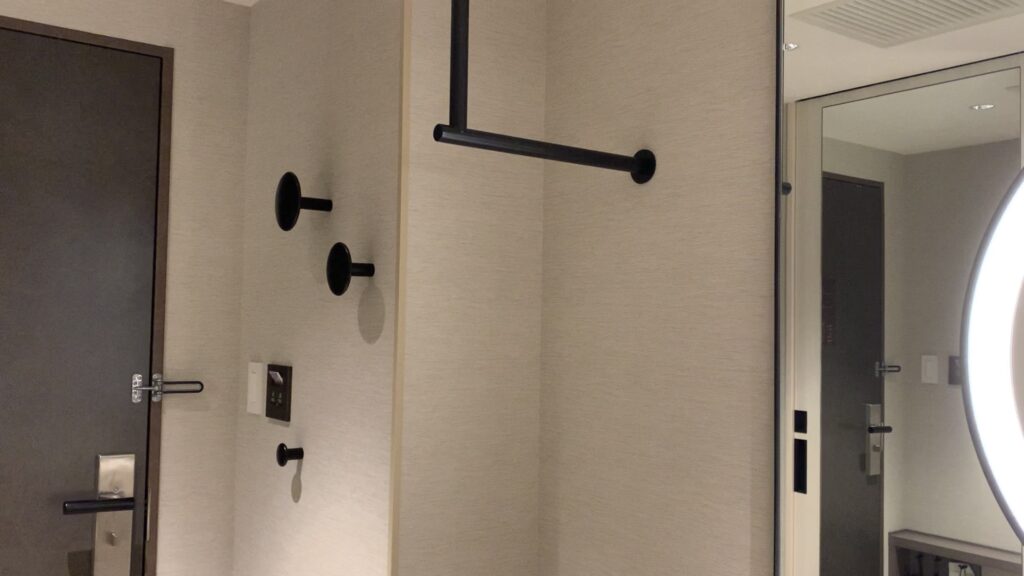 next, let's move on to the bathroom.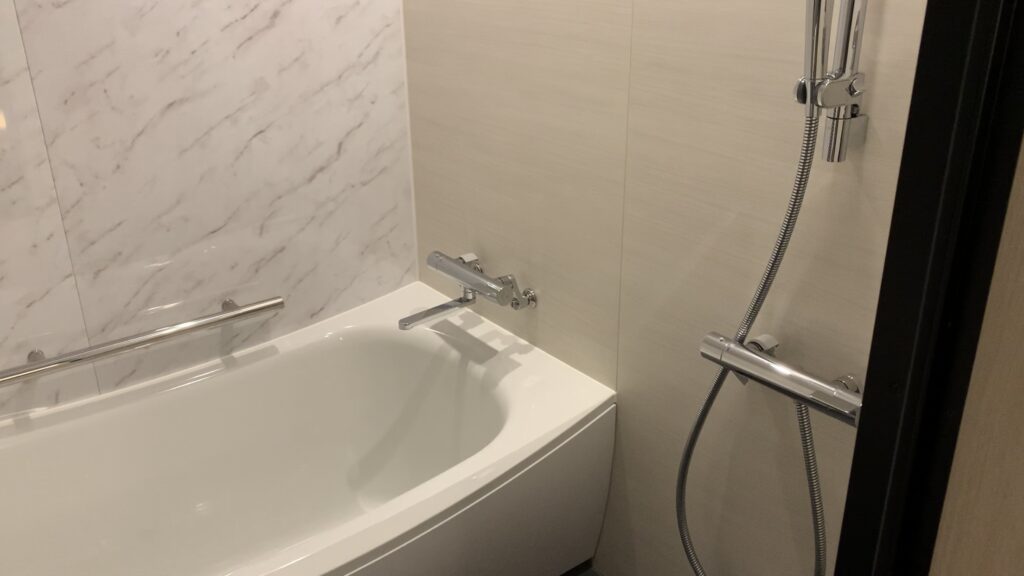 The bathroom is very clean and comfortable since it is a new hotel.
The shampoo, conditioner, and body soap are provided by C.O.Bigelow .
The toilet is not a unit bath type; it is a separate and private space.
The power supply is the type where you insert the room key into a box near the entrance.
Relaxing bath House-Ushio no Yu(潮の湯)-
Next, let me introduce the hotel's public bath and sauna called "Ushio no Yu"(潮の湯)
It is located on the second floor of the hotel, and you can access the public bath wearing the provided hotel attire and sloppers.
Here is rest area.
The corridor leading to the public bath.
The bathing area exudes a luxurious atmosphere, reminiscent of a high-end hotel's treatment area, with a sense of elegance and sophistication.
Inside the bathing area, you will find two large tubs, a sauna, and a cold bath.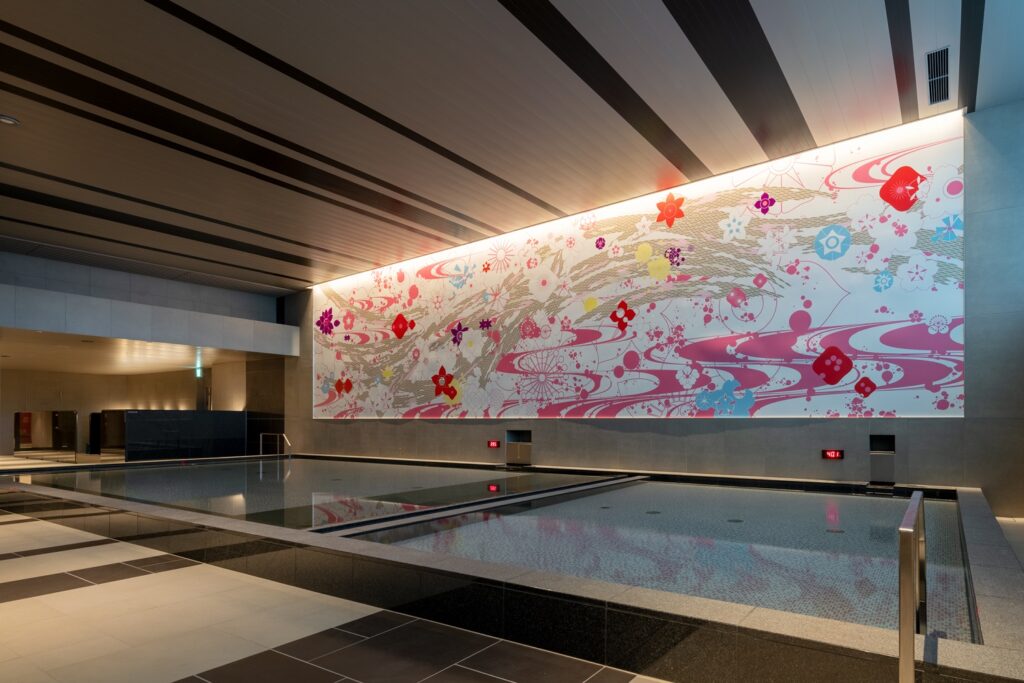 The bathing area has a pleasant atmosphere and provides a truly relaxing experience.
With its high ceilings and soft ambient lighting, the tranquil and serene environment of the bathing area creates the perfect space for unwinding and rejuvenating.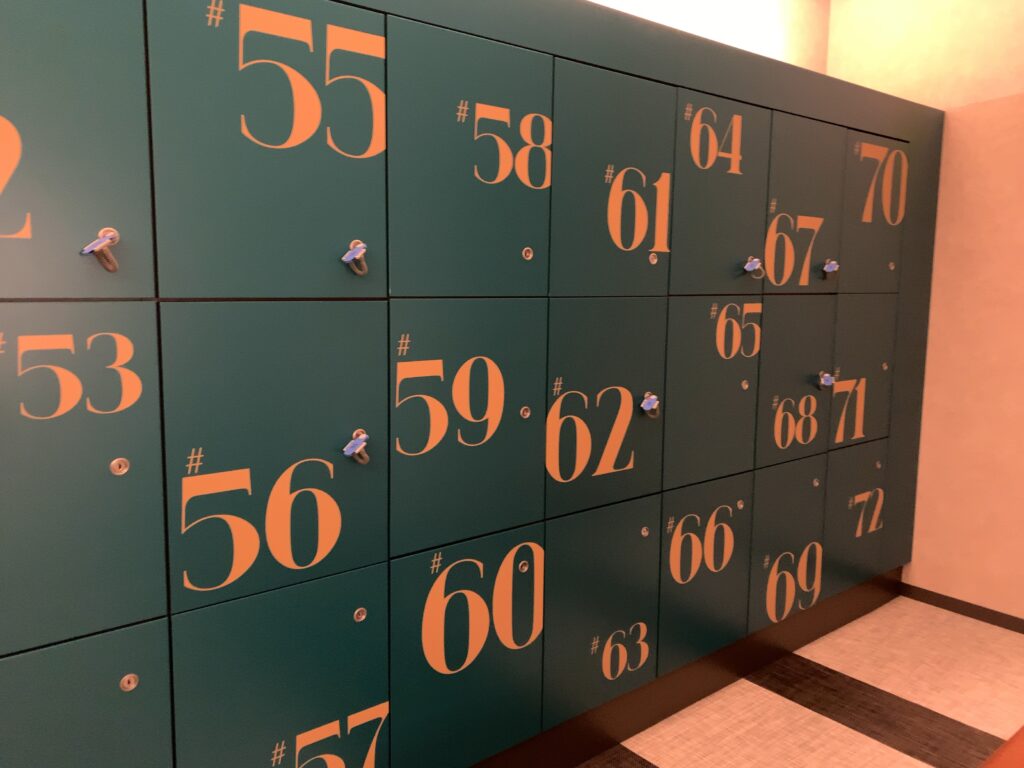 The changing area also exudes a stylish atmosphere.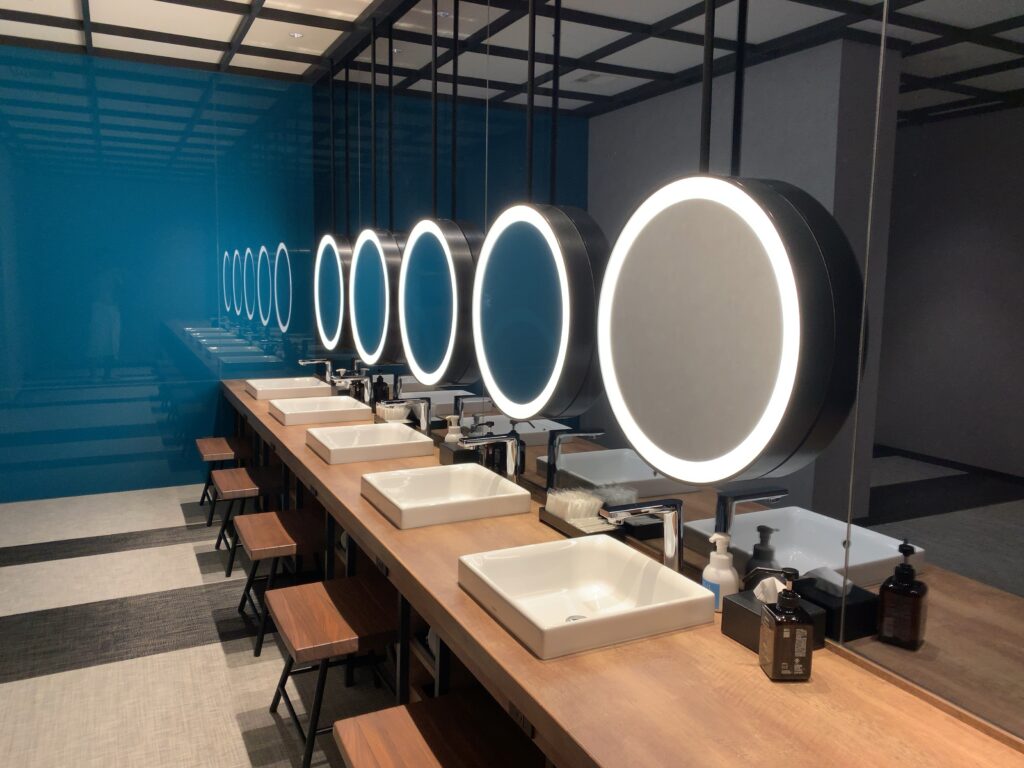 Amenities such as cotton pads and cotton swabs are provided.
There are safety lockers available in the locker room as well.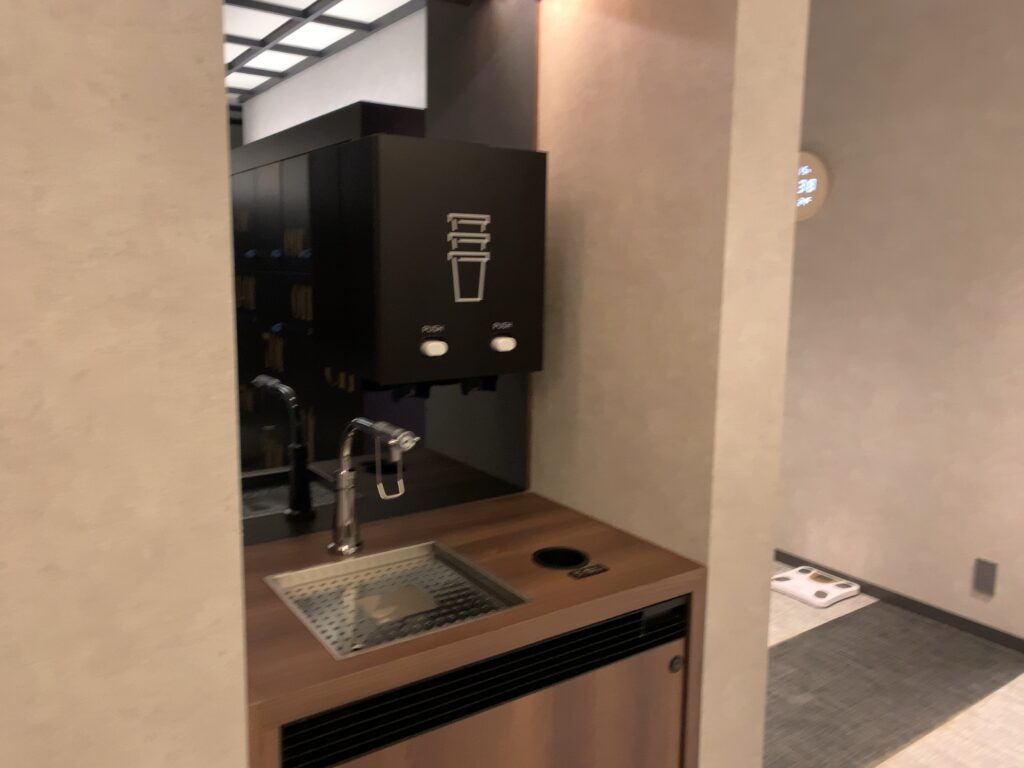 Water server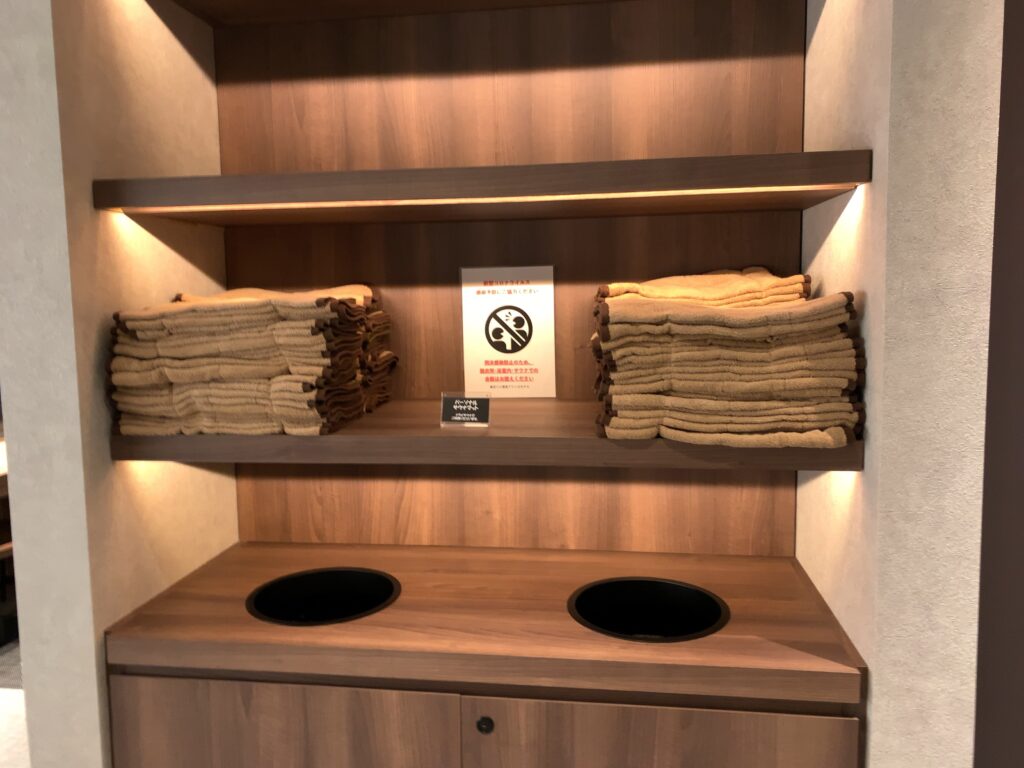 The mats used in the sauna are located at the entrance of the changing room.
Restaurant"Tide Table" Buffet Style Breakfast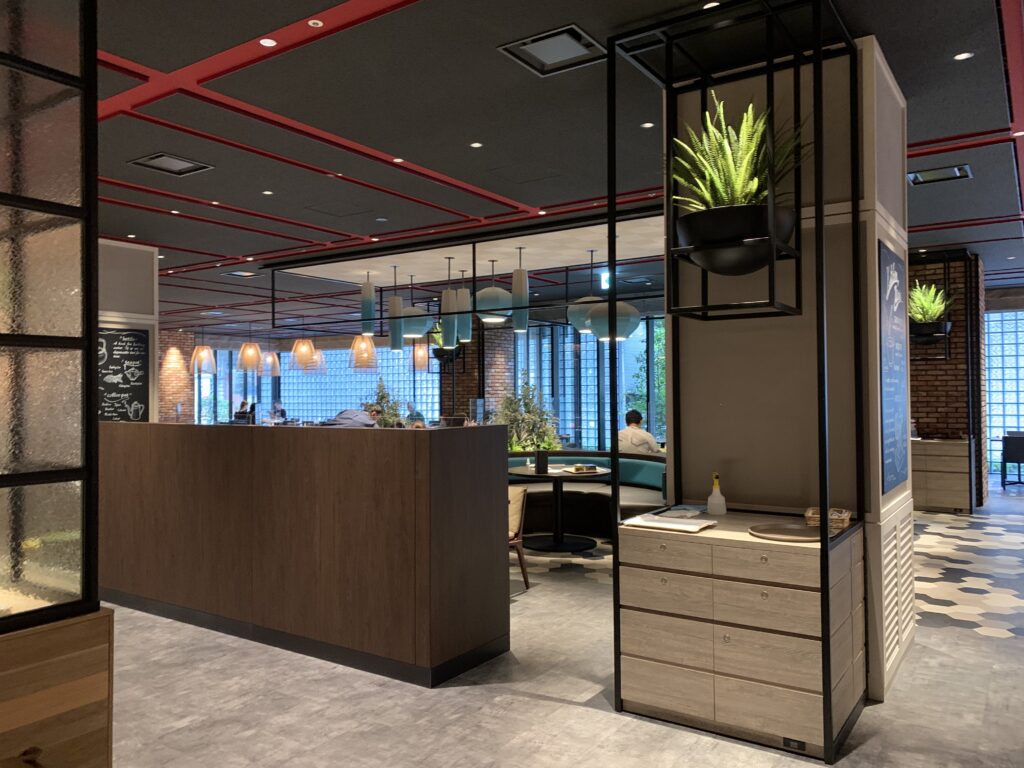 Breakfast is served at the hotel's restaurant & bar called "Tide Table Shiomi" located on the first floor.
It is served in a buffet style.
☆Tide Table Shiomi"Morning Buffet"☆
【Price】
・Adult : 3,277 yen
・Children(7 – 12 years old) : 1,808 yen
・Infants(6 years old and under) : Free
Although the variety of dishes may not be extensive, each item is thoughtfully seasoned and incredibly delicious!
The presentation of dishes such as salads and muesli is not only flavorful but also visually appealing, making them all the more appetizing.
The chef prepares omelettes and other dishes right in front of you, catering to your preferences and requests.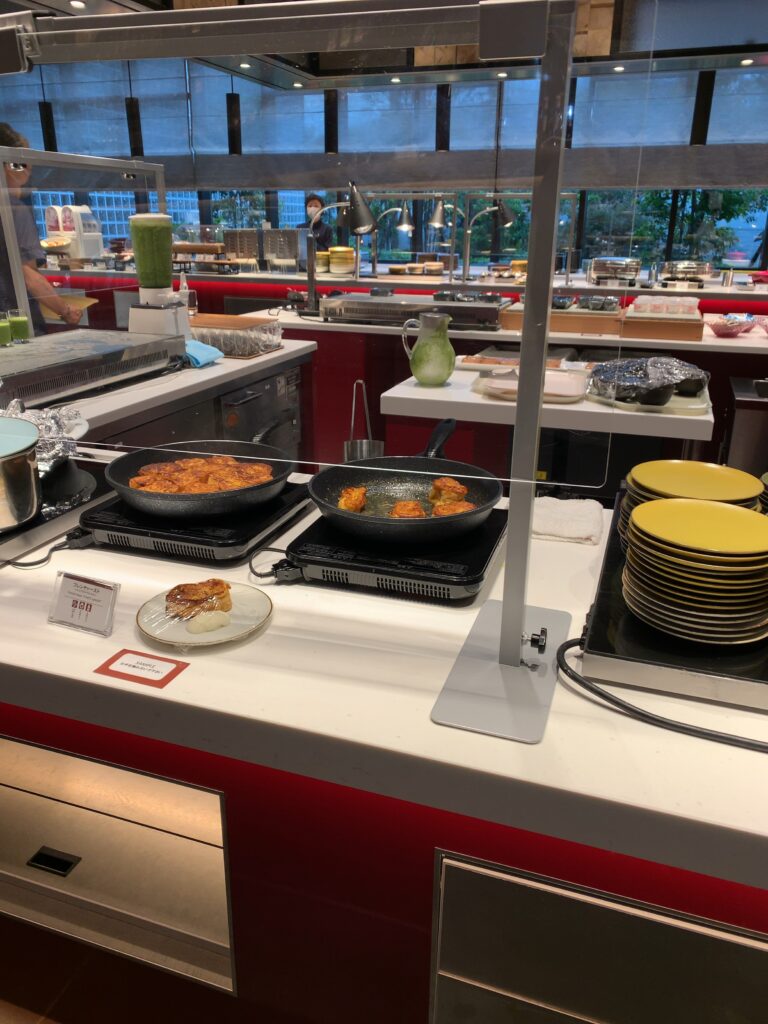 Kid's area / Nursing room / Diaper changing
I was pleasantly surprised during my stay by the abundance of facilities for children, such as the kid's area, nursing room, and diaper changing area.
It's likely that the high number of guests visiting Disneyland and DisneySea is the main reason for these well-equipped amenities.
As someone traveling with children, it's truly delightful to have such conveniences available.
The diaper changing area, nursing room, and kid's are are located on the lobby floor, specifically on the first floor.
Their proximity and accessibility make them easily accessible for guests with children.
Kid's area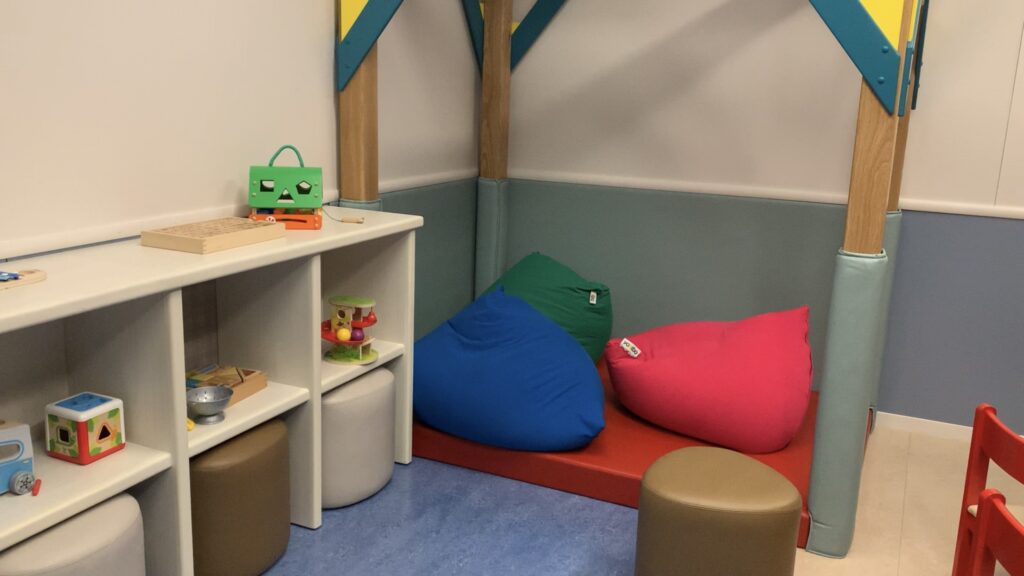 Guests are required to take off their shoes before entering the play area.
At the entrance, there were sanitizing wipes provided for disinfecting purposes.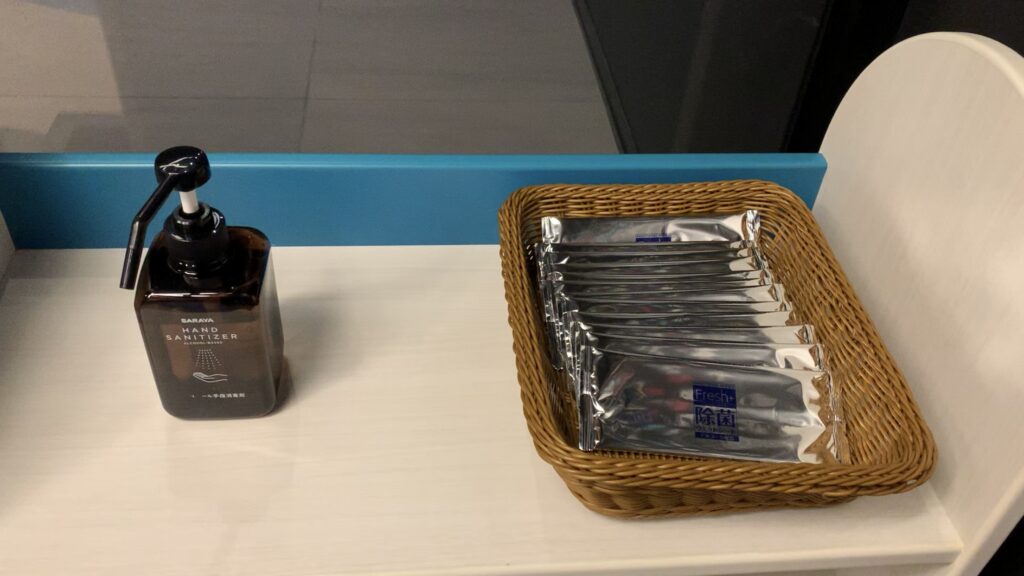 Nursing room / Diaper changing space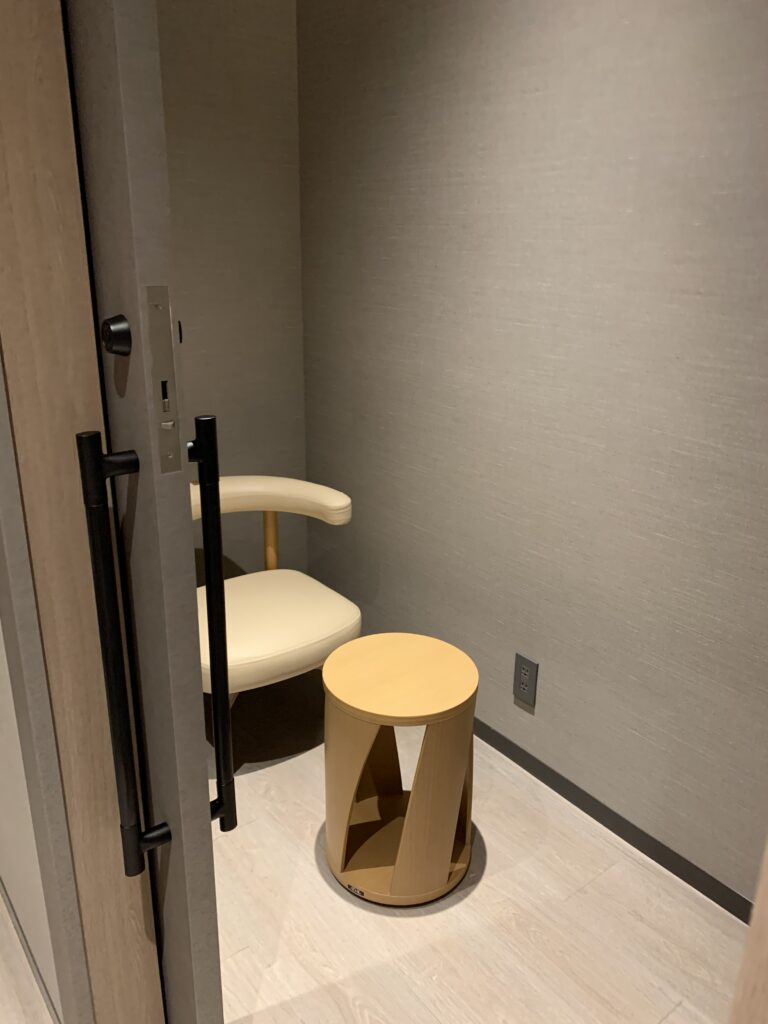 Convenience store, Laundry room, Fitness gym..
Next, let me introduce you to other facilities within the hotel, such as Family Mart, gym and laundry room.
Convenience store"Family Mart"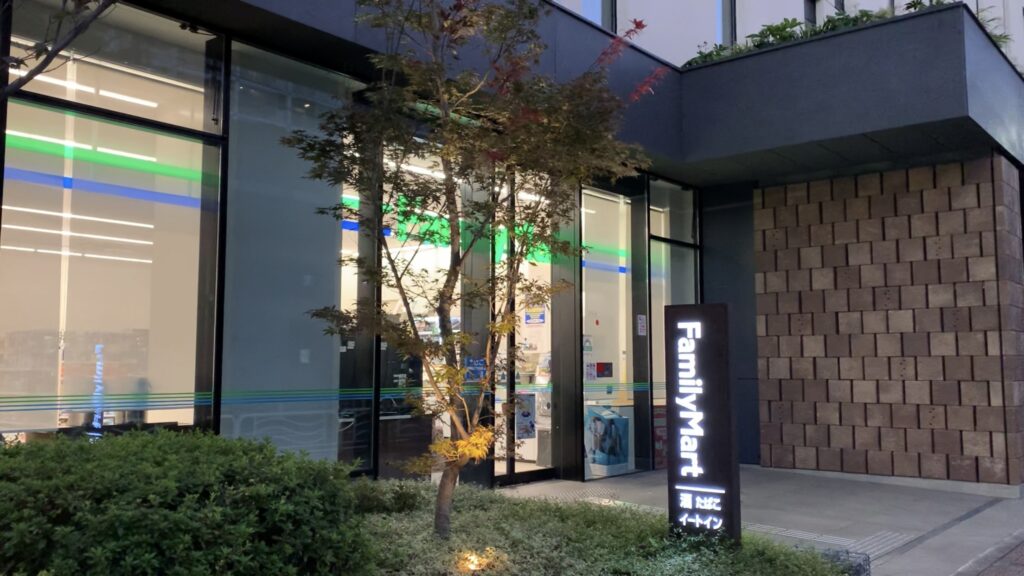 The hotel is directly connected to the Family Mart from within.
The entrance has a playful design that makes it hard to recognize it as a Family Mart.
The pathway leading to the hotel has a unique and eye-catching design.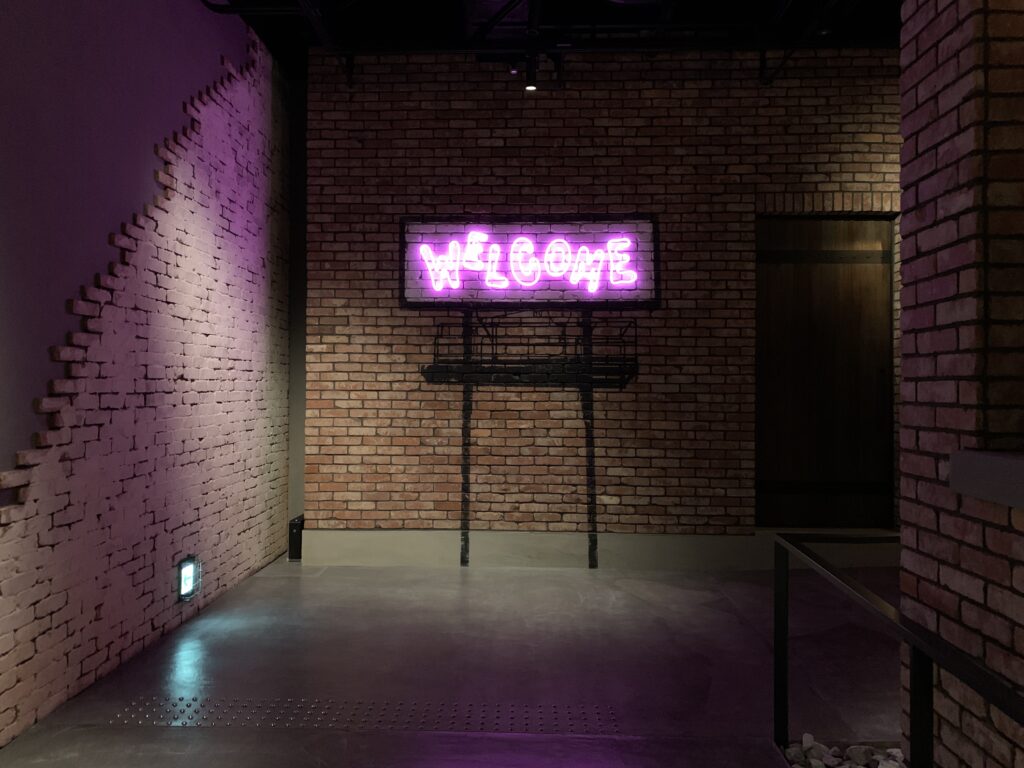 FamilyMart is open 24 hours, so it's very convenient to be able to use it even late at night.
Laundry room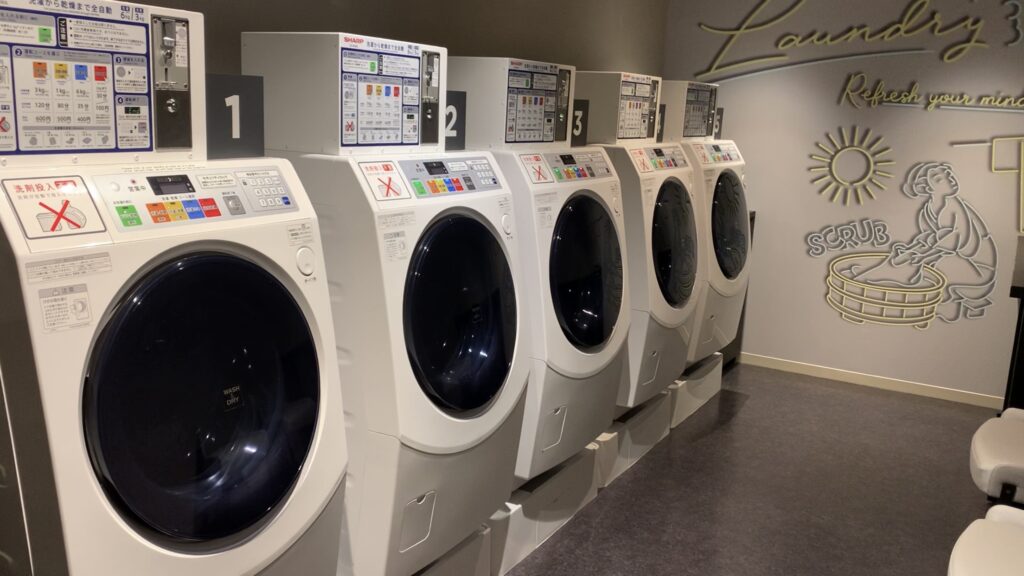 Laundry room located on the second floor of the hotel.
You can also check the current usage status of the coin laundry from the television in your guest room.
Ice machine / vending machines
The ice machine and vending machines are located near the elevator halls on each floor.
Fitness gym / training room
The fitness gym and training room are located on the second floor of the hotel, along the way to the large public bath.
The facilities include walking machines, treadmills, and exercise bikes.
Although there are no staff members stationed in the gym, guests can enjoy working out and then refresh themselves in the large public bath.
Lobby
The trendy front lobby area is not only known for its stylish design but also offers a well-equipped environment for digital nomads and remote workers, making it a perfect spot for Instagram-worthy photos.
A sofa inspired by a ship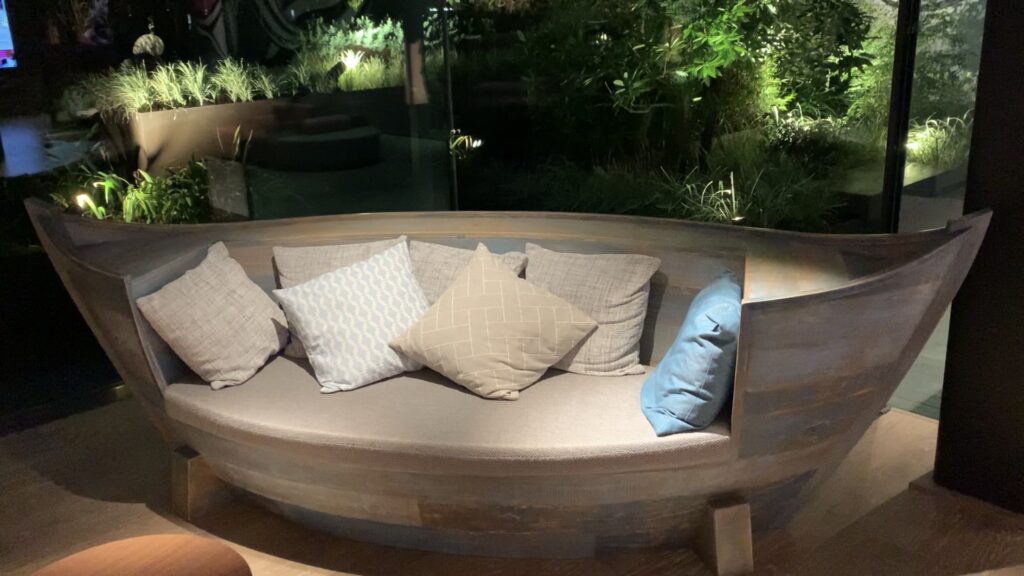 Being close to the Disney Resort, there are hidden Mickey's as well.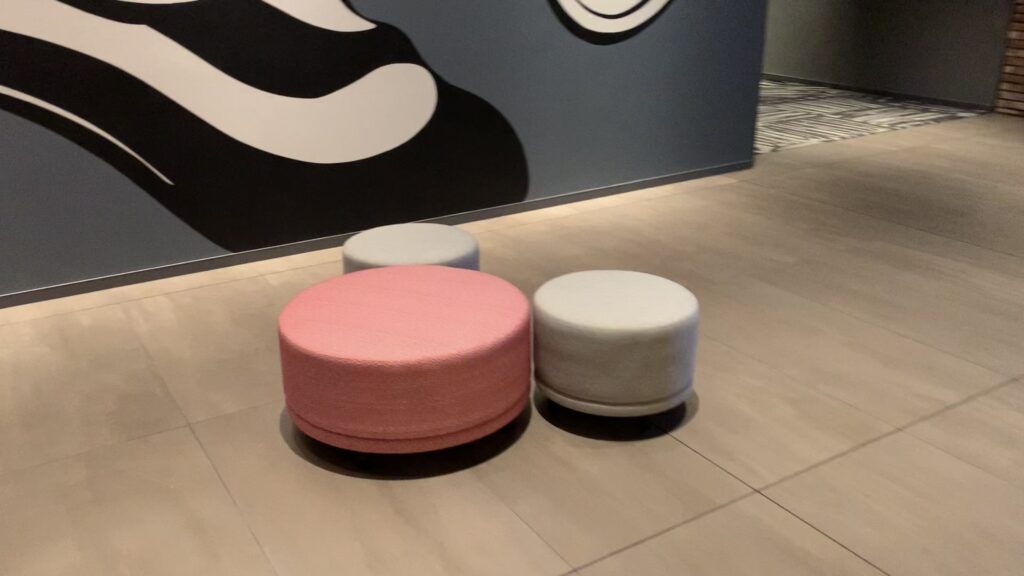 ACCESS Tokyo Station / Tokyo Disneyland, Tokyo DisneySea
Tokyo Bay Shiomi Prince Hotel is conveniently located just 7minutes from Tokyo Station and 9 minutes from Maihama Station, where Tokyo Disney Resort is located.
It offers an excellent location for both tourism and business purposes.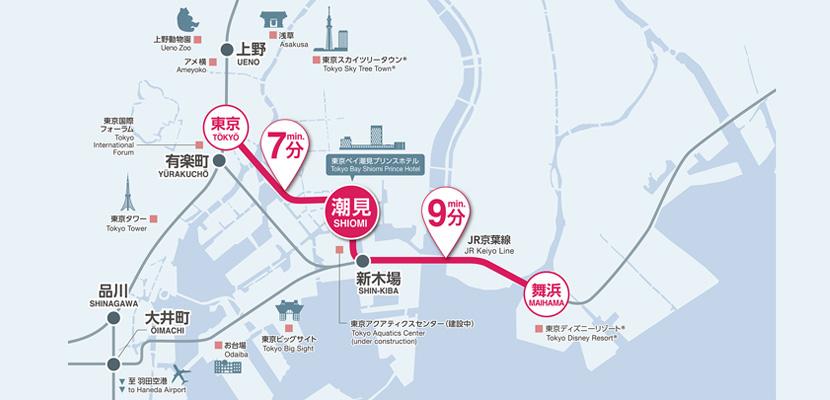 Close to Tokyo Station and Disney Resort! An ideal choice for both tourism and business, this modern hotel.
I introduced the "Tokyo Bay Shiomi Prince Hotel" located in Koto Ward, Tokyo, Japan.
I appreciate you reading this blog until the end.
This newly constructed hotel, the Tokyo Bay Shiomi Prince Hotel, offers both stylish design and functional amenities, making it a comfortable choice for many guests.
With its excellent location, it is only 7 minutes away from Tokyo Station and 9 minutes away from Maihama Station, where Tokyo Disneyland and Tokyo DisneySea are located.
It is not only suitable for business purpose but also serves as a convenient base for exploring famous Tokyo attractions such as Tokyo Skytree, Asakusa, and Ginza.
I hope you consider this hotel as a reference when choosing your accommodations.
Thank you once again for reading this blog.