All rooms are equipped with a microwave, so you can feel secure about baby food
During our two-nights and three-days Tokyo Disney Resort trip, we stayed at the Comfort Suites Tokyo Bay in Shin-Urayasu, Urayasu City, Chiba for the first night.
What is "Comfort brand"?
Choice Hotels International is a hotel brand that operates over 7,000 hotels in 40 countries around the world.
In japan, they operate three brands:①Comfort Inn, ②Comfort Hotel, ③Comfort Suites.
Comfort Hotel is a well-known business hotel chain with locations throughout Japan, but Comfort Suites Tokyo Bay is the first of its brand to be located near the Disney Resort in Japan.
now I will share our experience of staying at the hotel with two adults and one child, for a total of three people.
Please note that external links to products, services, etc. featured on this site may contain affiliate advertisements.
Expedia
The check-in process involves two steps
First, the reception staff at the central front counter will assist you with the procedure.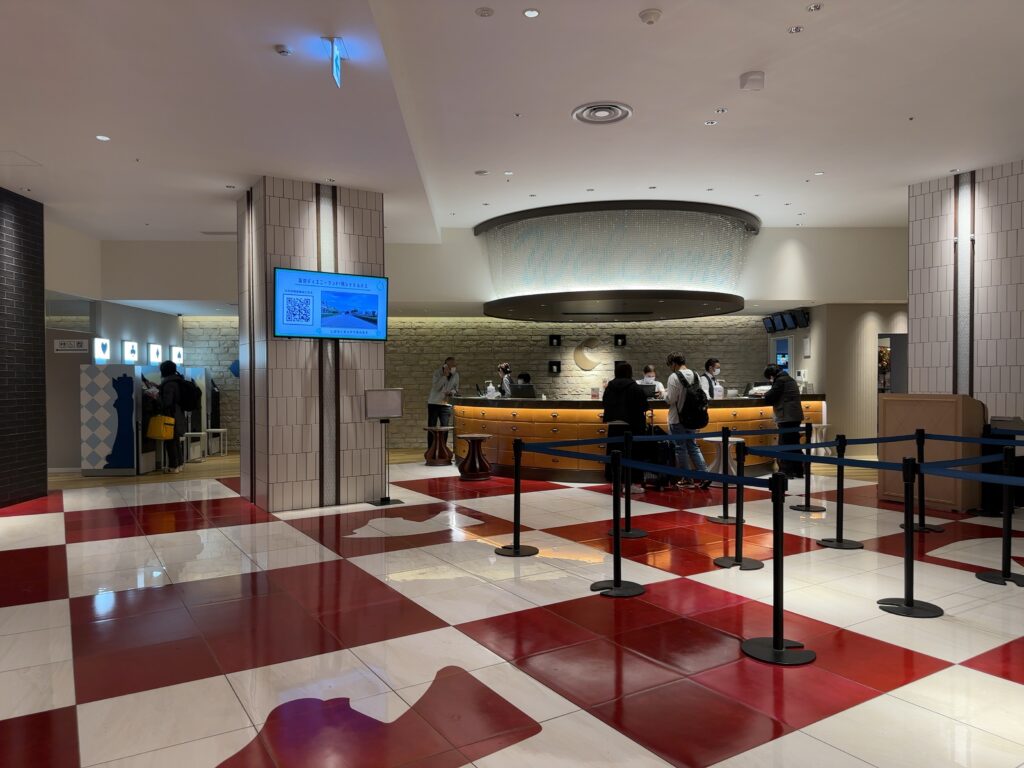 For this stay, we utilized the "Go To Travel" campaign which required some additional confirmation procedures at the central front counter.
Once those were complete, we proceed to the automated check-in machine located on the left side to complete the remaining procedures.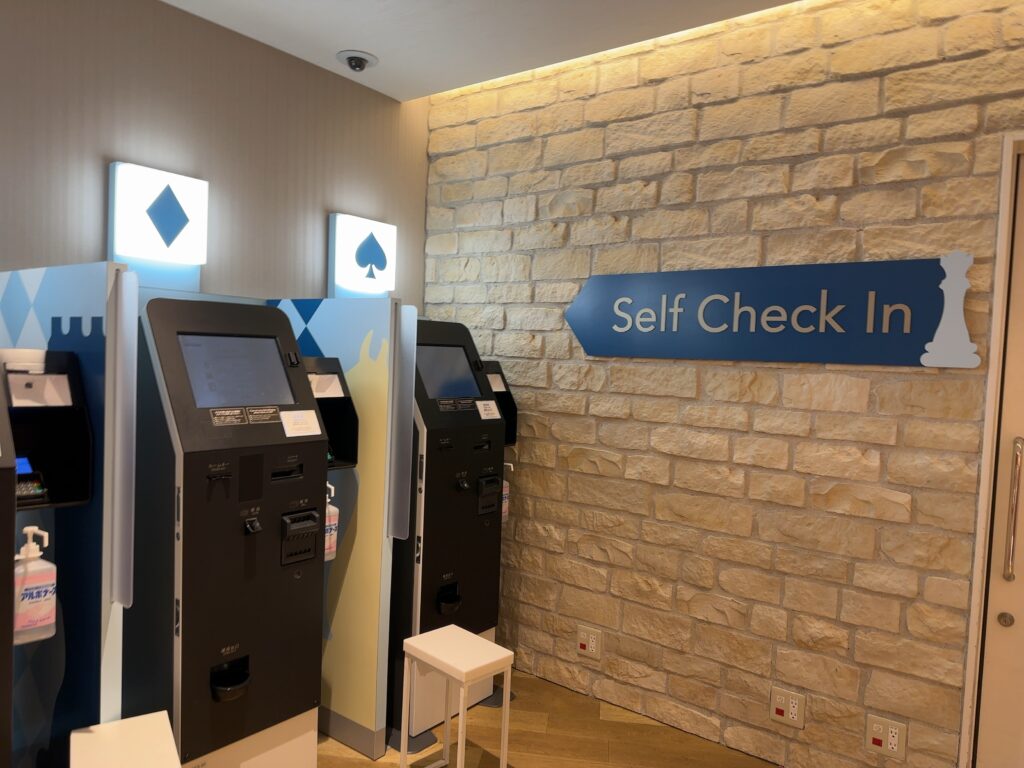 We also used this machine to issue our room keys and settle the parking fees.
Elevator / Guest room floor
To take the elevator to the guest room, you need a room key.
The highest floor is the 9th floor and our room was on the 8th floor.
As soon as we got off the elevator, there was a Trump statue.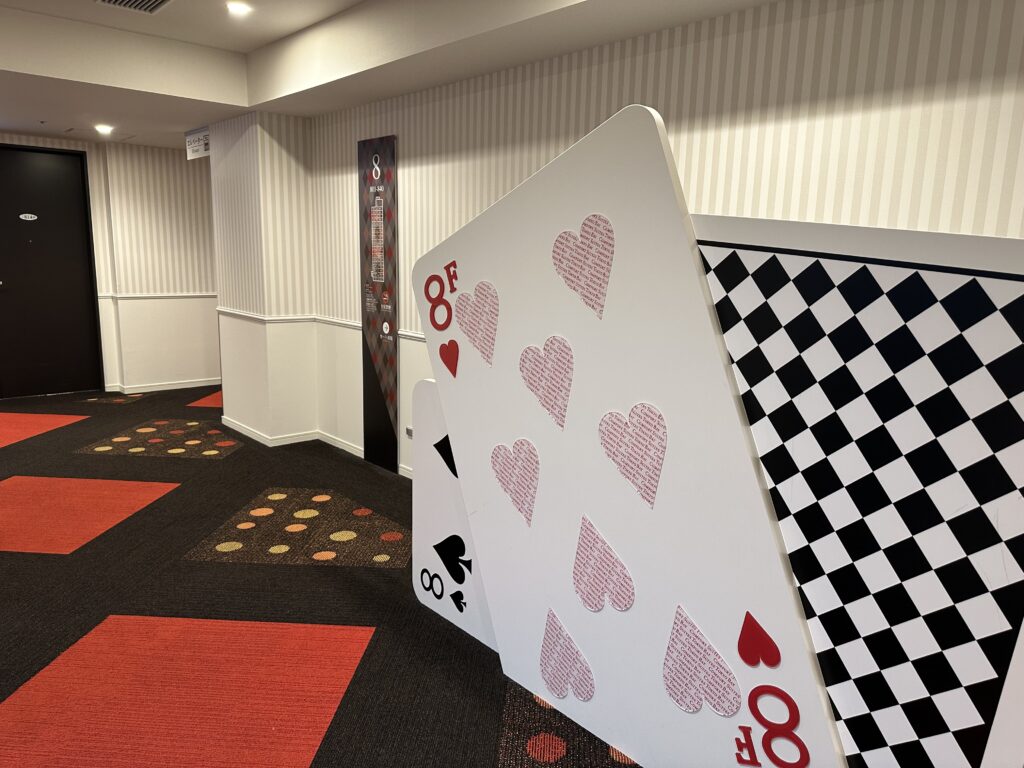 That little thing can make a big difference in the excitement level of both adults and children!
2bed room / Comfort Twin
The room type that we stayed in this time was called "2bedroom Comfort Twin" which is a standard room type.
2bedroom Confort Twin
・Room size : 26~29㎡
・Bed size : double bed(140cm×2)
・number of rooms : 152rooms
There are a total of 312 guest rooms, so approximately half of them are 2bedroom Comfort twin rooms.
Living / Bed room There are many tricks that children will love!
First, let's take a look at the bedroom.
There are two beds that are put together in a Hollywood twin style.
The beds are arranged in a Hollywood twin style.
However, each bed is a double size at 140cm, which provides ample space and a comfortable sleeping experience.
Even with four people, two adults and two children, there is plenty of space for everyone to sleep comfortably.
The bed boards feature a playful design by puzzles.
Night panel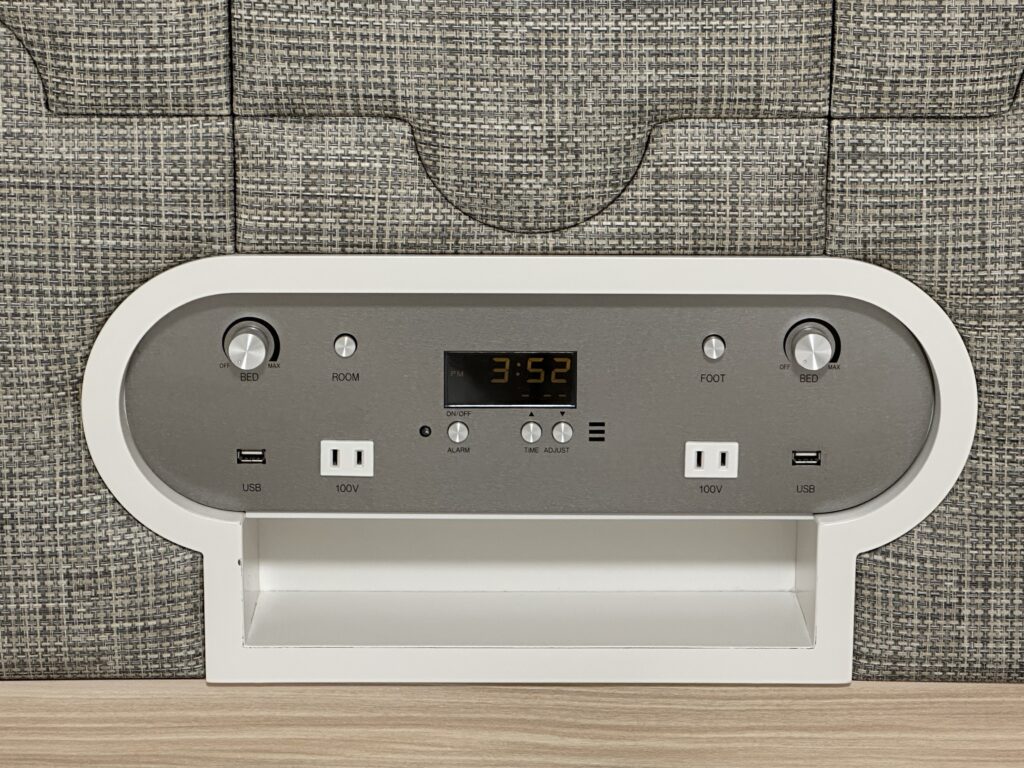 As the hotel is new, there are not only regular power outlets but also USB outlets.
And there was a cute feature on the wall next to the bed.
At first glance, it looks like the same puzzle pattern as the bed board, but upon closer inspection, the bottom part of the puzzle has come off!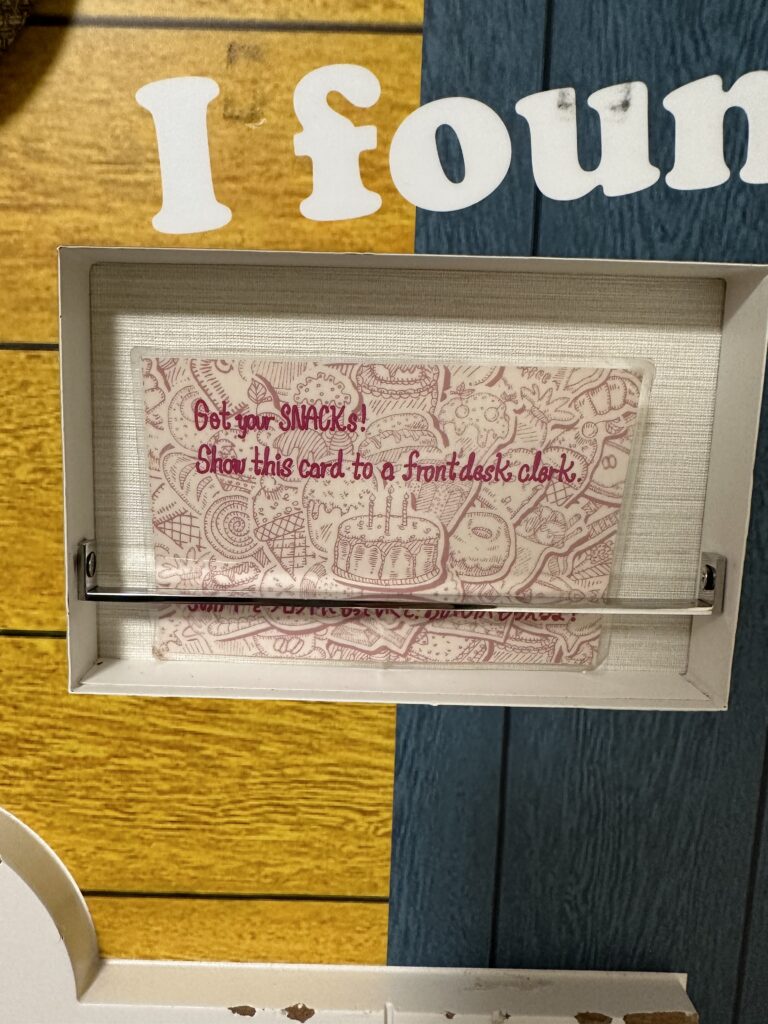 Inside the puzzle, there was a card that read"Get your SNACKs. Show this card to a front desk clerk"in both English and Japanese.
When we brought the card to the front desk later, We received a cookie in the shape of the puzzle as a gift.
View from the room
This time, the room had a window facing the west where the Disney Resort is located.
Although the 8th floor is a high floor within the hotel, the exterior of the park cannot be seen from buildings such as the Hyatt regency Tokyo Bay and apatments.
In front of the room is the Hyatt Regency Tokyo Bay.
On the right side, there is Ryotokuji University.
On the left side, there is Urayasu City General Park.
The park is spacious and has a great view.
Whenever I come around here, I always stop by and enjoy a walk or something.
TV / Refrigerator / Desk There is a microwave in the room!
The TV is wall-mounted, which makes the room feel spacious uncluttered.
The TV is equipped with mirroring function and provides information on hotel facilities, breakfast, etc.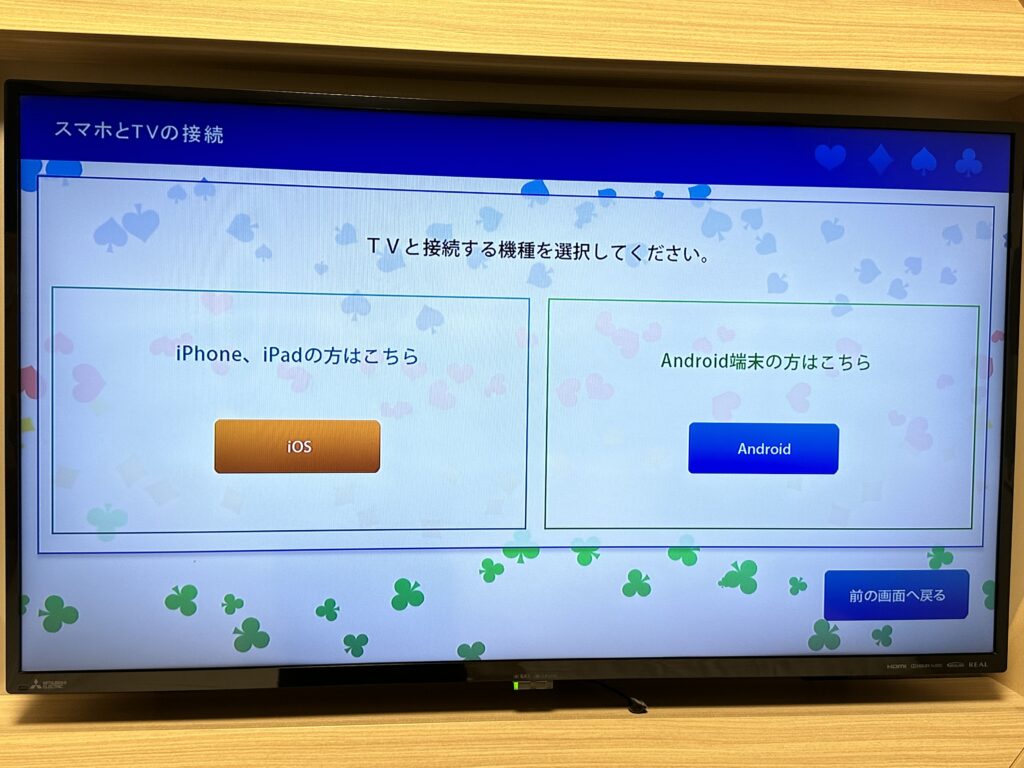 The room has two types of tables: a writing desk and a coffee table.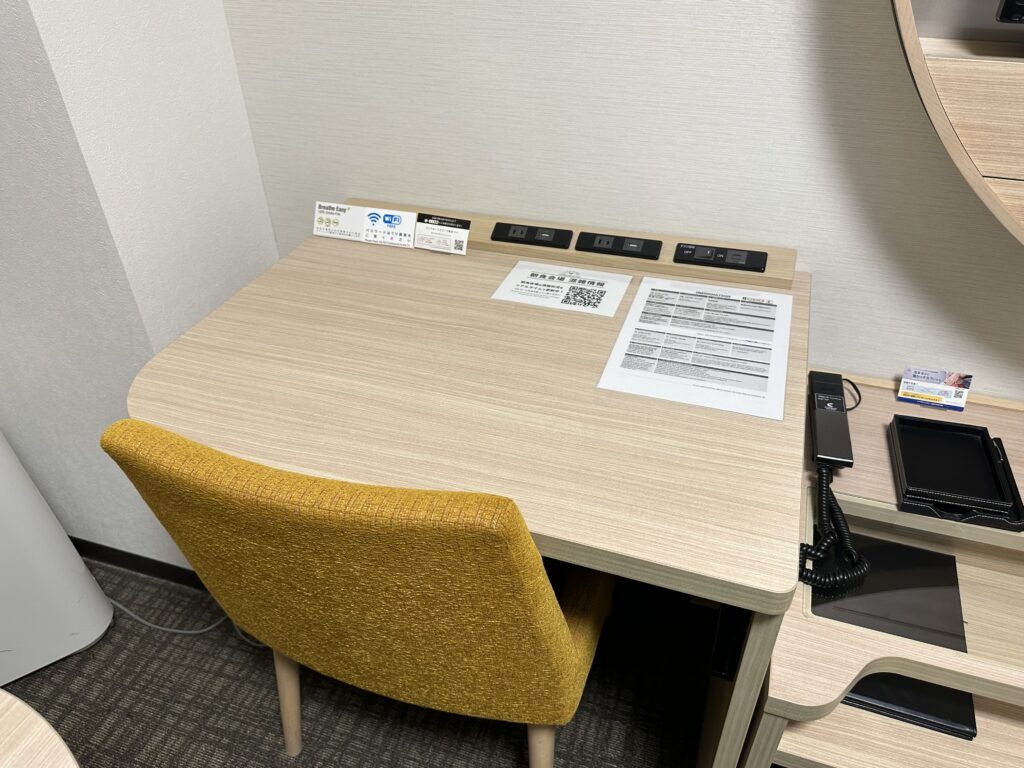 Both are sufficiently sized.
The writing desk is also equipped with not only power outlets but also USB charging ports.
Under the television, there are various items such as a house phone, an accessory tray, hotel regulations, tissues, and a safety deposit box.
At the bottom, an ironing board was provided.
Next to the shelf, there is a refrigerator.
You'll be surprised to know that there is also a freezer compartment.
The inside was empty, and next to it…
At Comfort Suites Tokyo Bay, all rooms are equipped with a microwave oven!
This is really convenient for parents with small children, especially those who use a baby food maker.
While some hotels around the Disney Resort area offer rental microwaves somewhere in the hotel, this is the first hotel I've stayed in where each room has a microwave .
This means that you can stay with your baby during the weaning period without any worries, and it's also great for having a party with friends in your room because you can warm up your food just before eating.
I was really impressed by this!
Under the microwave, there is an ice bucket and a kettle.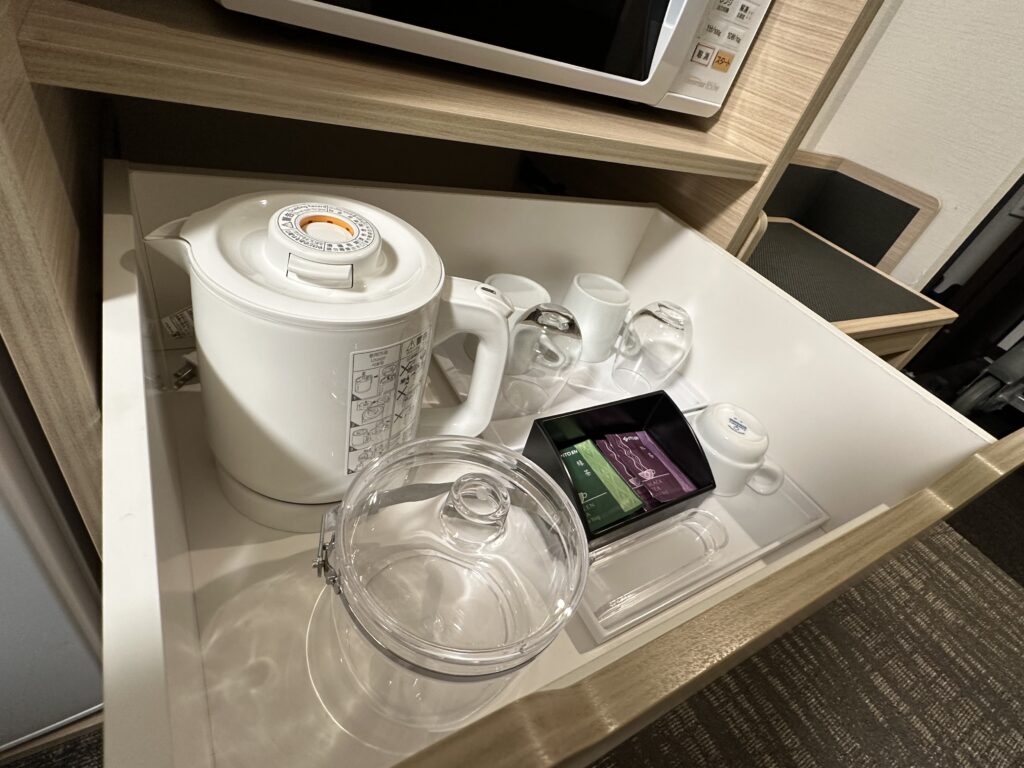 The glasses provided in the room include both mugs and rocks glasses.
tea bags for green and black tea.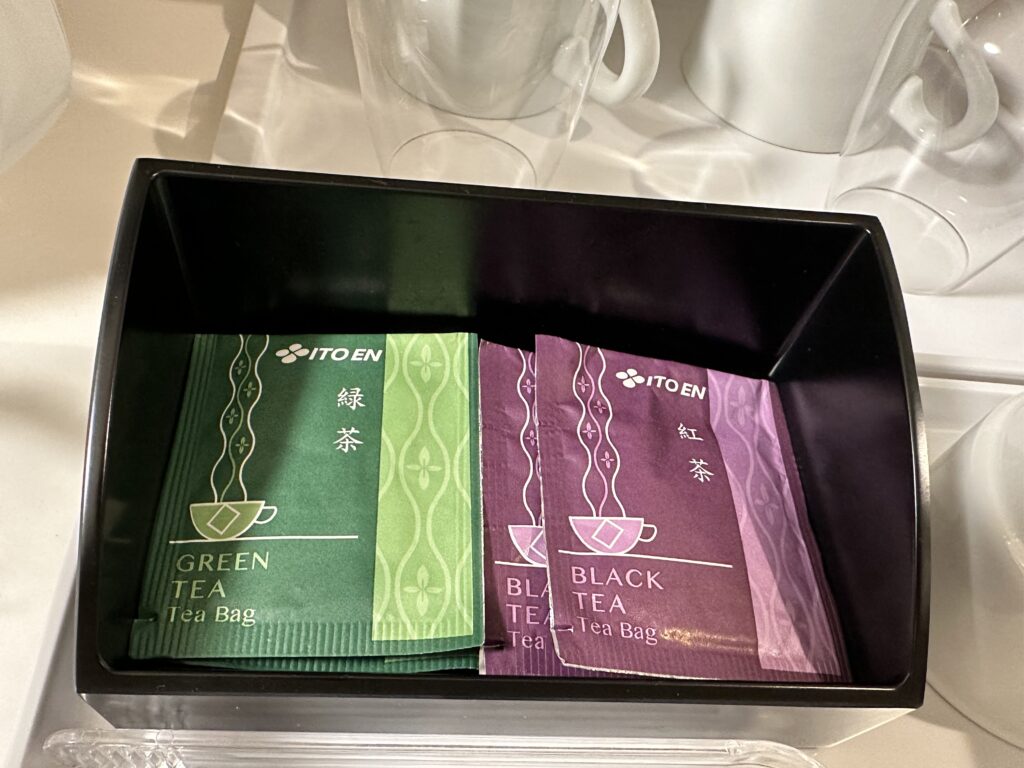 Separate toilet and bathroom with a wash area, making it safe and convenient even for families with children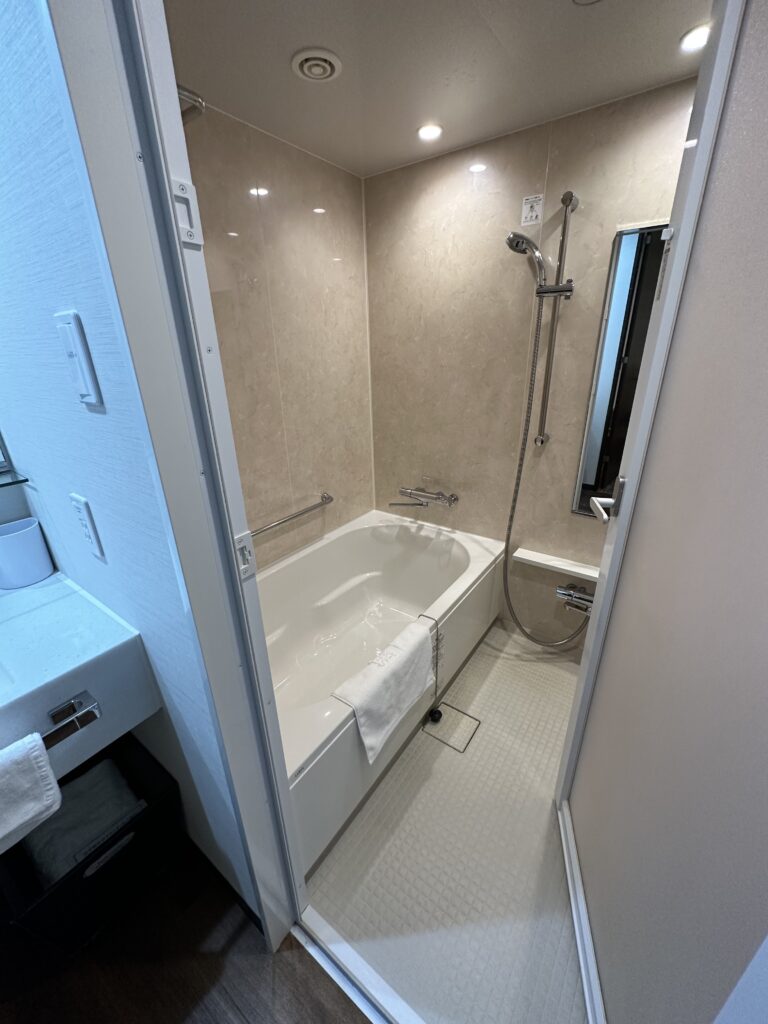 All rooms have separate bathrooms with a washroom area.
In the Shin-Urayasu area, many hotels are relatively new as compared to the Disney official hotels.
Therefore, having a bathroom with a separate washroom area is becoming the norm.
Both the washroom area and bathroom have a sense of cleanliness, which is not surprising as they are new.
The bathtub is spacious enough for a family to bathe together.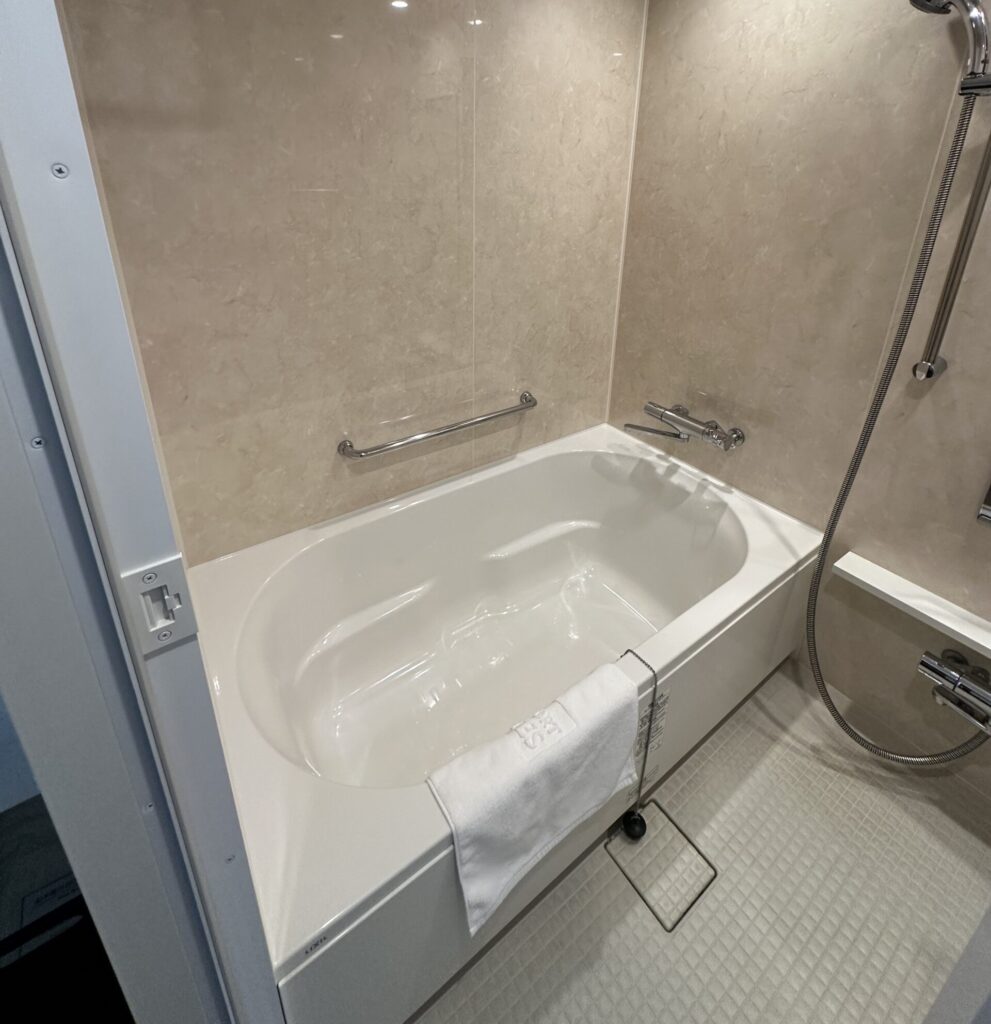 shampoo, conditioner, body wash
There is chair available, providing a comfortable and homey atmosphere.
wash room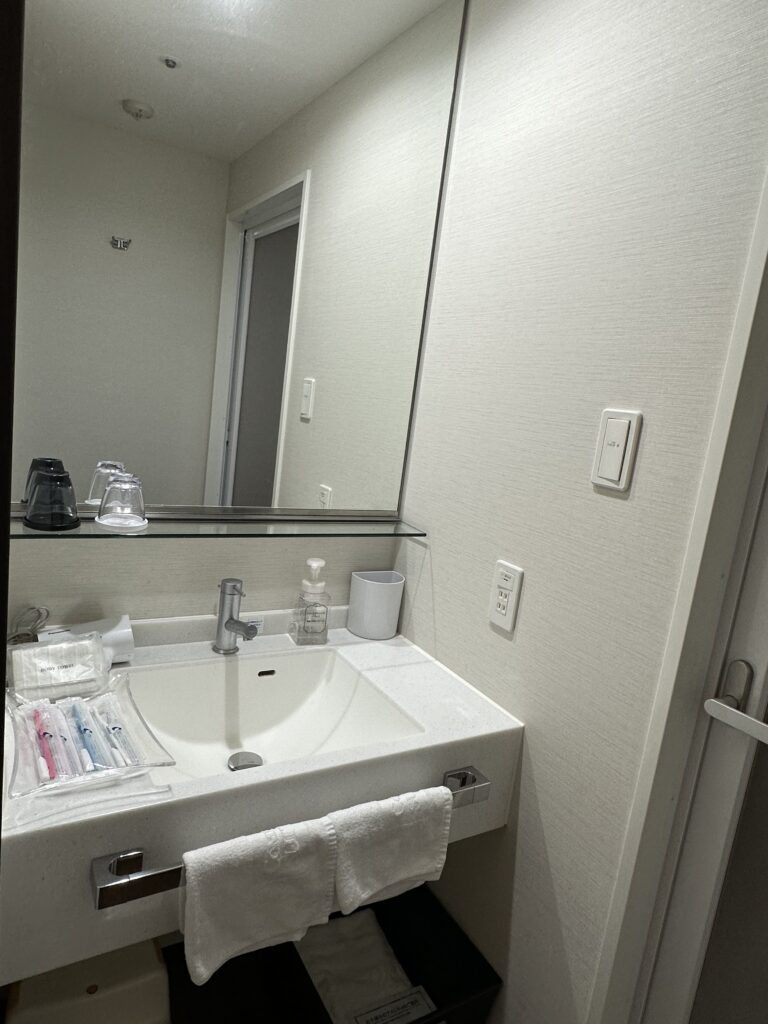 There is also a step stool for children available.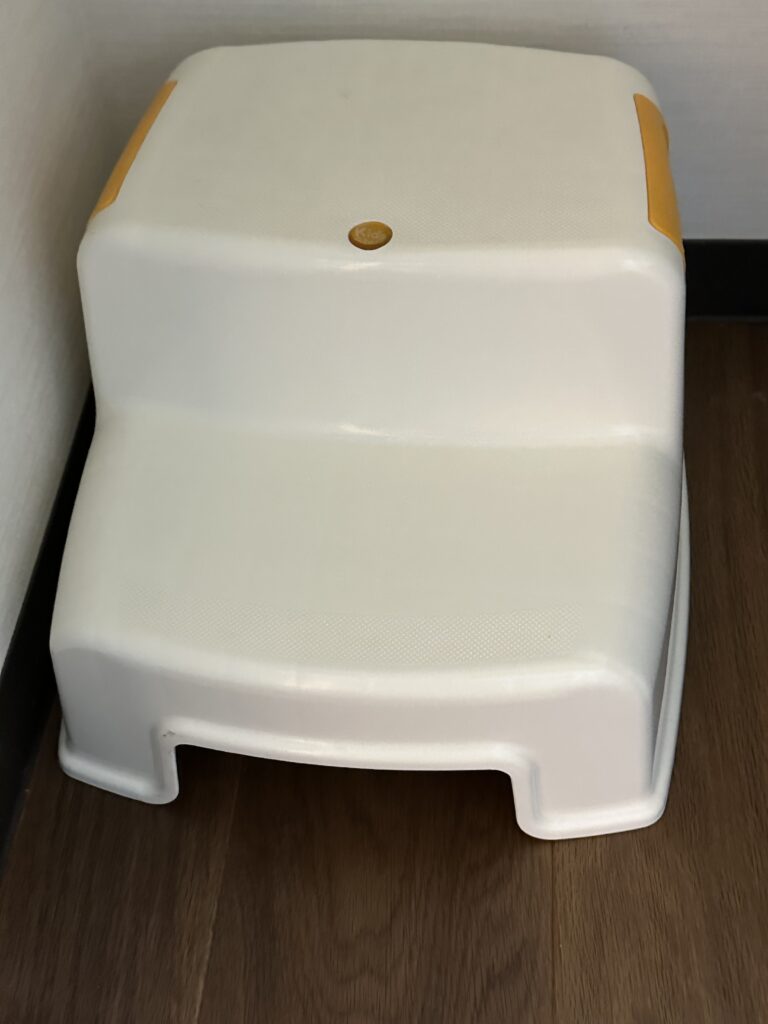 The amenities provided in the room include toothbrushes, cotton swabs, and body towels.
hairbrushes and razors are provided in the lobby, so you will need to bring the necessary amount with you.
Please bring your own children's toothbrush
There are no children's toothbrushes available, only ones for adults.
Since our child did not like the adult toothpaste, it is better to bring toothbrushes from home for younger children.
toilet
If you need a child-size toilet, you can rent one from the front desk.
Closet, Luggage rack
Luggage rack
There are additional towels, slippers, and nightwear on top of the closet.
You can get slippers in size 16cm by asking at the front desk.
Breakfast buffet / A chocolate fountain that both adults and children can enjoy
Breakfast is served on the lobby floor on the first floor in a buffet style.
Place
1st floor
Hours of operation
6:30a.p – 9:30a.m
Price
adult:¥2,000
4-12years:1000
under 3years:free
Style
buffet
Children aged 4 and above will be charged for an additional fee.
However, if you make a reservation with a breakfast included for adults and choose the option of sharing the bed with children, children up to 12 years old can have a breakfast for free.
The breakfast voucher is not a common paper ticket, but a coin that serves as a meal ticket.
For families with children, I highly recommend the breakfast included plan, which also gives you access to our five exciting kids areas.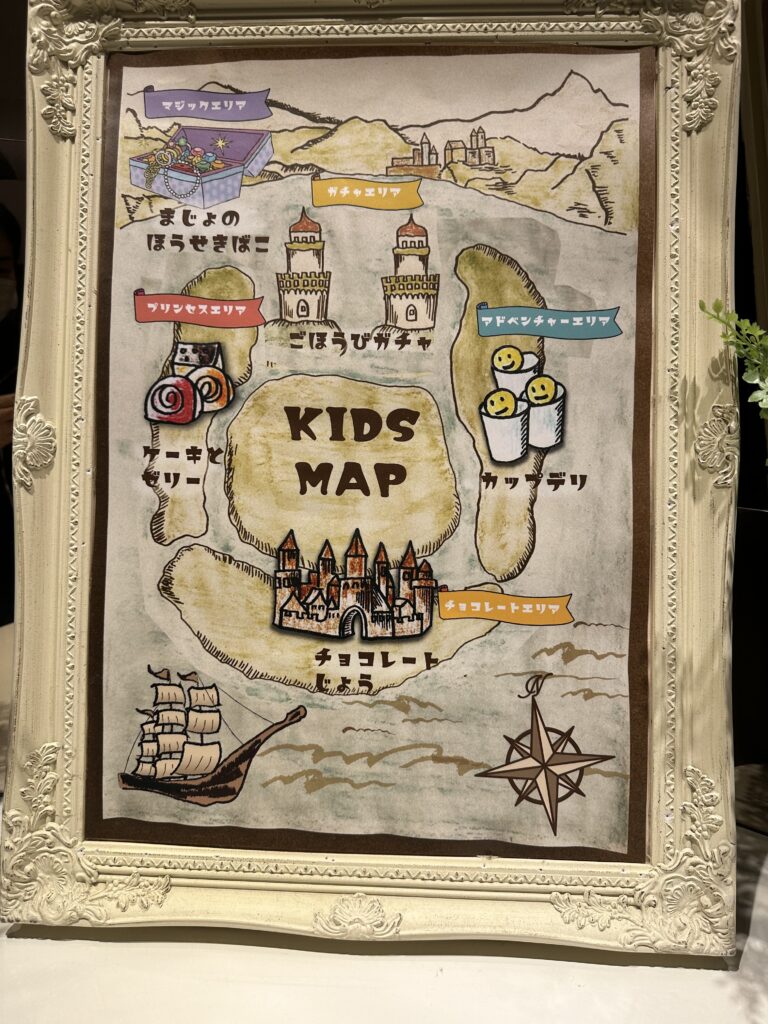 One of the recommended point at Comfort Suites Tokyo Bay is the "Kids Breakfast"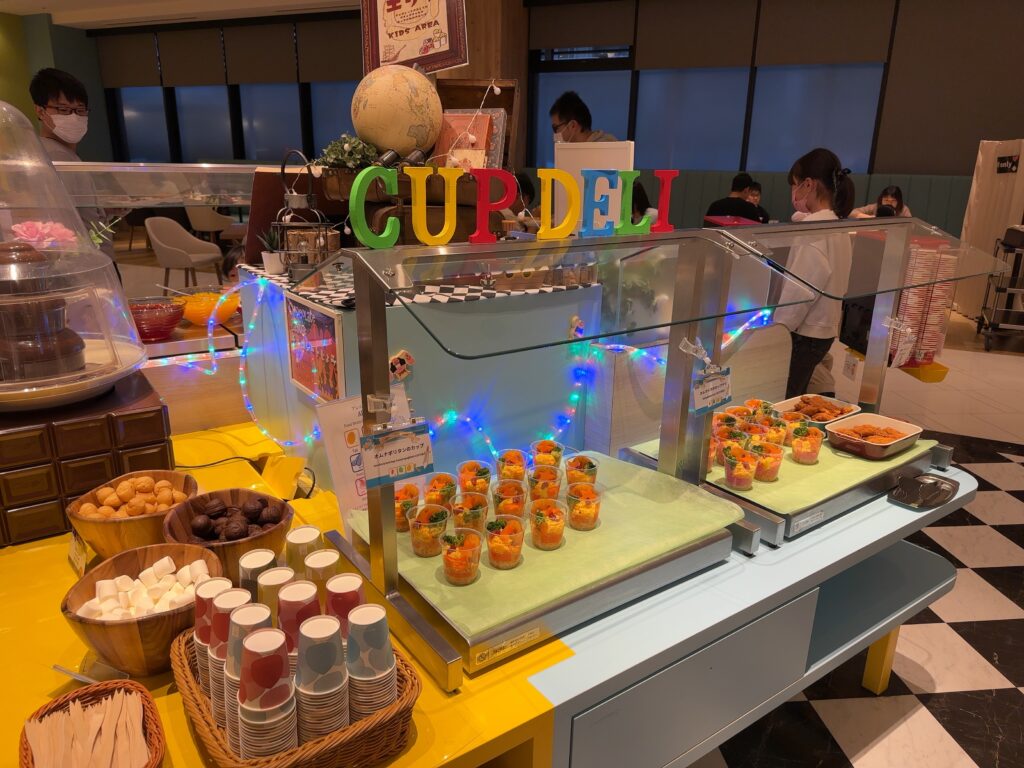 The kids' corner is divided into five areas, each with many fun features and activities for children to enjoy.
Kids Corner
Adventure Area : The rice, side dishes, vegetables, and more are all arranged in cute and compact manner in a single cup.
Chocolate Area : You can dip marshmallows, bananas, and other treats into the chocolate fountain.
Princess Area : Fruit jelly and cake.
Bulk Area : Insert coins and get chocolates, ramune, and colorful candies at the bulk area.
Magic Area : Create your own original sweets with a variety of colorful toppings available.
The kids area is so luxurious that it doesn't feel like breakfast at all, and children are sure to be delighted with it!
Of course, adults can also enjoy the extravagant desserts from the morning.
If adults choose a breakfast-inclusive plan, children up to 12 years old can stay for free if they share a bed, so it is recommended to make a reservation with breakfast when staying with family!
Facilities(convenience store, gym, etc.)
Next up is the hotel facilities.
There is a 24-hour convenience store, fitness room, and coin laundry available.
Convenience Store( Lawson)
On the first floor, there is a Lawson convenience store.
Many hotel convenience stores do not operate late at night, but this one is open 24 hours.
Coin Laundry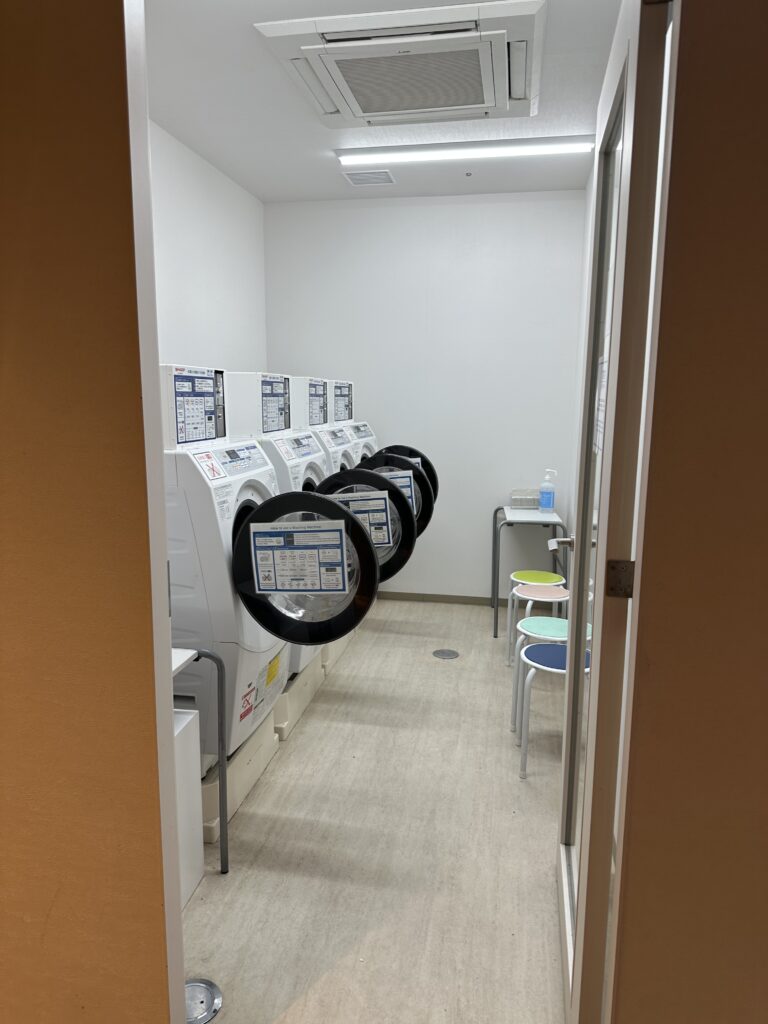 There are a total of 4 coin laundry machines available on the lobby floor and can be used 24hours.
| | |
| --- | --- |
| Washing machine | ¥300 |
| Dryer | ¥100/30min |
Gym / Fitness room
The gym located on the first floor, just before the convenience store.
There are running machines, fitness bike, cross trainers, balance balls, and yoga mats in the gym.
Rental PC / Printer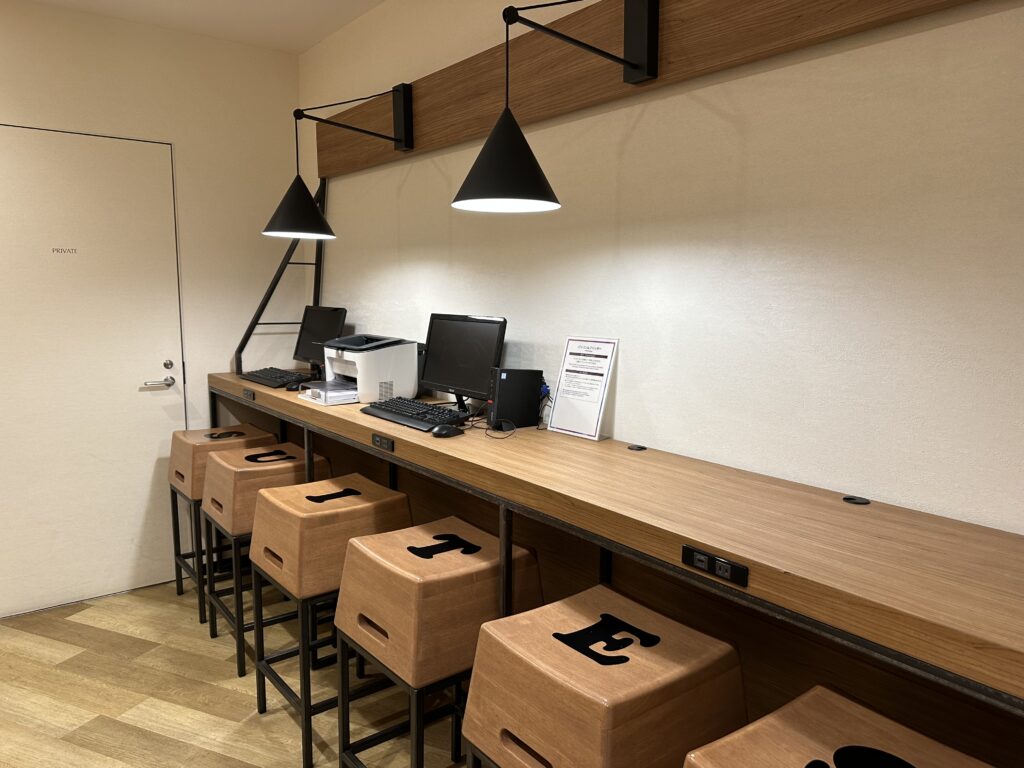 There is a PC room across the fitness room.
Hotel guests can use it for free and there are power outlets, so it is also possible to bring your own laptop to work.
Welcome drink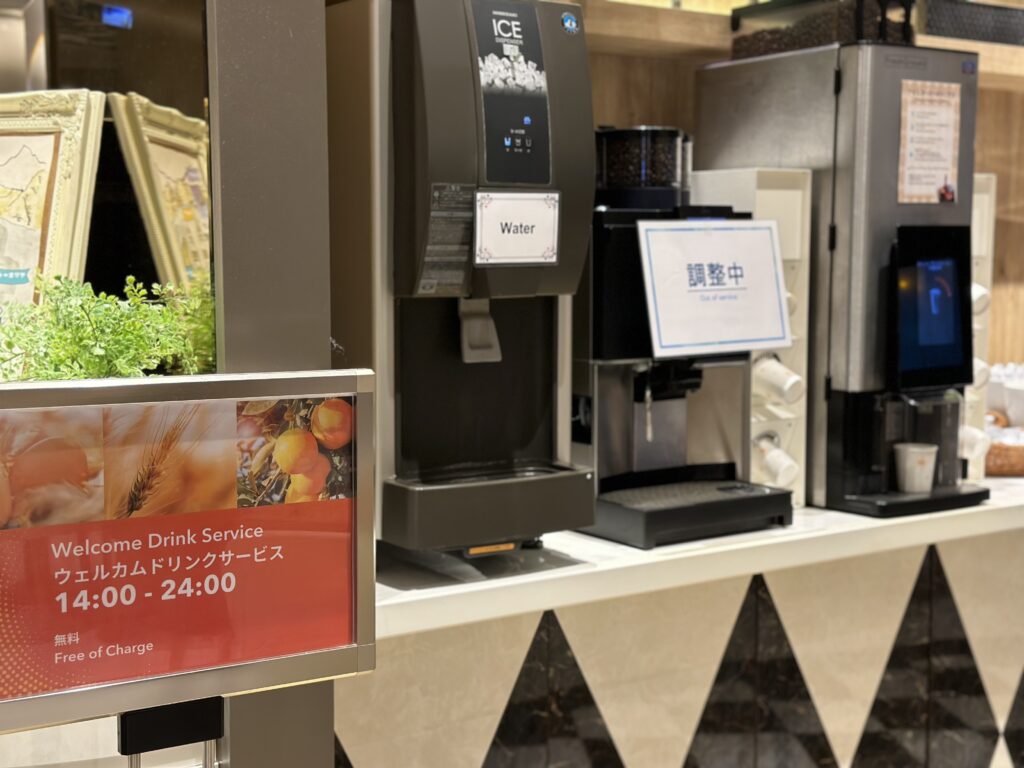 On the first floor, there is a welcome drink service from 14:00 to 24:00
Menu
・Lemon water
・Hot coffee
・Iced coffee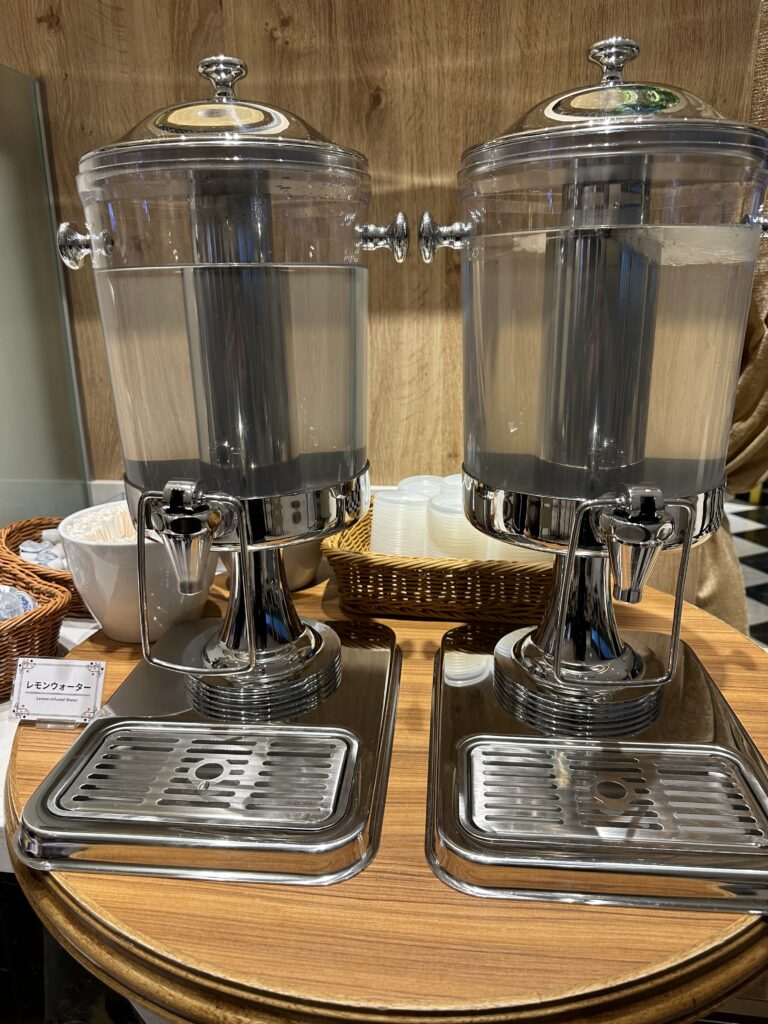 Kids' space / Book corner
There is a small kids' space on the lobby floor.
Next to the front desk, there is a BOOK CORNER.
Disney animation picture books such as Aladdin and Toy Story are available in the book corner, which is a rare feature that is not often found in other hotels.
ACCESS / Free shuttle bus
There is a free shuttle bus service from the hotel to Tokyo Disneyland and DisneySea.
BY TRAIN
It takes about 30 minutes to get from Tokyo Station to the hotel.

BY AIRPLANE
There is a limousine bus service available from the hotel to the nearby Mitsui Garden Hotel Prana Tokyo Bay Hotel, which serves both Haneda and Narita airports.


An affordable hotel to fully enjoy your Disney trip
Comfort Suites Tokyo Bay Hotel is definitely recommended for families with children who want to enjoy a reasonable Disney trip.
Especially for parents with infants who are in the weaning period, having a microwave in the room is really helpful.
It is a hotel where parents can feel at ease and children can enjoy.
Although the hotel is located away from the park, there is a free shuttle bus to Disneyland and DisneySea, so you can stay without a car.
This hotel is at the forefront of the latest trends, so I'm sure many guests can enjoy a comfortable stay here.
please consider this hotel as a reference for your Disney trip.
\Booking accommodations in Japan, Expedia is a top choice!/
Expedia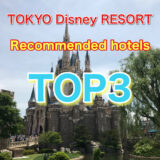 Traveling to Disney Resort with children! Three recommended Disney resort hotels for families