So cute!! Staying at a Disney hotel for the first time with a 7-month-old baby!
When our baby was seven months old, we made our first visit to Tokyo Disney Resort.
As it was our first time, we wanted to make sure we had plenty of time and chose a hotel that would create unforgettable memories.
After much consideration, we decided to stay at the first Disney hotel to open in Japan, the Disney Ambassador Hotel, which was a perfect choice with its charming and comfortable atmosphere.
Please note that external links to products, services, etc. featured on this site may contain affiliate advertisements.
The first Disney hotel in Japan, the Disney Ambassador Hotel!
There are three Disney hotels in Japan.
・Tokyo Disneyland Hotel
・Disney Ambassador Hotel
・Tokyo DisneySea Hotel MiraCosta
I excluded Hotel MiraCosta since it's directly connected to DisneySea and we're going to Disneyland this time.
Also, we recently stayed at Disneyland Hotel before our child was born.
We haven't stayed at Disney Ambassador Hotel yet, and since we made a reservation at Chef Mickey's restaurant located inside the hotel, we decided to stay at Ambassador Hotel this time.
A room filled with charm and character!
After deciding to stay at the Ambassador Hotel, the next step was to choose a room.
One of the features of the Ambassador Hotel's rooms is the various character rooms available.
The character rooms can be broadly divided into two categories.
・Stitch , Donald , Chip and Dale Rooms:
→Approximately 10,000yen price difference from standard rooms.
・Mickey Mouse and Minnie Mouse Rooms:
→Approximately 20,000yen price difference from standard rooms.
These rooms are located on the Ambassador Floor, which also allows access to the Ambassador Lounge.
Other perks include lounge check-in and check-out and various other benefits.
We decided to go with Chip'n Dale Room after debating between their room and Stitch's room.
The two rooms have the same size and amenities, so it was just a matter of personal preference.
Stitch's room was cute too, but I've loved Chip'n Dale since I was a child, we ultimately decided to go with their room this time.
We may try Stitch's room on our next visit!
Character Rooms! "Chip'n Dale Room"
The chip and Dale room, along with the Stitch room, was created in February 2017.
Not only is the inside of the room decorated beautifully, but the outside of the door with the room number is also adorned with cute acorn designs.
It truly is a room full of dreams that can only be found in a Disney hotel.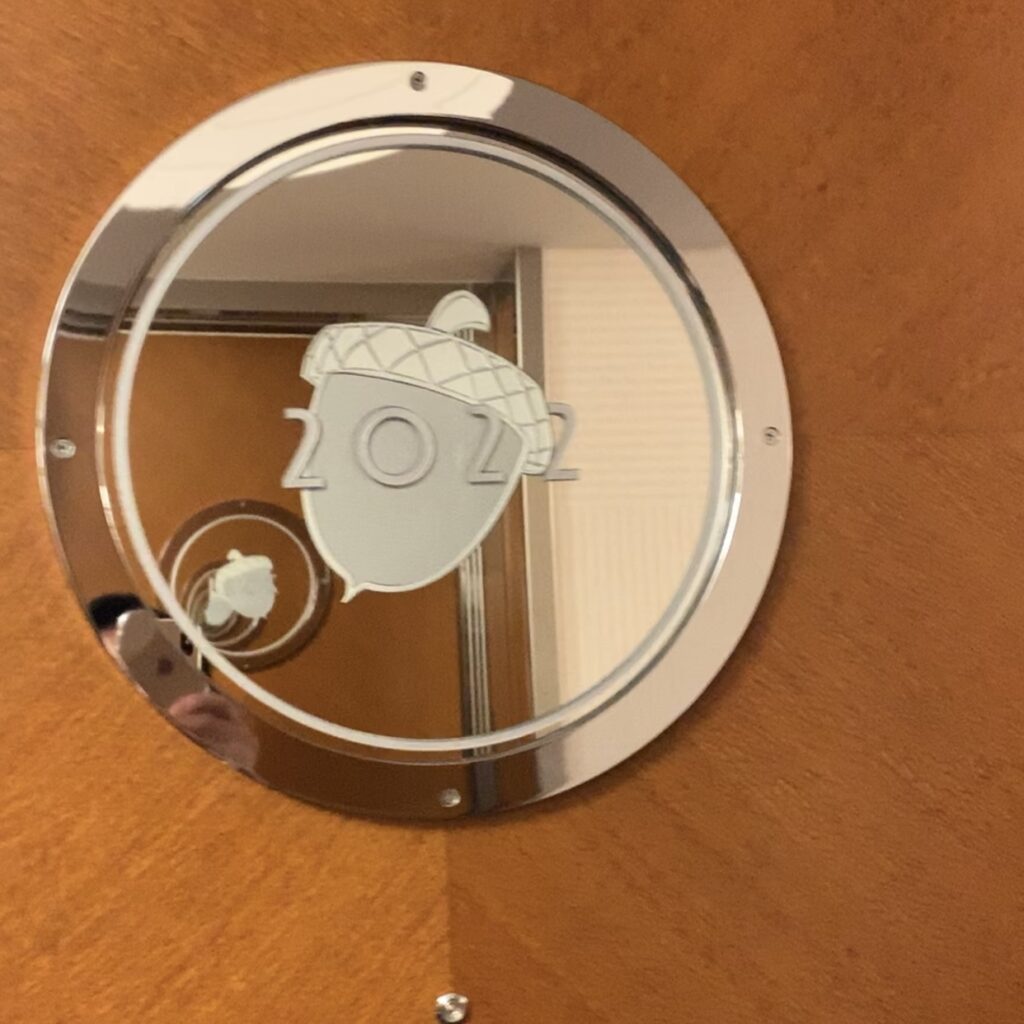 As for the view, just like the character rooms at Disneyland hotel facing the opposite side of the park, the Chip'n Dale Room is mainly located on the lower floors of the second floor, and t seems that you cannot see the park view from the room.
Now, let me introduce the room starting from the inside.
Room interior : Clarice is also in the room! Playful designs
The room is designed to give the impression of being the forest where Chip'n Dale live, with a calm and brown-toned design.
Chip'n Dale, with their smiling faces, are designed throughout the room.
The room size is the same as a standard room, ranging from 38 to 41 square miters.
In terms of size, it is a bit larger than a city hotel and a bit smaller than a luxury hotel.
however, the great thing about Disney hotels is that all guest rooms are equipped with a sofa.
I think the charm and attention to detail that goes beyond just size is what makes Disney hotels unique.
On the bed board, there is a design of Chip'n Dale.
Dale is on the right side.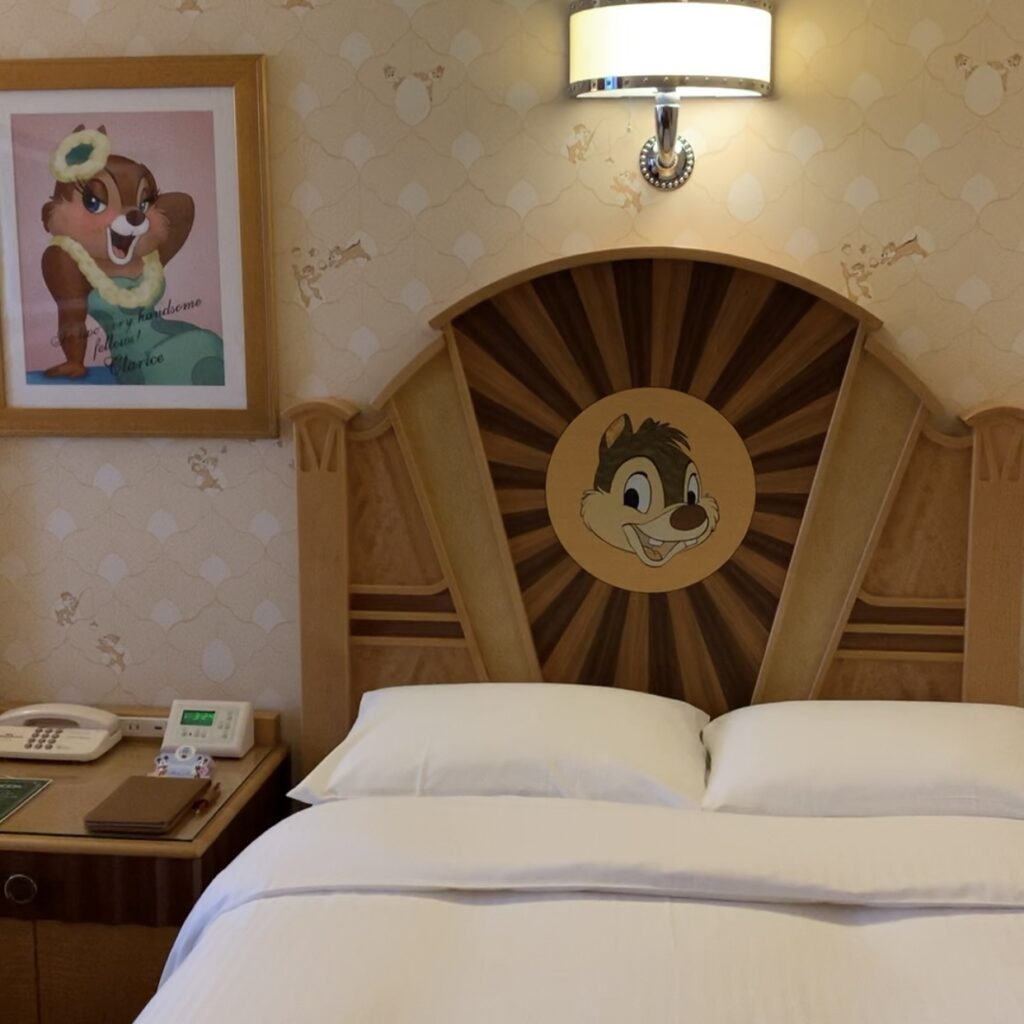 Chip is on the left side.
In between the two, the songstress Clarice is gorgeously decorated.
As befitting a songstress, she has a mysterious charm that draws you in just by looking at her.
the carpet has acorns, giving a sense of autumn.
The sofa in the room also follows the overall brown-themed design.
There are cushions on both sides as well, and the design is…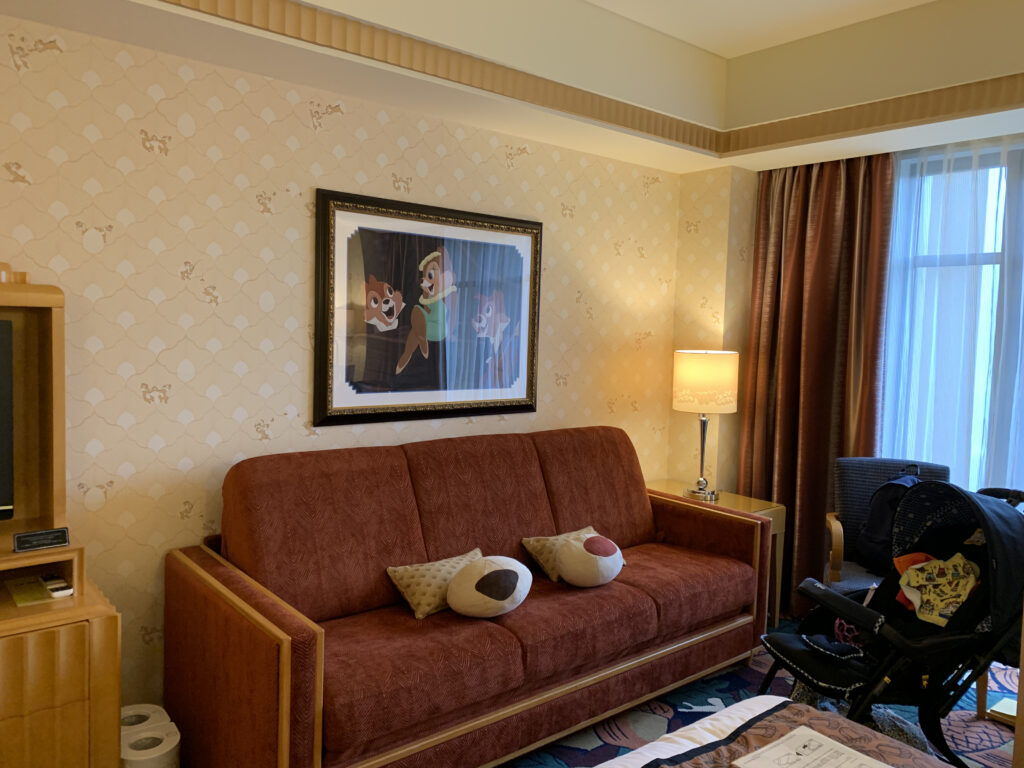 These are cushions designed to look like the noses of Chip'n Dale.
The entire room is designed in shades of brown, so the cushions blend in well and create a sense of unity with the overall theme of the room.
Even the wallpaper features Chip'n Dale.
You can enjoy various expressions of mischievous Chip'n Dale, as they love pranks.
Bathroom / Amenities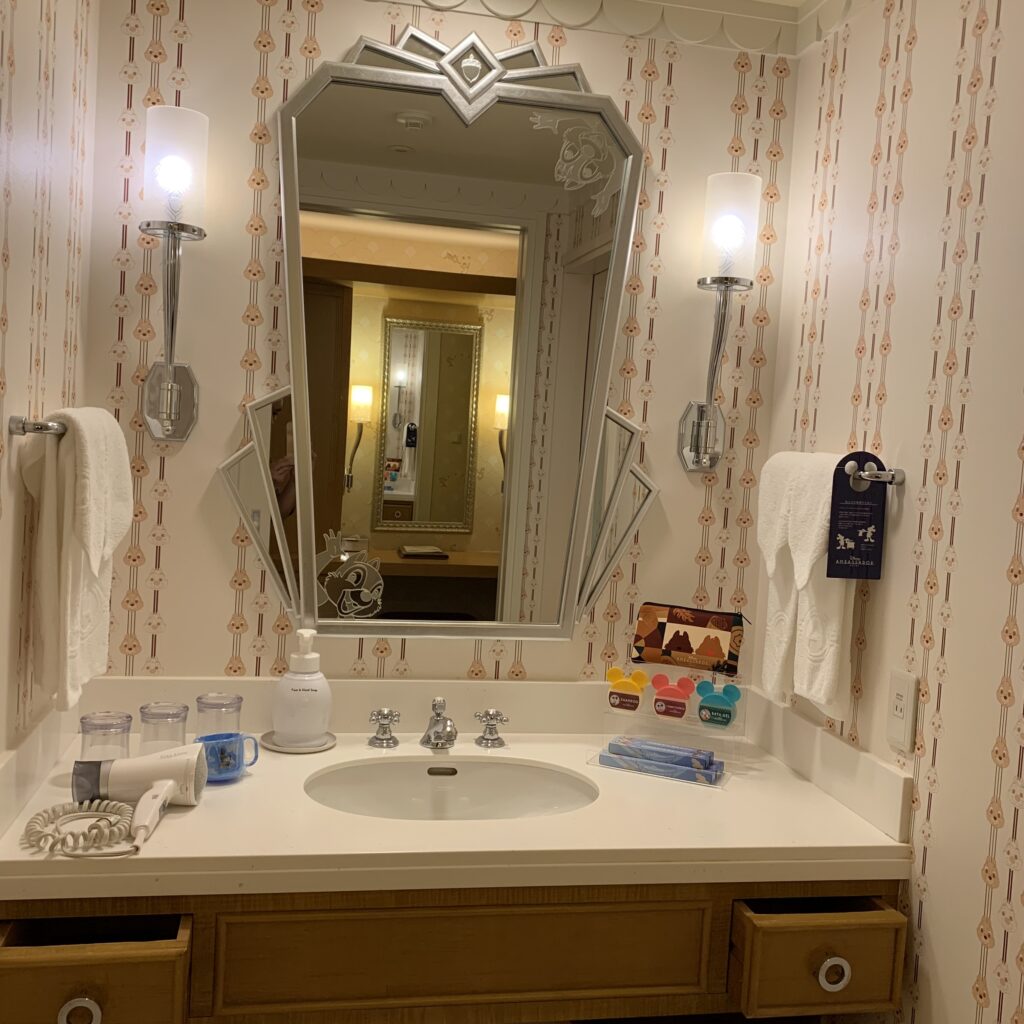 Next up is the bathroom and amenities.
The biggest feature of Disney hotels is, without a doubt, the cuteness of their amenities.
When it comes to amenities, it's safe to say that no hotel in japan can compete with Disney hotels in terms of adorable designs.
Not only for Disney fanatics but for anyone, just by seeing these amenities, you'll surely feel your excitement rising.
The quality of these amenities is so high that it'll make you think, "Wow, Disney hotels are really something!"
Unfortunately, due to SDGs, the shampoo, conditioner, and body soap have been changed from refillable containers that guests can take home to provided amenities in the bathroom.
The plastic cups and toothbrushes are also Disney-themed, with the Ambassador Hotel logo on the box.
By the way, all of these amenities are of course Disney-themed, and design varies depending on the hotel.
Therefore, when staying at the Disneyland Hotel or the Tokyo DisneySea Hotel MiraCosta, you can enjoy a different Disney design.
In addition, since this is a Chip'n Dale character room, it comes with a Chip'n Dale pouch.
And the best part is that you can take all of these amenities home as souvenirs!
You can also request at the front desk and receive amenities for the number of people staying in the room, except for certain special plans.
However, please note that this room does not provide makeup serum or facial cleanser, so please bring your own.
The toilet door is decorated with Chip.
The bathroom door is decorated with Dale.
The bathroom is spacious with a shower area instead of a unit bath.
By the way, can you tell the difference between Chip and Dale?
・Nose : Chip's nose is a black inverted triangle. Dale's nose is oval and brown.
・Front teeth : Chip has one front tooth, while Dale has two.
Their personalities and other difference aside, the easiest way to tell them apart is by these two points, I suppose.
Refrigerator / Mini-bar
The area around the refrigerator is the same set as other Disney hotels.
・coffee
・black tea , Green tea
・Free bottled water(Evian) in the refrigerator
Restaurant / You can meet the Disney characters
There are four restaurants at Disney Ambassador Hotel.
・Casual Dining : Chef Mickey
・California Cuisine : Empire Grill
・Deli-Cafe : Tick Tock Diner
・Lobby Lounge : Hyperion Lounge
Casual Dining : Chef Mickey
Casual Dining "Chef Mickey" is one of the most popular restaurants among Disney hotels.
This buffet-style restaurant is so popular that it's difficult to make a reservation to enjoy a meal while taking pictures with characters like Mickey.
Casual Dining : Chef Mickey
Breakfast : 7:30am – 10:00am
Lunch : 11:30am – 2:30pm
Dinner : 4:30pm – 9:00pm
California Cuisine : Empire Grill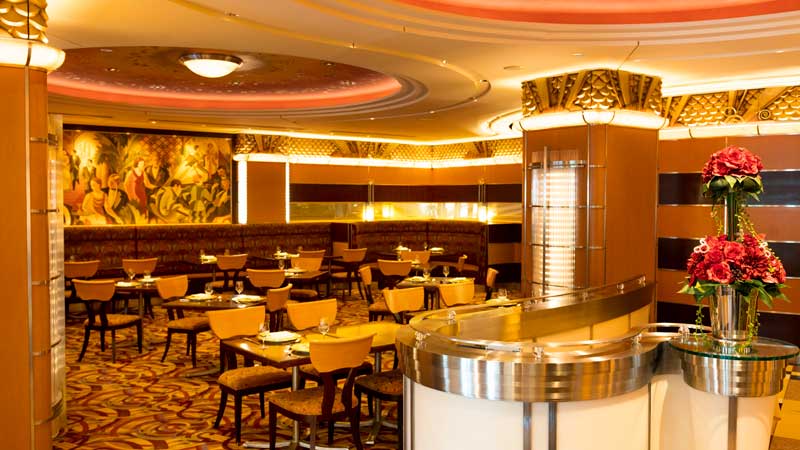 A California-style restaurant that incorporates essences from around the world, with children's menus available.
This restaurant also offers take-out menus, so even if the restaurant is fully booked, you can enjoy the food in your room.
California Cuisine : Empire Grill
Lunch : 11:30am – 2:30pm
Dinner : 5:00pm – 9:00pm
Take-out : 6:30am – 8:00am , 6:00pm – 10:00pm
Deli-Cafe : Tick Tock Diner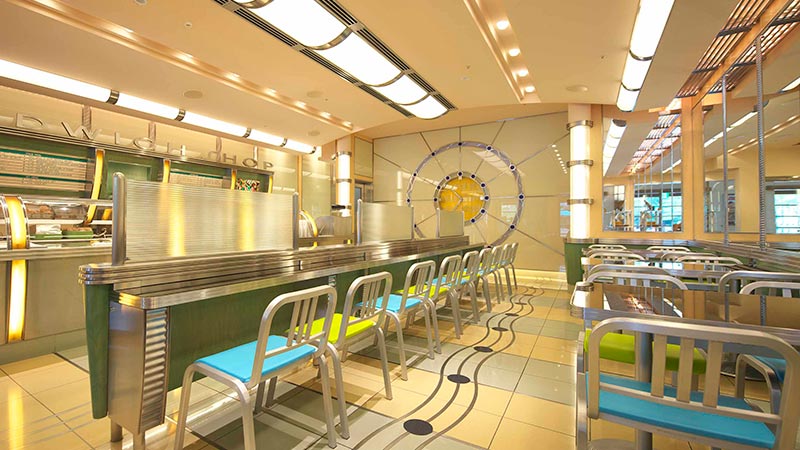 You can enjoy a casual sandwich at this diner, which is designed with a 1950s theme.
While there is seating available inside the restaurant, it primarily focuses on take-out orders.
Deli-Cafe : Tick Tock Diner
Lunch/ Dinner : 12:00pm – 7:00pm
Lobby Lonuge : Hyperion Lounge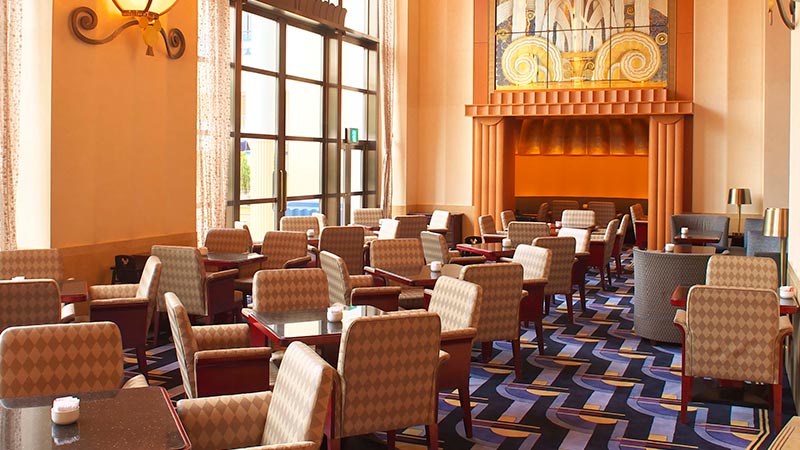 An elegant lounge adjacent to the hotel lobby.
With large windows reaching from the floor to the soaring celling and glass craftsmanship adorned with gold leaf on the walls, it exudes sophistication while the sound of the piano resonates throughout the lobby.
During the day, enjoy a tranquil tea time, and in the evening, indulge in refined cocktail hours.
Breakfast is served in a buffet style.
Lobby Lonuge : Hyperion Lounge
Breakfast : 6:30am – 9:30am
Cafe and cocktails : 12:00pm to 8:00pm
ACCESS / Shuttle Bus , Disney Resort Line…
Disney Ambassador Hotel provides complementary shuttle bus to both Tokyo Disneyland and Tokyo DisneySea.
While it is possible to walk to either park on foot, especially for adults, having young children and a lot of luggage, such as strollers, makes the shuttle service very convenient.
Shuttle Bus ⇄Disneyland , DisneySea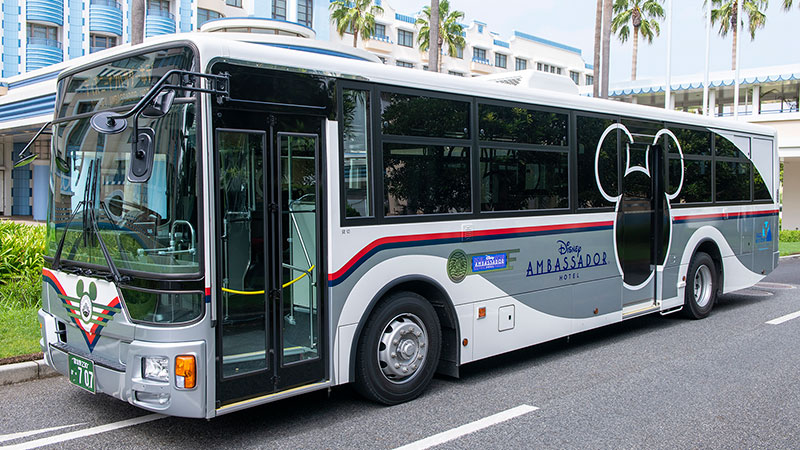 The complementary shuttle bus operates between both parks, allowing not only hotel guests but also guests who are solely visiting the restaurants to use the service.
【Bus stops】
| | |
| --- | --- |
| From Disney Ambassador Hotel to the Parks | Main entrance of the hotel |
| From Tokyo Disneyland to the hotel | Bus stop NO.3 at Tokyo Disneyland Bus Terminal East |
| From Tokyo DisneySea to the hotel | Bus stop NO.5 at Tokyo DisneySea Bus Terminal North |
Airport Limousine Bus (Narita, Haneda)
Both Haneda Airport and Narita Airport offer limousine bus services that run to the hotel.
【Haneda Airport】
Travel time
approximately 50 minutes
Fare(one way)
Adult : ¥1,000-
Child : ¥500-
Bus stop
Main entrance of the hotel
【Narita Airport】
Travel time
approximately 80 minutes
Fare(one way)
Adult : ¥1,900-
Child : ¥950-
Bus stop
Main entrance of the hotel
Train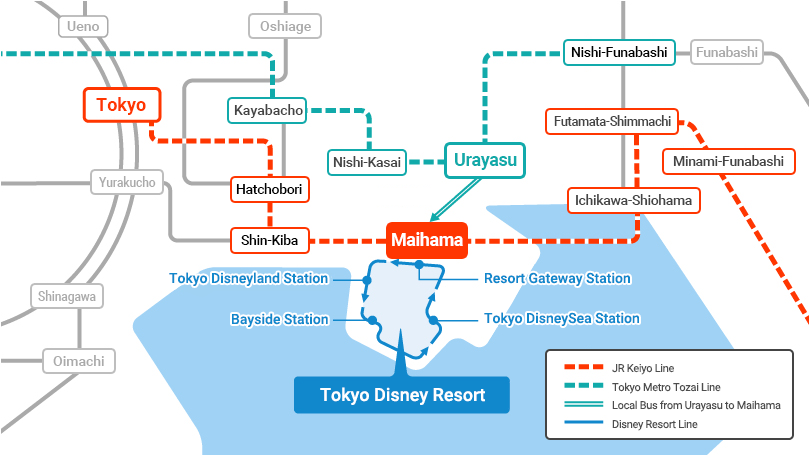 The nearest station to Tokyo Disney Resort is Maihama Station, which is served by the JR Keiyo Line and Musashino Line.
It takes approximately 8 minutes to walk from Maihama Station to the hotel.
Along the way, you can also enjoy shopping at a shopping mall called "Ikspiari."
Unforgettable experience awaits both kids and adults at Disney Hotels, ensuring complete satisfaction.
Introducing the "Chip'n Dale Room" at Disney Ambassador hotel.
Only at Disney Hotels can create such a cute room filled with numerous drawing of Chip'n Dale.
It offers a delightful experience that cannot be found elsewhere.
We had the pleasure of staying here to celebrate a birthday, and to our surprise, we received a birthday message from Mickey Mouse!
There are also various items available to celebrate other special occasions.
Enjoy a memorable and enchanting Disney trip at Disney Hotels.
Thank you for watching until the end.
Disney Hotel review! Tokyo DisneySea Hotel MiraCosta【JAPAN/Maihama】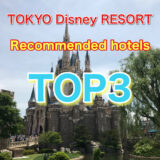 Traveling to Disney Resort with children! Three recommended Disney resort hotels for families