Newly opened in March2023!A hotel in Asakusa that overflows with traditional culture and is also family-friendly! Recommended for sightseeing at Senso-ji Temple and Tokyo Skytree!
I stayed at the newly opened Asakusa View Hotel Annex Rokku during my trip to Tokyo in late March, which coincided with the cherry blossom season and my visit to Asakusa Temple,Skytree, and Tokyo Disneyland for two nights and three days
On the first day, we stayed at the Asakusa View Hotel Annex Rokku, and on the second day, we stayed at the Mitsui Garden Hotel Prana Tokyo Bay in Shin-Urayasu.
In this blog, i will introduced the Moderate Type Twin room, breakfast, and facilities at the Asakusa View Hotel Annex Rokku where we stayed on the first day.
Please note that external links to products, services, etc. featured on this site may contain affiliate advertisements.
Lobby Check-in / Check-out
The front desk is located on the second floor, accessible by elevator.
Main entrance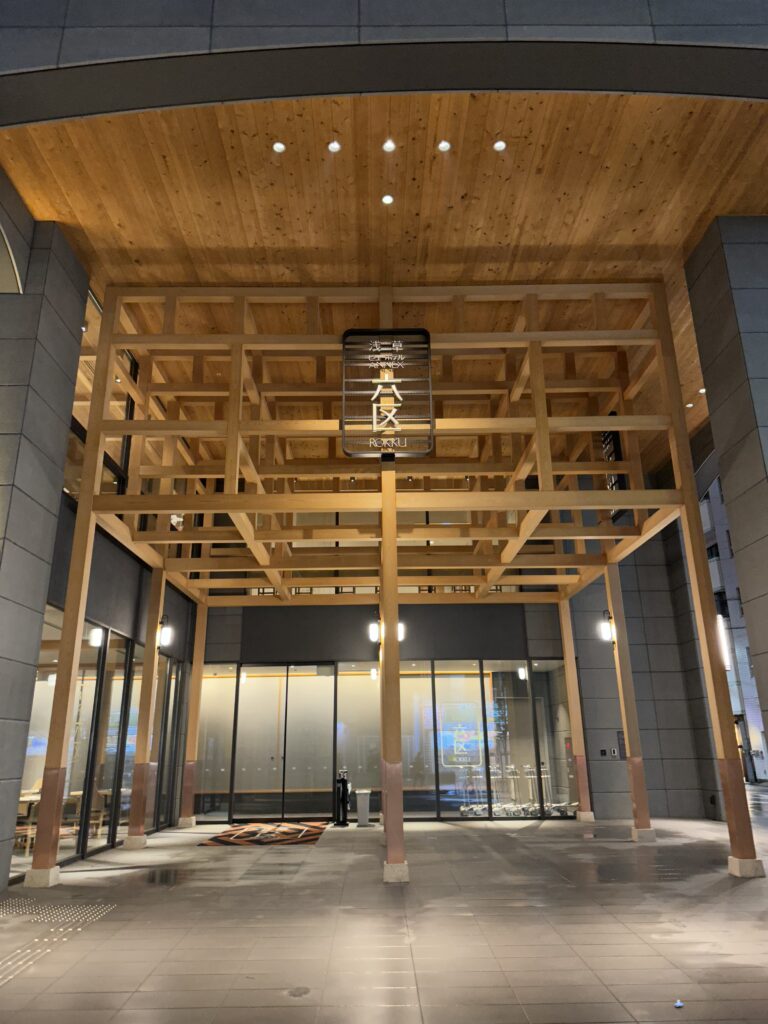 It has a Quaint atmosphere.
Main entrance faces a pedestrian street, and there is no space for vehicles to pull up.
As mentioned later, guests can use the parking at the Asakusa View Hotel, which is a one-minute walk away.
On the first floor, there is "Broadway Rokku" where guests can enjoy breakfast and traditional Asakusa performances.
When you get off the elevator, the front desk is right in front of you.
Since the Meiji era, Asakusa Rokku district flourished as an entertainment district with many cinemas and theaters.
The location where Asakusa View Hotel Annex Rokku is now located was also once a cinema that was popular with many people.
In front of the front desk, there is a projector on display that conveys the culture of that time.
There is a diorama in the lobby that reproduces "Asaksua Rokku"
the back of the lobby.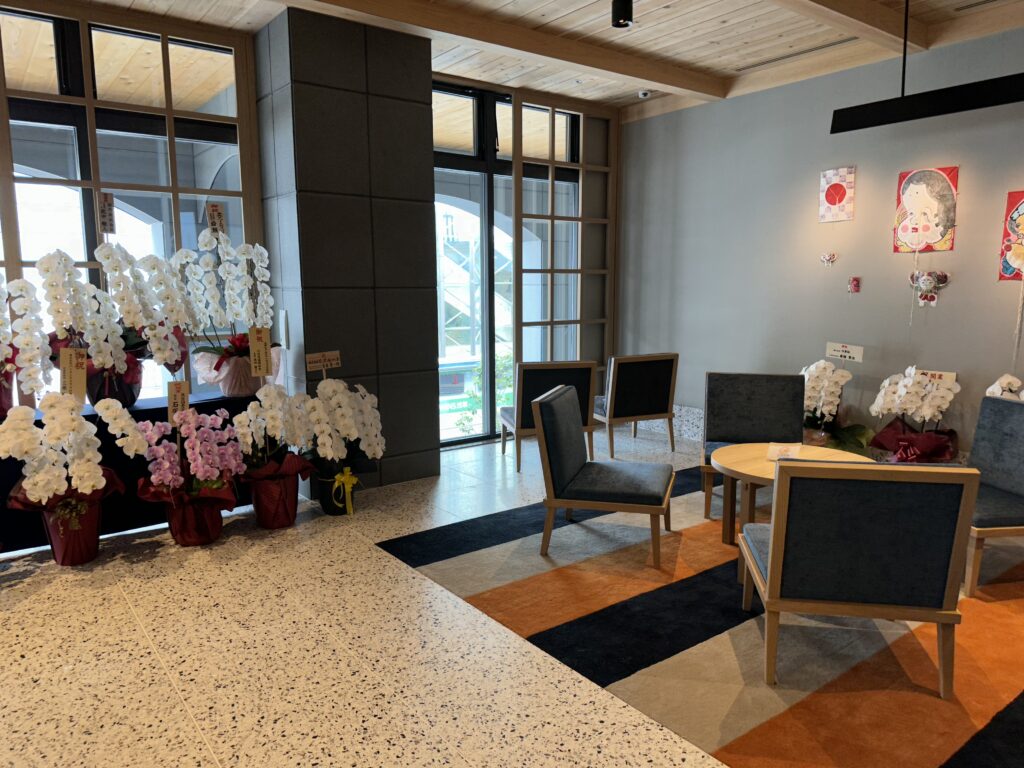 There are many phalaenopsis orchids decorated to celebrate the opening in the lobby.
There is also a free space in the lobby where you can do things like work on a PC.
As it is a modern hotel, power sources are firmly provided.
All guest rooms are non-smoking, so there is a smoking room in the lobby.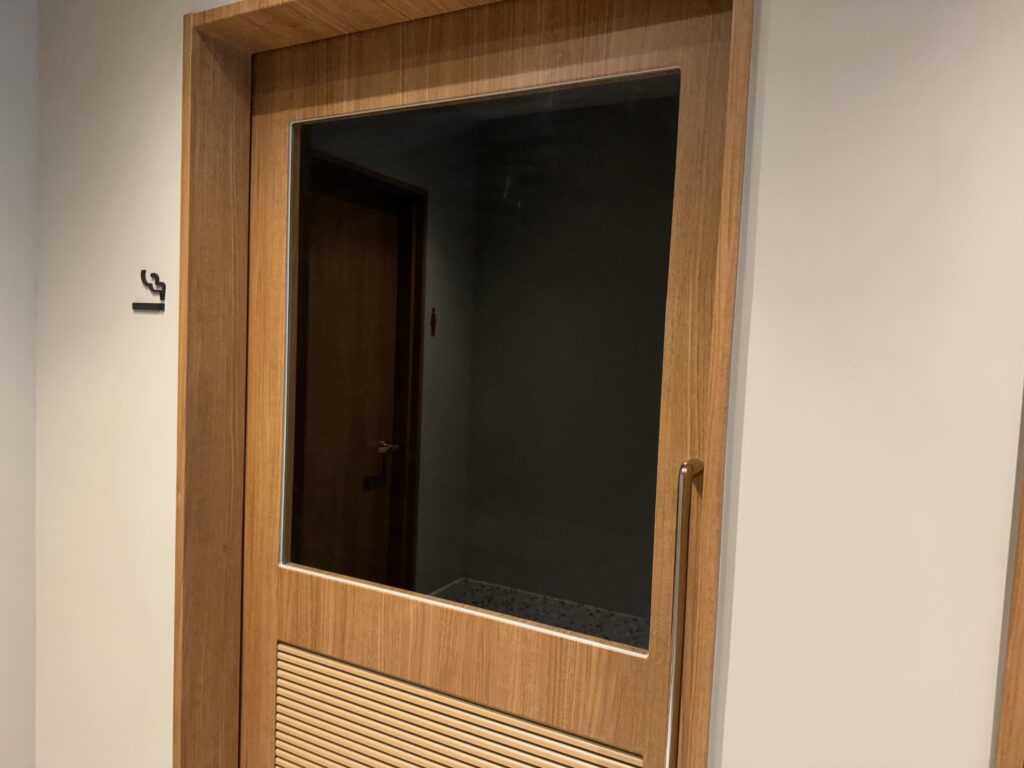 If you have made a reservation using national travel subsidy program or other similar programs, you will need to go to the front desk first to complete the necessary, such as receiving coupons.
After completing these procedures, you can proceed to the adjacent self-check-in machine to receive your room key and complete the check-in process.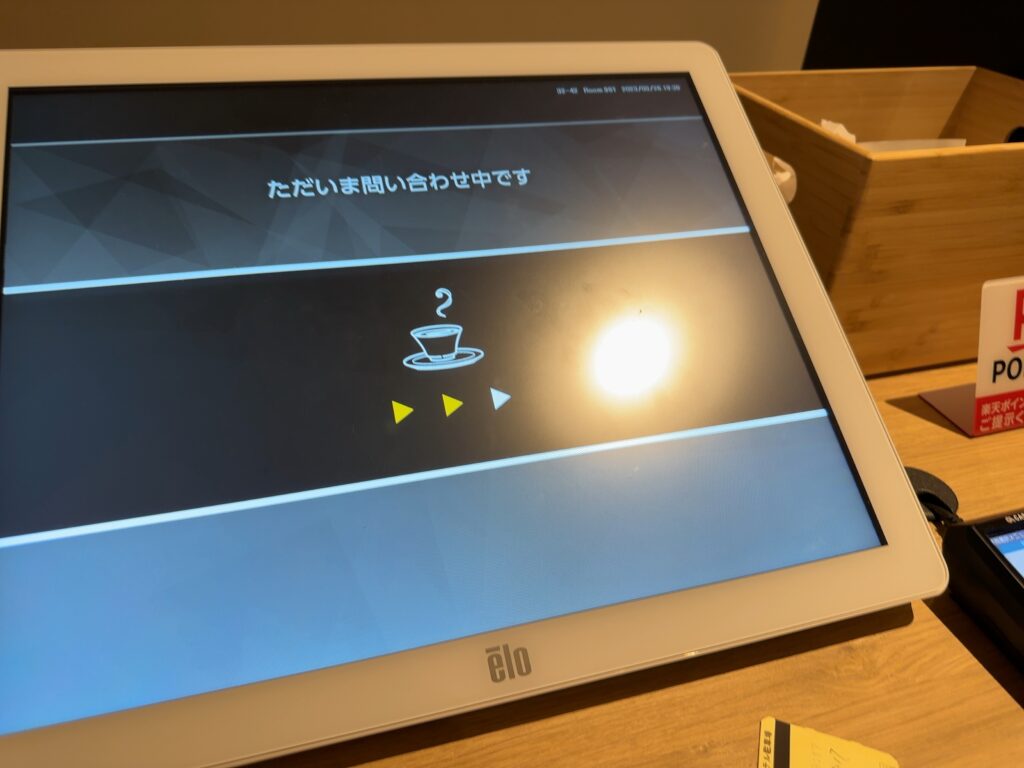 There is an amenity bar next to it.
Various amenities such as toothbrushes, razors, cotton pads, washcloths, slippers, cotton swabs, etc are provided at the amenity bar.
For this stay, adult amenities were already prepared in the room, so we bring only amenities for children.
It seems that the permanent amenities vary depending on the room type or floor.
Moderate Room / Twin Type
Capacity : 1~3guests
Room Size : 28.62㎡
Bed Size : 110cm × 203cm

The room is rectangular in shape, and beyond the bedroom area, there is a tatami-floored area where you need to take off your shoes before entering.
Bed Room
The bedroom is a tatami room, so you need to take off your shoes before entering.
With a room size of 28.62 square meters, there is plenty of space even with two beds and a sofa.
Although it is a twin bed and 110cm wide, so it is spacious enough even for sleeping with a companion.
Also, since there is no height difference between the bed and the floor due to the tatami, you don't have to worry about getting injured if you accidentally fall off the bed, so you can stay with small children with peace of mind.
Night panel
As a new hotel, there are also USB power sources in the room.
Night desk
If you press "9", you will connected to the front desk.
Night lamp
The design is stylish and resembles the traditional Japanese "andon" lantern
Bed board
There are paintings that give a feeling of Asakusa and Kabuki hanging on the walls.
There is a two-seater sofa by the window.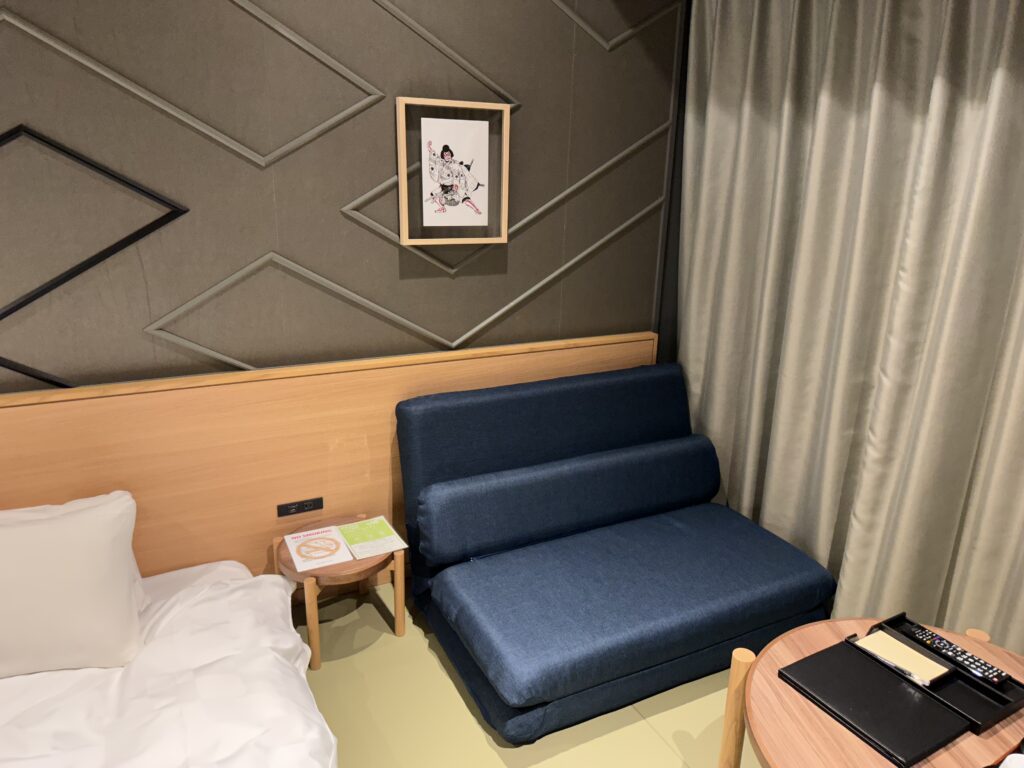 Japanese tea set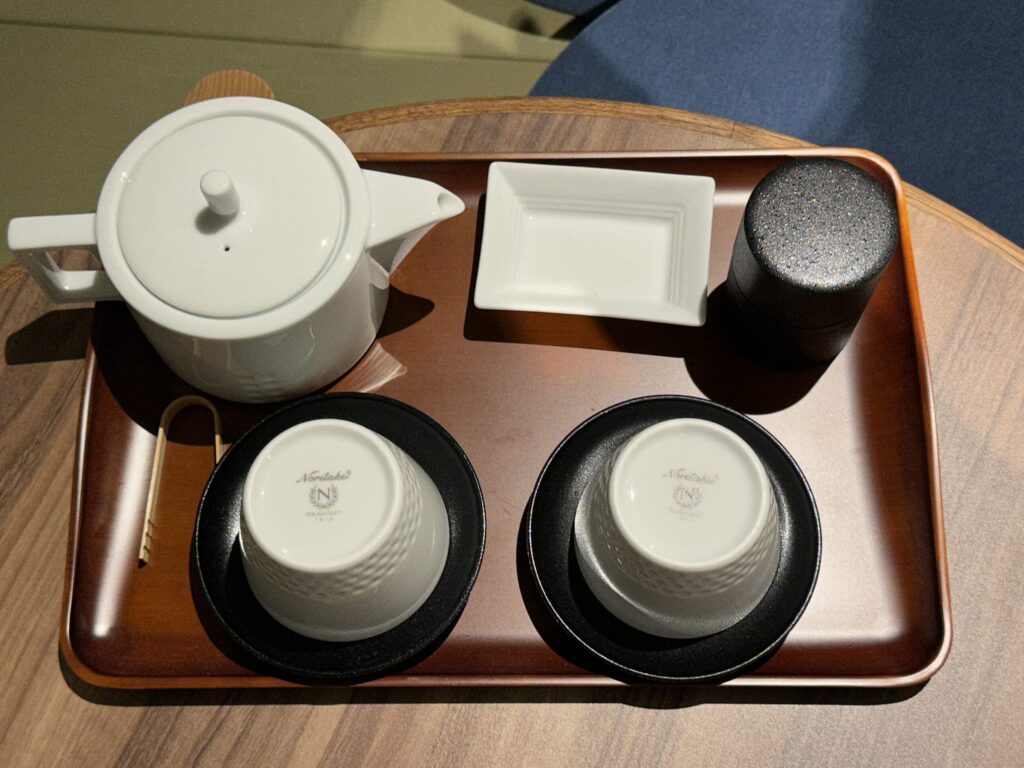 Even though it's a tea bag, it's packaged in a container that adds to the Japanese ambiance of the room.
stool
I'm not sure why there are three of them… but the children seemed to be enjoying themselves, lining them up and playing with them.
A humidifying air purifier is also a permanent fixture.
The TV is a wall-mounted type.
The moderate type TV is 43 inches in size.
Unfortunately, it did not have features such as subscription and mirroring.
Bathroom / Amenities
Next up is the bathroom.
It's a separate bath and toilet with a shower area.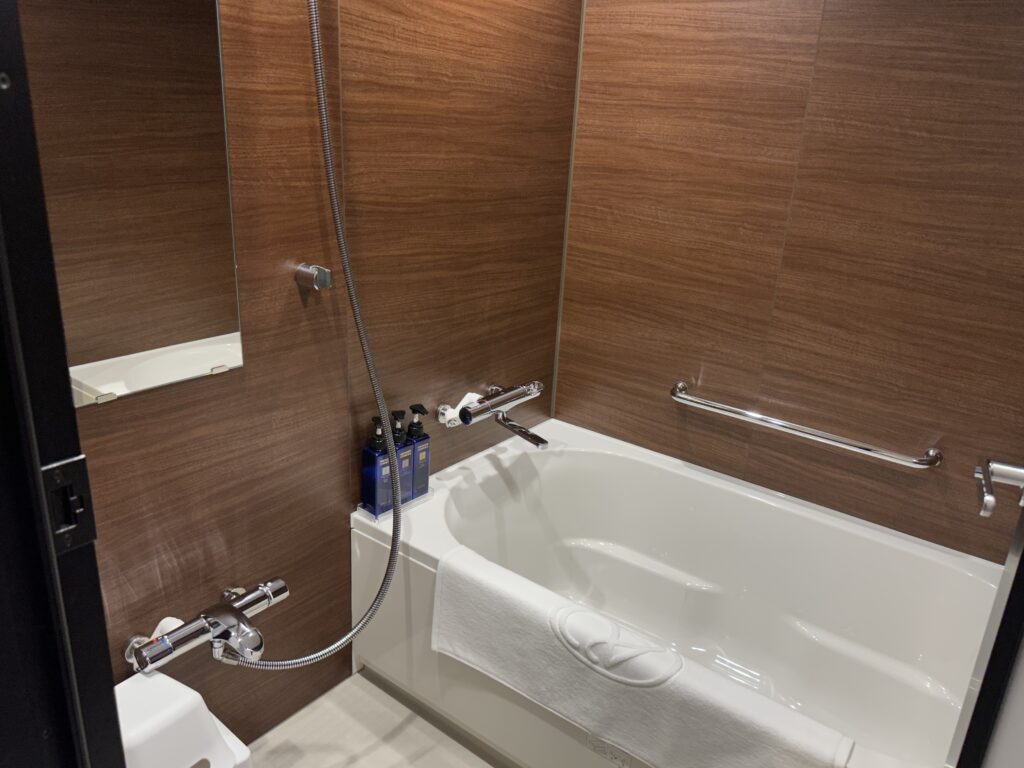 The bathroom is simple but spacious enough to comfortably fit a family and enjoy a relaxing bath.
Shampoo, conditioner, and body soap are provided in bottles.
Wash basin
There are so many amenities available that you don't have to bring anything from home.
toothpaste & toothbrush , amenities for wemen(cleansing oil, lotion, milky lotion, moisturizer) , amenities for men
(face wash, aftershave, hair tonic, hair styling wax), amenities for children(toothpaste & toothbrush, slippers),
soap, body sponge, bath salt, shaving razor, shaving cream, cotton balls, shower cap, hair elastics, hair brush,
comb, cotton swabs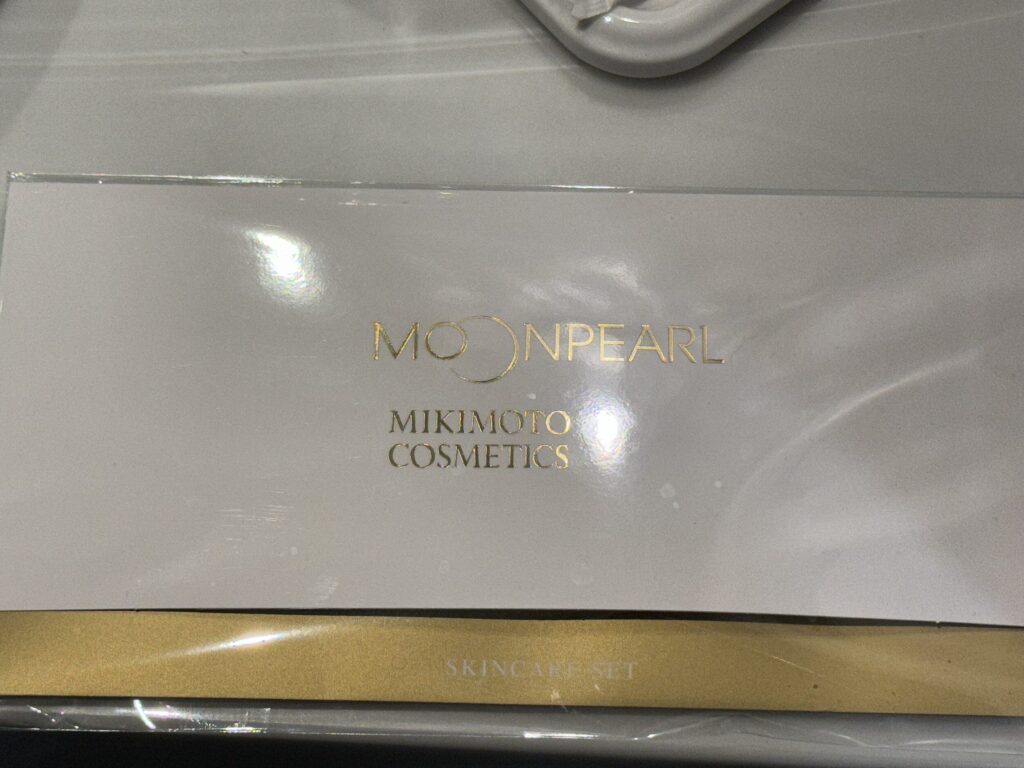 The room wear includes two types : a bathrobe and a two-piece pajama set.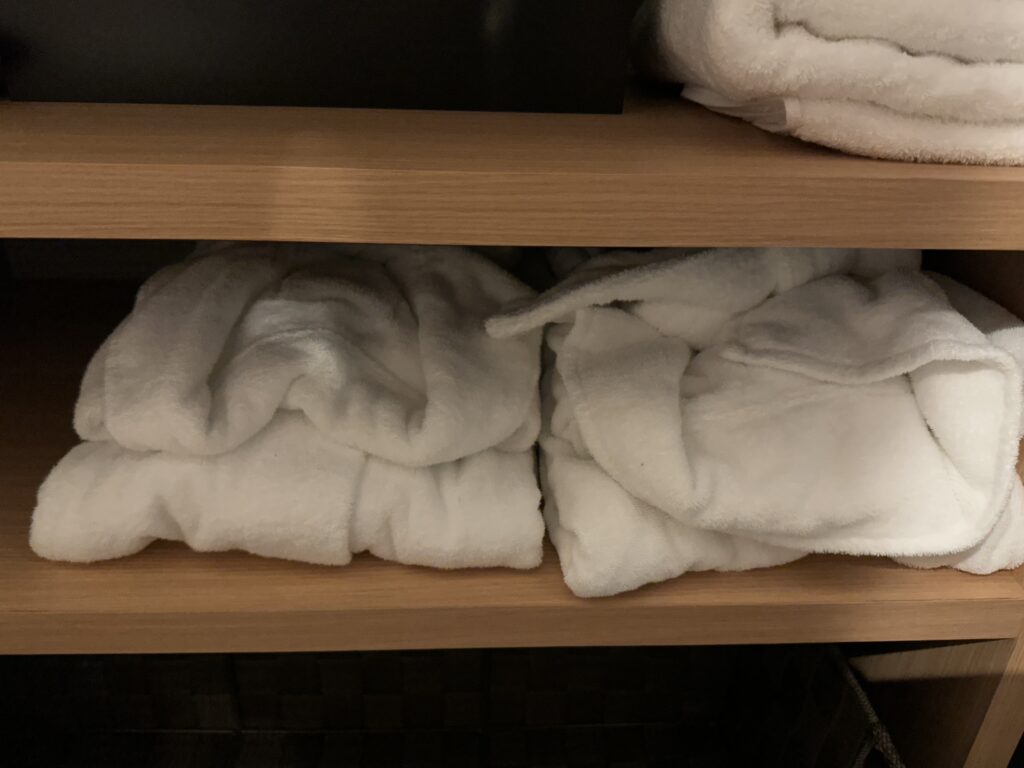 The toilet is also a separate room.
There is a rental service for a children's toilet seat.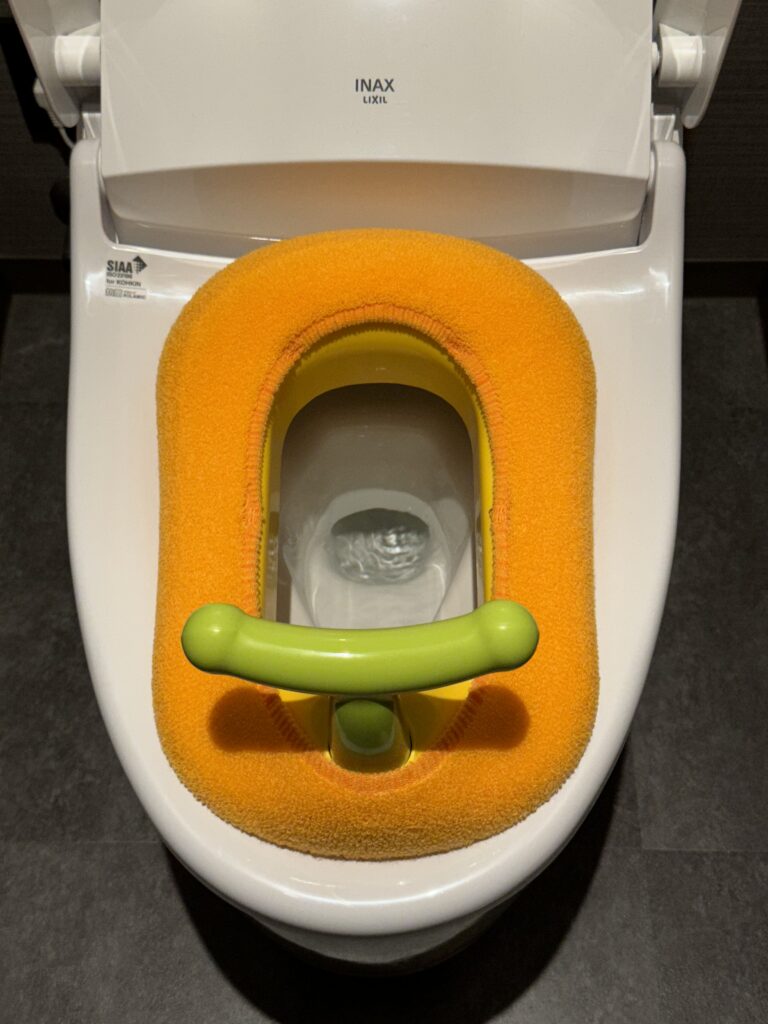 Refrigerator / Luggage storage rack
Next up is an introduction to the area around the refrigerator.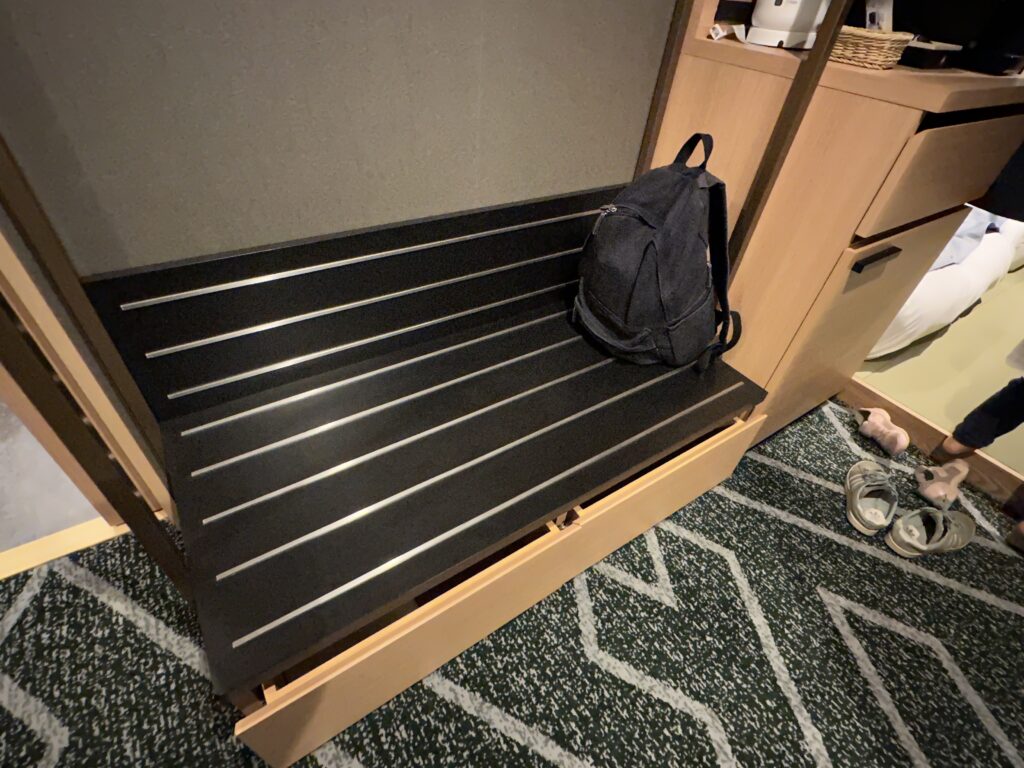 The luggage stand has a spacious and stylish desigh.
The refrigerator is empty with nothing inside.
There are two complimentary bottles of water with the design of Asakusa View Hotel in the room.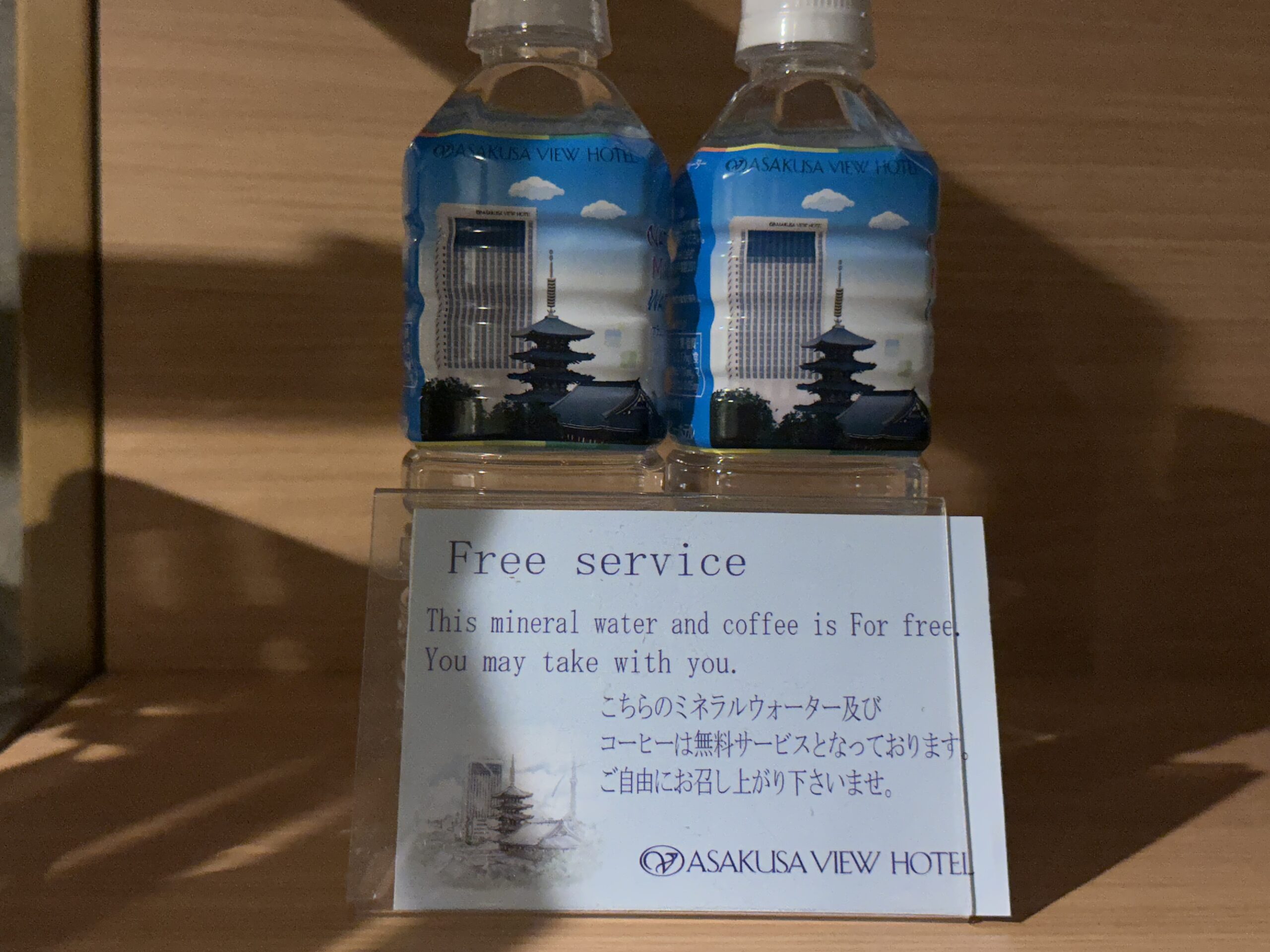 The coffee in the room is "illy"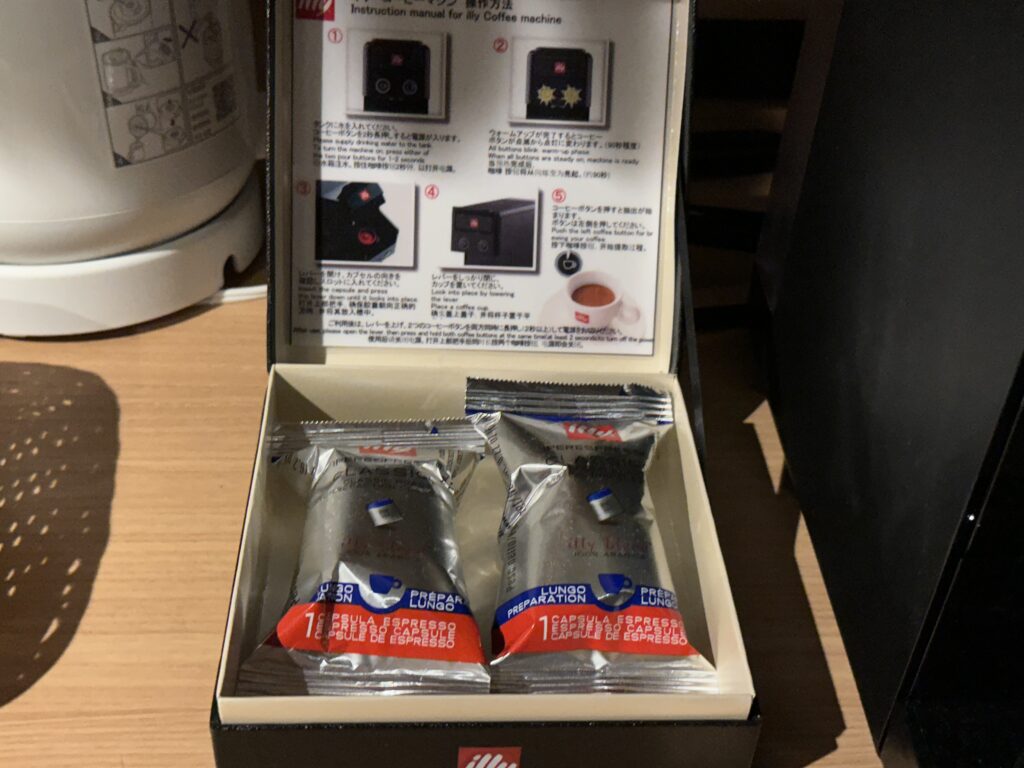 sugar, creamer powder, electric kettle
coffee cups and rock glasses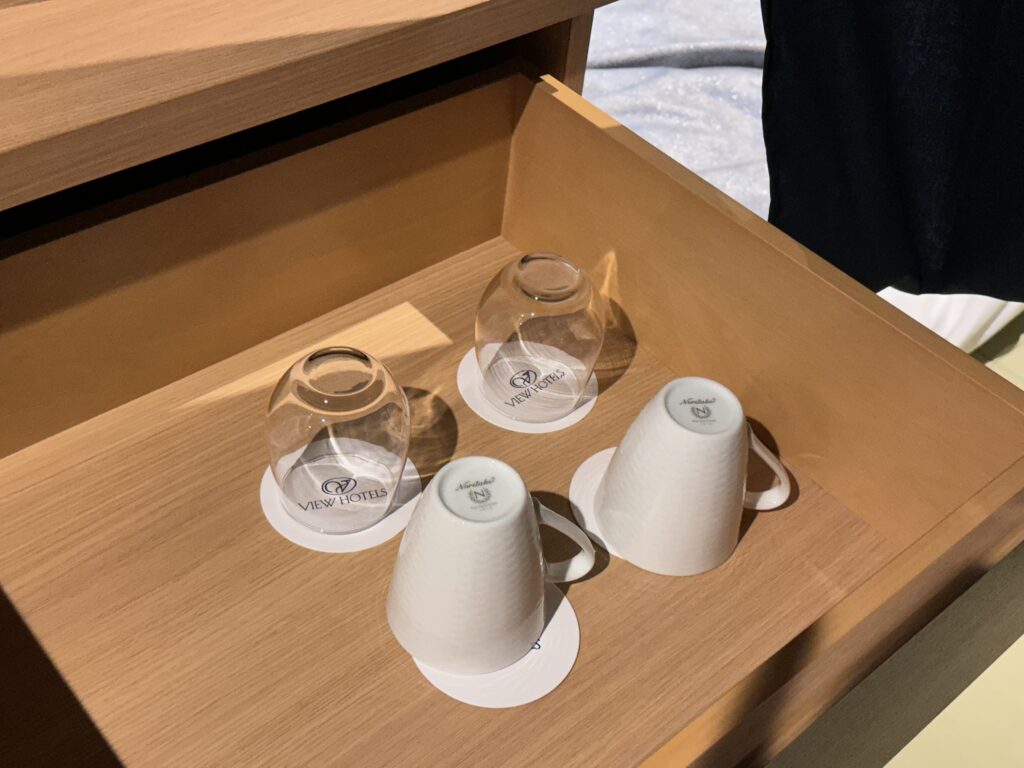 The safety box is located on the shelf to the left as you enter the room.
There are two types of slippers available, regular and traditional Japanese sandals.
The bedroom is separated by a Japanese-style curtain "Noren" .
The room is designed to combine functionality with traditional Japanese culture and design, allowing foreign travelers to enjoy the unique aspects of Japan while still having access to modern amenities.
It is wonderful room where visitors can truly feel the essence of Japan.
Breakfast:buffet restaurant"Broadway ROKKU"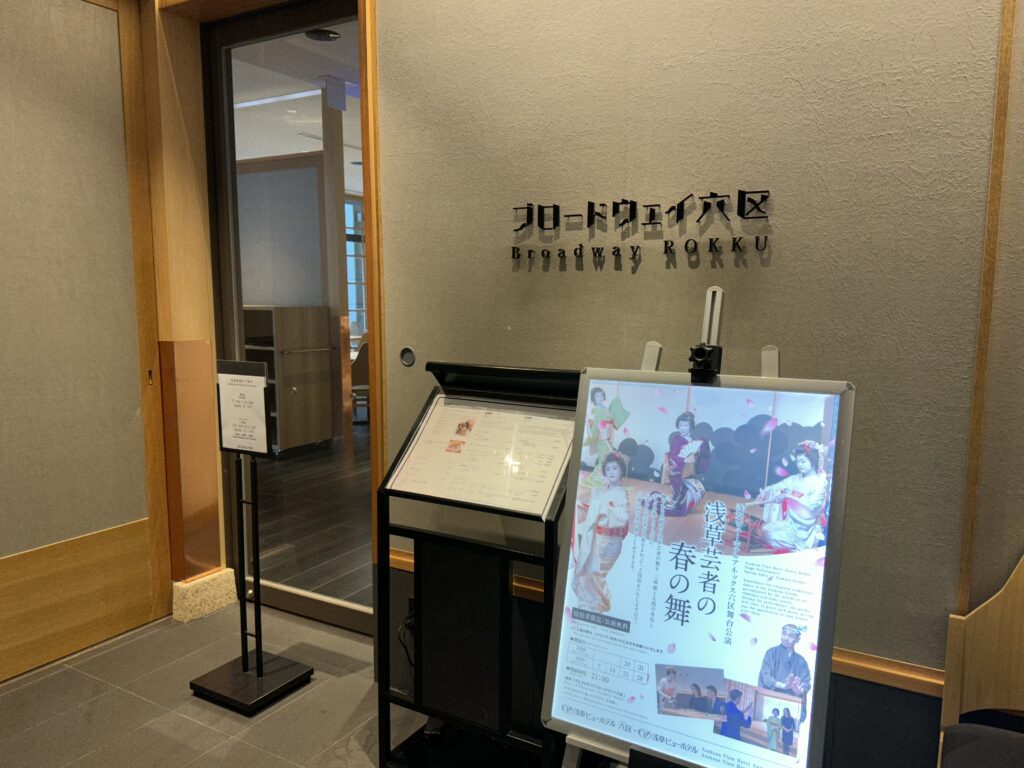 Breakfast is served in a buffet style at the restaurant located on the 1st floor of the hotel.
Place
1st floor"Broadway ROKKU"
Hours of operation
7:00am – 10:am
(9:30am Last entry)
Price
Adults:¥3,080-
Style
1select + Semi-buffet
For children who are not yet in elementary school, the price for the buffet is the same as elementary students if they choose a main dish.
However, if they choose not to have a main dish and only use the buffet, they can use it for free.
Of course, the main dishes are recommended, but the side buffet also offers a wide variety of rice, Danish pastries, cereals, fruits, and more, so even if the child is not eating the main dish, the content is sufficient to satisfy their hunger
Main plates can be selected from seven different options
You can choose one main plate from the following seven options.
・Asakusa burgers
・Fukagawa-meshi
・French toast
・Poached egg
・Scrambled egg
・Fried egg
・Omelette
The main dish will be prepared by the chef in front of you as a live kitchen style.
Instead of having egg dishes in the side buffet, we could choose them as the main.
We chose the Asakusa Burger Plate and Fukagawa-meshi.
Asakusa burger plate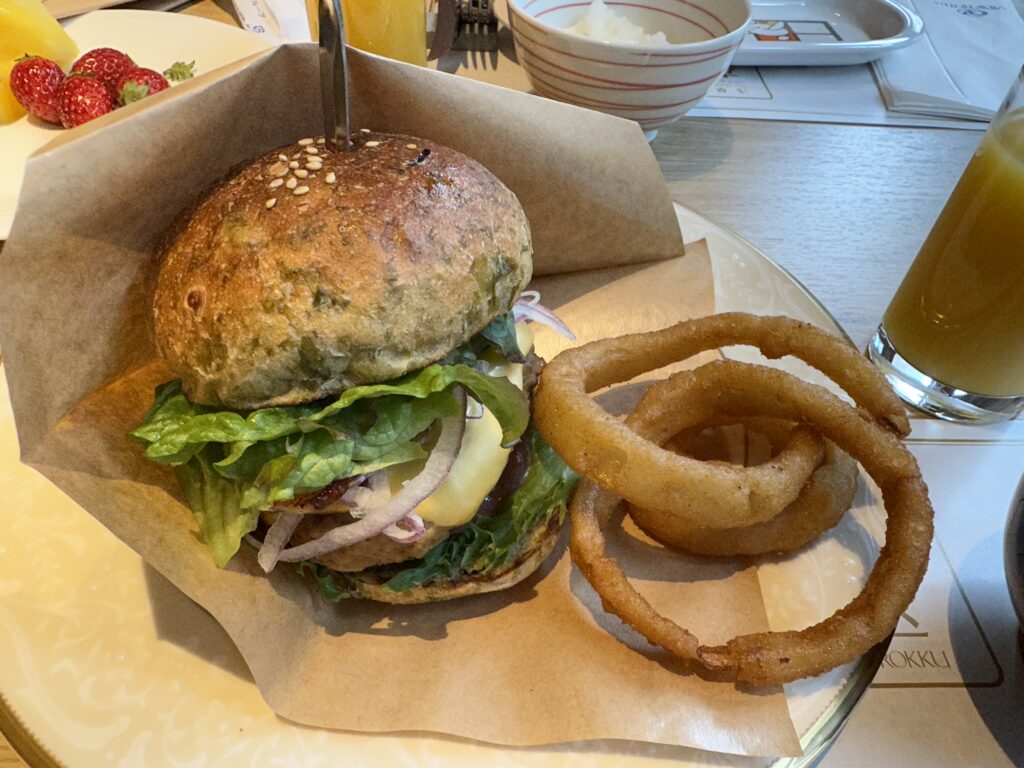 Fukagawa-meshi
Asakusa burgers made with bread from Honoka, Asakusa View Hotel.
Fukagawa-meshi, an Edo-era fisherman's meal, and Asakusa miso are also available.
A Japanese meal of miso soup is also available.
Fruits, donuts, cheese, and more. A wide variety of side dishes.
It is a semi-order buffet style, but the side buffet also has a substantial variety of options.
Rice, Miso soup, Chinese starchy sauce
Danish, Donuts
Salad
Fruits
Cheese
Pickles, natto(fermented soybeans)
Coffee, tea, milk, juice
There were strawberries at the dessert buffet.
Children ware delighted and went back for seconds of the strawberries.
Experience the historic Hinoki stage and traditional culture of Japan/Asakusa though various activities and events
At the back of the restaurant, there is a Hinoki stage that has been relocated from the former kabuki-za Theater, made of cypress wood.
Performances of Japanese traditional arts such as Asakusa geisha and benshi by staying guests are held exclusively.
(Katsuben is the Japanese art of providing live narration for old silent films)
During breakfast hours, movies are shown on a screen.
Exclusive premium lounge for hotel guests"FURUMAI-ふるまい"
On the top floor of the hotel, there is an exclusive premium lounge for hotel guests "FURUMAI-ふるまい"
Premium lounge"FURUMAi"
・Place : 10th floor
・Hours of operation : 3:00p.m – 10:00p.m
・Drink : coffee, tea, mango, orange Juice, cider etc…
・Asakusa acclaimed confectioneries : sweet rice cracker , sweet potato paste etc..
This lounge is available to all guests who stay at the hotel.
Usukawa Imo Kin
Sweet potato yokan
Imokin Dorayaki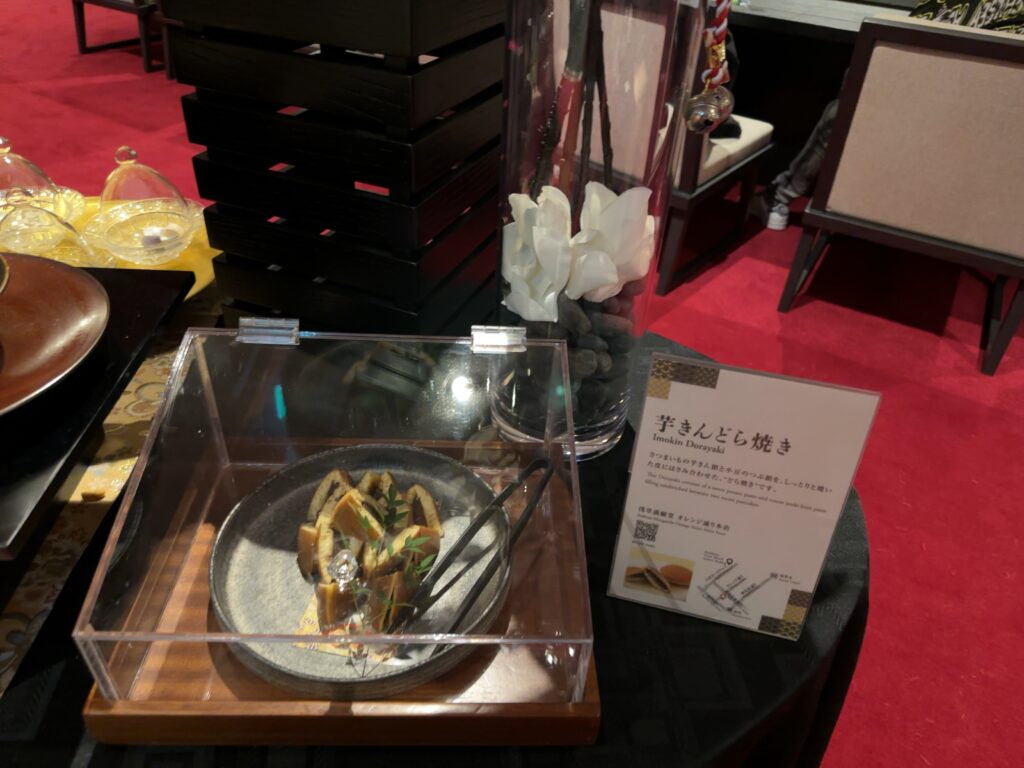 Kaminari Okoshi
tea, roasted green tea, Green tea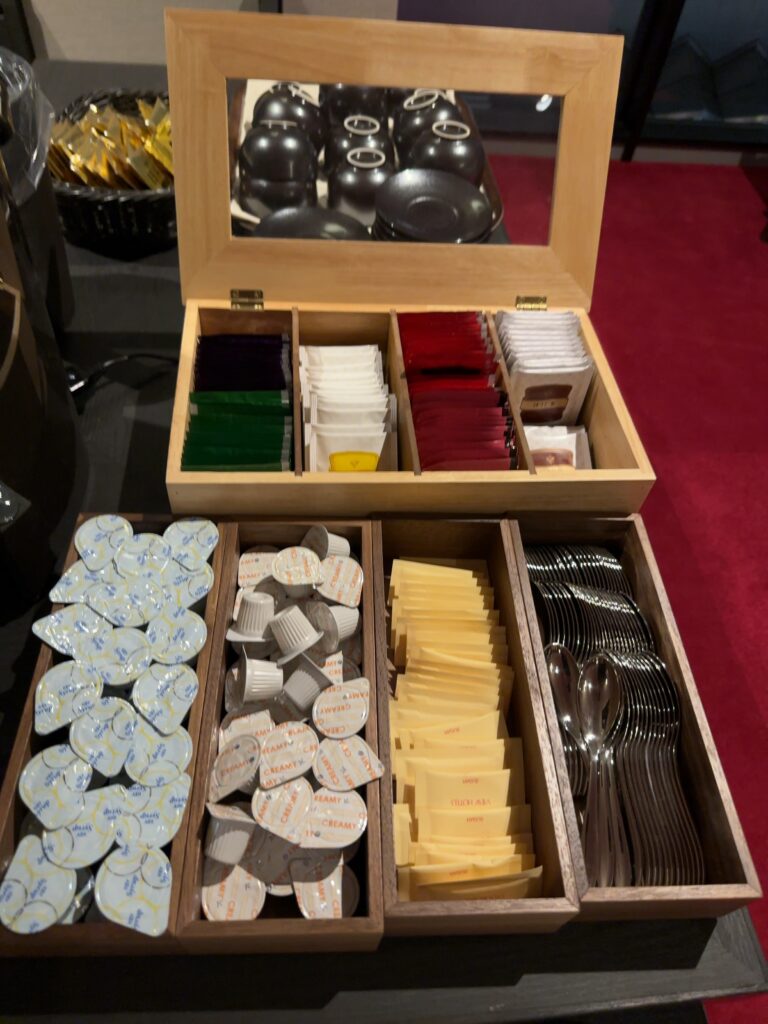 orange, kiwi, guava, mango juice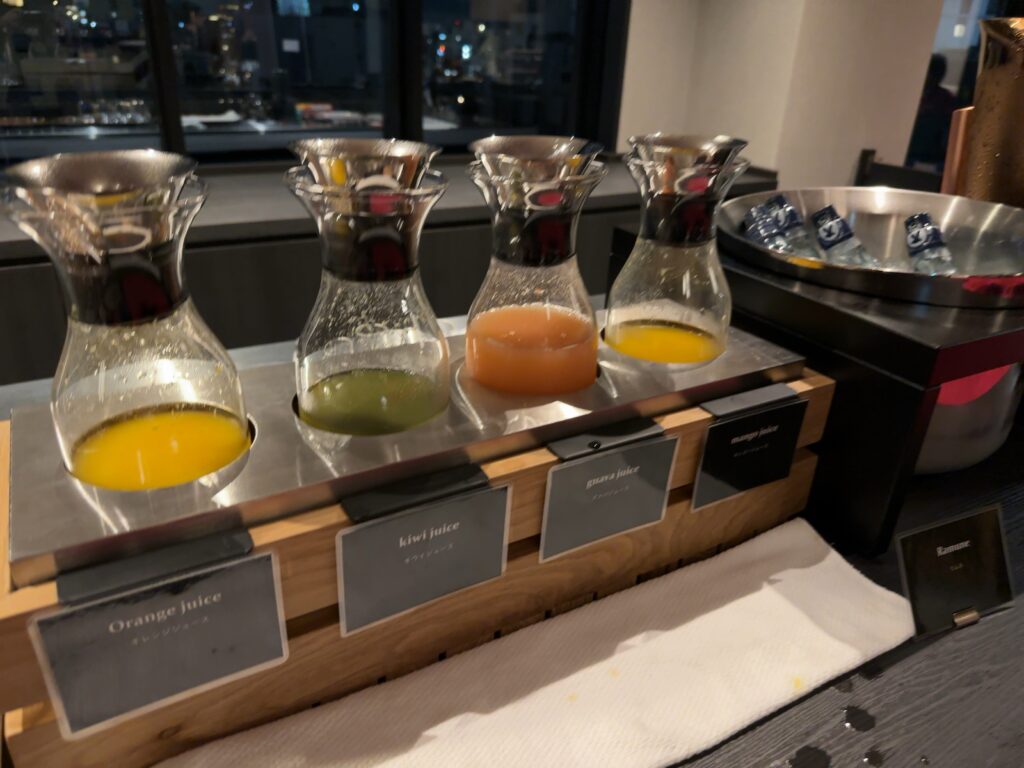 Next to it, there are nostalgic Ramune sodas in glass bottles.
They also have a wide variety of coffee options, including matcha latte.
The lounge is spacious and offers a relaxed, comfortable atmosphere for adults.
Counter seats
Tokyo Skytree , Senso-ji Temple
ACCESS Train/Limousine bus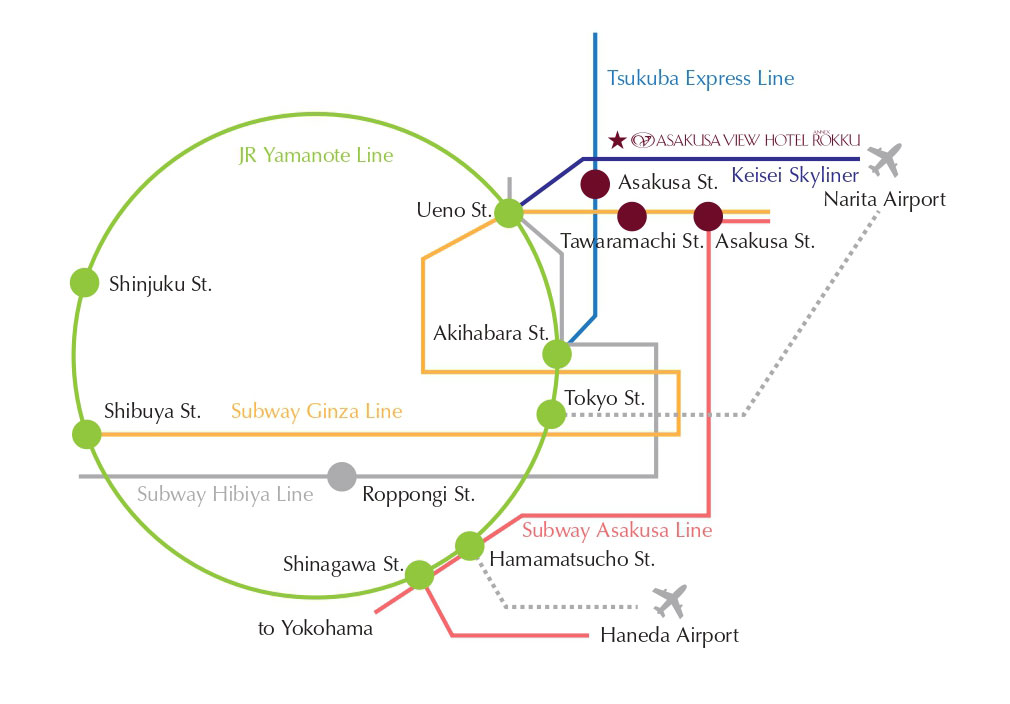 【by Train】
Tsukuba Express Line/Asakusa Station directly connected to the hotel entrance.
Tokyo Metro Ginza Line/Tawara-machi Station 7minutes walk
【by Bus】
From Narita Airport : 120minutes by Limousine bus
From Haneda Airport : 65 to 85minutes by Limousine bus
【Hotel facilities】Fitness gym, luggage cloak, etc…
There are lockers in the space at the back of the front desk.
There are coin-operated lockers as well as wire lockers with dial locks available for storing large luggage such as suitcases.
Hotel guests can use lockers free of charge.
coin operated lockers
Fitness gym
There is a fitness gym on the 2nd floor.
Hotel guests can use the fitness gym 24 hours a day, free of charge.
treadmill
recumbent bike
multi press machine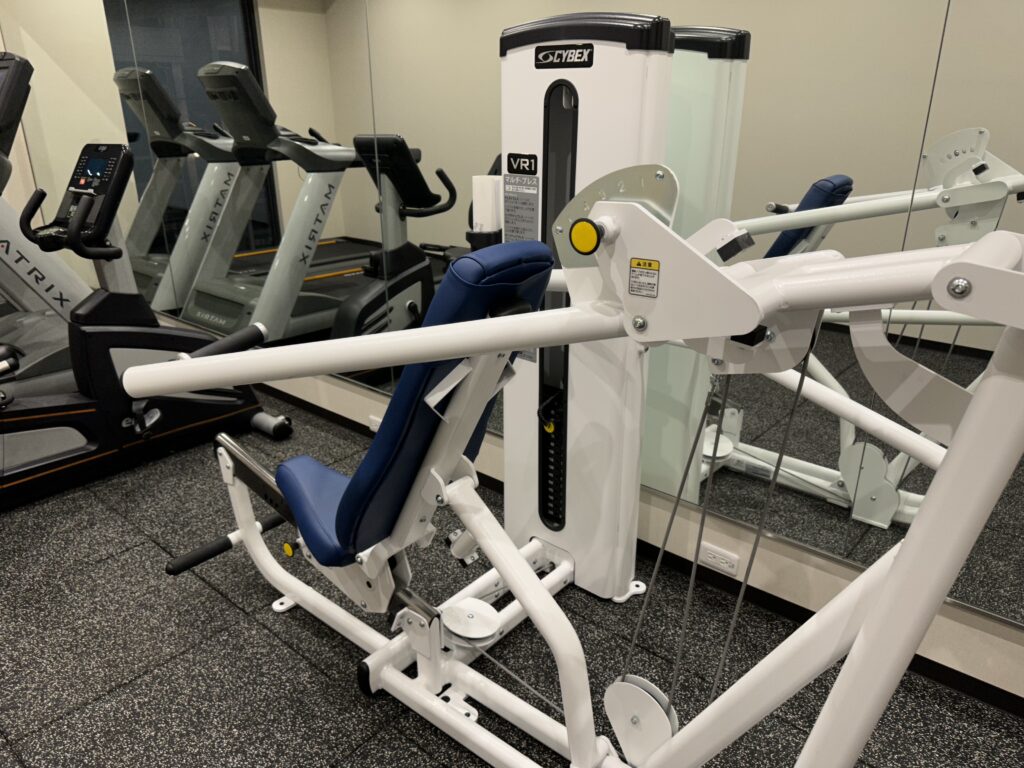 There are also amenities such as a water dispenser and towels available for guests to use.
A new hotel has opened in Asakusa, which combines functionally with traditional Japanese culture
I introduced the Moderate type twin room at the newly opened Asakusa View Hotel Annex Rokku in March 2023.
As a new hotel, everything is clean and well-maintained, and it provides a functional and comfortable stay while also allowing guests to experience the traditional culture of Japan and Asakusa.
With its convenient location, well-equipped facilities, and prices below 20,000yen for standard rooms, this hotel is very attractive compared to the rising prices of hotels in Tokyo.
It is perfect for those visiting Asakusa and Tokyo Skytree, and it can also be used as a pre-stay hotel for those on a Disney trip like us.
We hope this information can be helpful for you in selecting a hotel.
Thank you for reading until the end.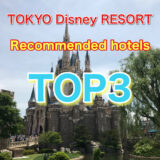 Traveling to Disney Resort with children! Three recommended Disney resort hotels for families